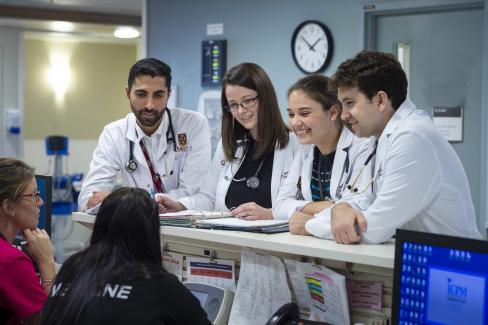 Welcome! We hope that you are looking forward to your rotations in general medicine and/or our subspecialties. Here, you will find information about where to go on your first day, rotation-specific objectives, schedules, and a variety of other helpful information. If you have any questions, do not hesitate to contact us.
For general inquiries please email our office or the Chief Residents .
If you are sick and unable to come into work, you must inform ALL of the following people immediately:

Your attending physician and the senior medical resident / fellow on your team
The Chief residents (queensimcr@gmail.com)
Claudia Trost (tc63@queensu.ca)
If you are ON CALL that night, or if you anticipate being unable to complete a future call shift due to illness, you are expected to make every attempt to arrange to a call switch with another resident. Once you have found a resident to cover your call shift, notify your team, one of the Chief Residents and Claudia Trost, who will update switchboard and the relevant wards.
If you do not hear back from one of the Chief residents regarding your absence and/or call shift, it is possible that we have not seen or received your email as we are on service as well and do not check emails frequently throughout the day. In this situation, please page the chief-in-charge for that week (our pager numbers are emailed out with the call schedule).
You need to let the Chief residents and Claudia Trost know when you return to work.
Please see the Emergency Leave Policy regarding Emergency Absence.
Switching calls is discouraged. However, if you have to make a call change with another resident, you need to obtain written approval from your respective teams and you must email the Chief Residents (queensimcr@gmail.com) and Claudia Trost (tc63@queensu.ca) with your proposed changes for final approval.
Once your change is approved, Claudia and/or the Chiefs will update the schedule accordingly and inform Switchboard.  Switches on CTU (especially involving primary and secondary take) should be between residents on the same team.
Availability:
Once you get your call schedule, we recommend that you inform your service as soon as possible of the days you will be away.
When you are on an offsite rotation and you are scheduled for call on your last day of your rotation, please ensure to let your upcoming rotation know in advance that you are not available on the first day.