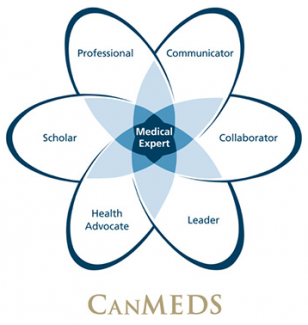 What is CanMEDS?
CanMEDS is the current framework for residency training, and is used for both training and assessment. Adopoted in 1996, CanMEDS includes seven roles in which residents are assessed to ensure they graduate residency as competent physicians in their field.
To find out more about CanMEDS click
here.

In April 2018, Dr. Mala Joneja worked with the QIM Chief Residents to launch a poster series (below) looking into resident reflections of the Professional role in CanMEDS. A post was published on the News, Innovation and Discoveries blog highlighting the resident perspective of this role. To view the blog please click here.