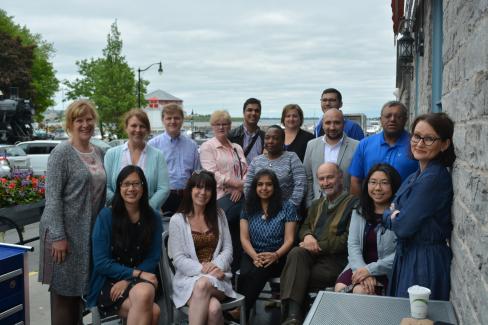 The Arthritis Research Centre (ARC) provides various opportunities for research in rheumatic diseases and in connective tissue biology.
ARC Research Fields and Academic Staff contacts:
Osteoarthritis(epidemiology, basic science): 
Dr. Towheed (TT) tt5@queensu.ca,Dr. Anastassiades (TA) anastass@queensu.ca
Osteoporosis(Clinical, CaMos data base):
TT, TA
Vasculitis(clinical): 
Dr. Clements-Baker (C-B) marie.clements-baker@medportal.ca
Education(professionalism, post grad):
Dr. Joneja (MJ) mj6@queensu.ca
Inflammatory Arthritis(Clinical, basic*):
MJ, C-B, TT, TK, TA. 
Ultrasound of inflamed joints (Clinical):
Dr. Kung (TK) tabitha.kung@queensu.ca
Matrix Biology(*hyaluronic acid derivatives, Gout, a collaborative project in China is possible):
TA
Selected Rheumatology Fellows, considering Academic careers, are encouraged to also explore the Clinical Investigation Program at Queen's (CIP), https://meds.queensu.ca/academics/cip  and/ or the Translational Medicine Graduate Program of the Department of Medicine, http://deptmed.queensu.ca/translational_medicine_graduate_program