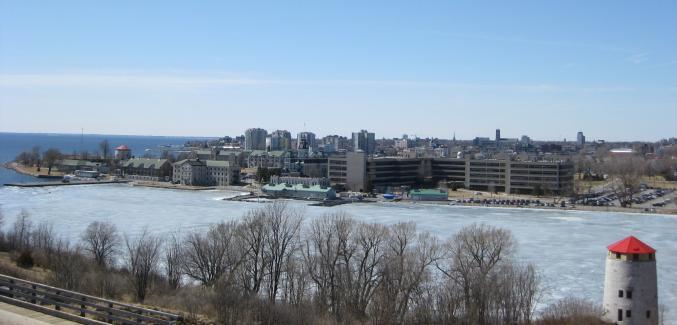 Kingston lies at the eastern end of Lake Ontario, where the lake meets the St. Lawrence River and the Thousand Islands. As a point of reference, this city falls approximately midway between Ottawa and Toronto. The first capital of Canada, Kingston, historically played a critical military role, which was later recognized by the granting of UNESCO World Heritage Site status to the Rideau Canal, Fort Henry, and the surrounding Martello fortifications. The downtown core contains many 19th century limestone buildings, giving the heart of this small city an Old World character.
Known as the "Freshwater sailing capital of the world", Kingston offers some of the best freshwater sailing conditions, and played host to the 1976 Olympic Sailing events. Marinas and boat hire facilities allow even the most terrestrial of residents the opportunity to enjoy the lake.
Directly across the downtown bay is Wolfe Island, the largest of the Thousand Islands. Easily accessible via a free vehicle ferry (known as "the poor man's Thousand Island Tour"), the island provides an excellent area for scenic cycling through the countryside, and is home to a massive wind farm that forms part of Kingston's southern skyline.
Downtown life offers a choice of over 100 restaurants, and a large variety of musical and cultural events. These include the Limestone City Blues Festival, the Fanfayr Arts and Craft Show, farmers and antiques markets, Chilli Fest, open air cinema, outdoor musical events, the 1000 Islands Poker Run (motorboat time trials and racing), Beat Beethoven (a fun road race against the clock - in the form of the Kingston Symphony Orchestra), Art After Dark, First Capital Day, Febfest, the Kingston Buskers Rendezvous, an open air ice rink in the Market Square in winter, and a seemingly never ending set of opportunities for the Snowbirds to fly over the city. The recently completed downtown arena is the home of the Kingston Frontenacs, and also stages concerts and other events.
With its bustling cultural life, its place on the lake and the charm of its architecture, Kingston is a splendid place to live and work.