April 7, 2020 - Dr. Archer's Update on COVID-19 response from the DOM and Medicine Program
COVID-19 Update: There are 53 people with COVID-19 infection today in our region (one less than yesterday because a preliminary positive test was ruled negative). We did 208 COVID-19 tests this morning alone and the 6 positive tests were once again from outside Kingston. The disease point prevalence (positive/total tests) has actually decreased from 5.2% last week to 4.5%, a reduction that has occurred despite increased testing. There remain 4 patients admitted to KGH, 2 on the Medicine's COVID-19 unit and 2 in ICU. We now have approved standardized admission and discharge order sets to ease management of these patients. The local COVID-19 curve remains flat, which is very welcome news. These data support the current decision not to deploy universal PPE throughout the hospital (yet). However, these gains are not accidental and relate to people following the rules re: physical distancing and other societal interventions. This is not the situation Toronto is experiencing where case load is much higher. In Toronto greater population density and a later implementation of physical distancing, relative to the onset of cases, may underlie the different case prevalence pattern.
On a related note, people (including doctors) ask why we don't resume more elective procedures if we are not flooded with COVID-19 cases? There are several reasons not to ramp up, including the limited PPE supply which won't support elective procedures and the need for ongoing physical distancing.
Should the number of cases locally rise severely, be reassured that there is regional planning on going for this possibility. For example, Cynthia Martineau and Mike McDonald are considering making field hospitals should massive increase in patient need occur. This would be relevant if local vulnerable populations, such as those in prisons, became infected.
A final word on the local outbreak: Please fight the urge to socialize on this Easter weekend, our low local prevalence is a function of our active programs of physical distancing; don't give the virus a break…stay home! 
Here is a look at the progression of the COVID-19 epidemic in Canada since January 25th.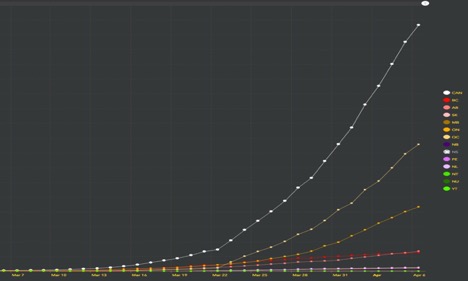 Cases in Canada (white and Ontario (3rd curve down, orange)
As you can see Canada continues to experience a progressive rise in cases and the curve has not yet flattened nationally (although it may be doing so in British Columbia-right panel). It is also flat in Kingston!
There are currently 16,667 cases and 323 deaths related to COVID-19 in Canada.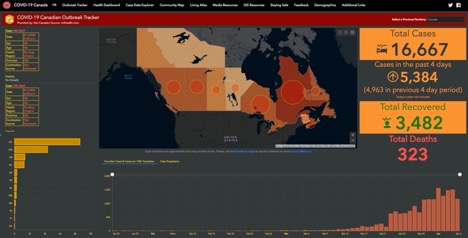 Front line shout out: There is no "I" in TEAM and its always risk thanking some, when so many merit thanks. Before this pandemic is behind us I will thank many in this update (and probably miss a few-sorry). While COVID-19 patients are cared for in many places, numerically most will land on medicine services, our clinical teaching units (CTU). Our CTU attendings and medical residents provide frontline care. A shout out today to Drs. Smith (for medical leadership in the CTU reorganisation, with Michelle Matthews, POD) and to Dr David Taylor, for leading our core internal medicine training program through these turbulent times (see tweet below).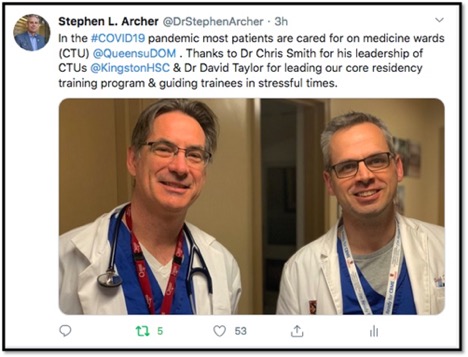 How did KHSC come to have a state of the art diagnostic test for COVID-19? A month ago we didn't have a test for COVID-19 locally. Now we do! A group of over 40 people can be credited with developing this multiplex, real-time polymerase chain reaction (PCR) assay that detects two of the SARS-CoV-2 virus' distinct genes. The test detects the Envelope gene (E-Gene) and the RNA dependent RNA polymerase gene (RdRp) gene. The assay also includes an internal control to ensure that the sample collection was done properly. The KHSC assay can detect the virus with 99% sensitivity and can detect as little as 250 genome copies of virus per reaction. Although many can be thanked, I would like to acknowledge the team leaders as a starting point. They include: Dr. Lewis Tomalty - Service chief for Microbiology, Dr. Prameet Sheth - Head of Molecular Microbiology, Dr. Henry Wong - Assay Development Scientist who developed and validated the COVID-19 test, Ms. Tammie Taylor – Microbiology Manager and Ms. Joyce deVette-McPhail – Operations Director for Clinical Labs. As my tweet today mentions, we and the people of south eastern Ontario are in your debt!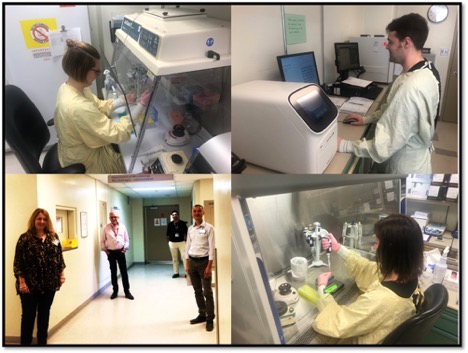 Some of the members of our awesome COVID-19 lab diagnostics team
Also, if you are wondering how the specimen is acquired here is a diagram. I had this done myself and it is mildly uncomfortable but the discomfort at the back of the nose from the swab only lasts 5 seconds.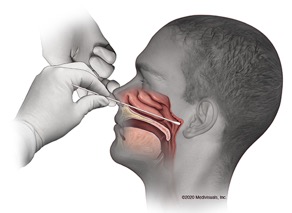 KHSC capacity: The KHSC census is at an all-time low. Our capacity to admit COVID-19 patients remains excellent. We once had 35 ALC patients on IMU-H, we now have 5! Thanks to Providence Care Hospital for their outstanding assistance in mobilizing these patients and making capacity for potential cases of COVID-19 .
See KGH capacity on today's graphic indicator below.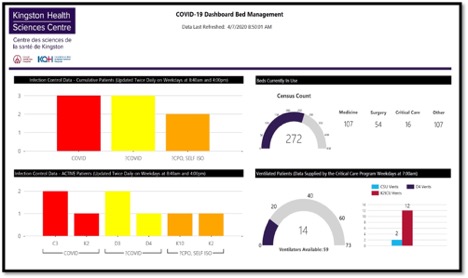 The "big truth" regarding personal protective equipment: It is unfortunate that during times of stress like this pandemic, conspiracy theories flourish. One such "big lie" (which I want to squash) is that hospitals have lots of PPE and don't want to distribute them to save money. This is a sadly misguided and dangerous falsehood. There remains a national PPE shortage, which affects KHSC and all Ontario hospitals. Moreover, our supply chain is not certain. At KGH we use 10,000 masks/week (despite the low COVID-19 incidence) and we only have 1 week of supply in house. While we have promises of resupply, there is no margin for complacency! We will need to continue to conserve and recycle to avoid being short of PPE when/if large numbers of cases arrive. 
Clarification on PPE recycling: At KHSC we recycle and re-sterilize noncontaminated PPE Occupational Health is ensuring that the recycling is safe and effective, since staff safety is priority one! We are testing the products after recycling to make sure they still work. Today we are doing quality assurance on the functionality of several hundred masks that were autoclaved. 
There are two bins (they look the same with yellow biohazard bag) One is for masks (surgical and N-95) and the other is for eye protection and face shields. Remember, When you remove the masks for recycling, don't pull them off, remove them as you put them on, carefully! Soiled, damaged or wet masks, including those with makeup on, cannot be recycled. Do not put garbage or gloves etc. in these bins. The recycling program is gradually being extended across the organization…so if you don't have a bin near you yet, be patient, it's coming!

Today's random act of kindness: Doctors in the DOM thank the nurses on Kidd 10 for their service with a tasty treat from Bursta Baskets.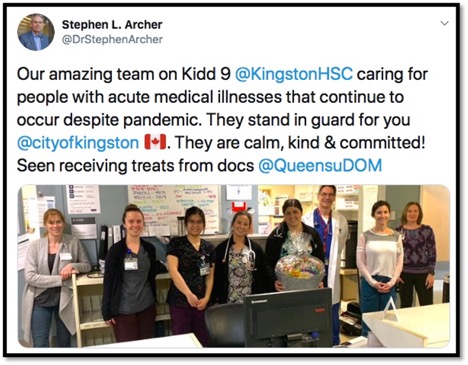 Finally, a shout out to the nurses on Connell 10 who are brightening our world with a little creative decoration of their sunroom.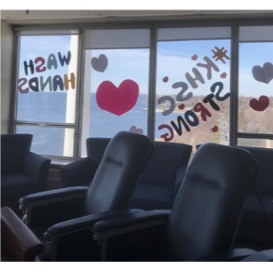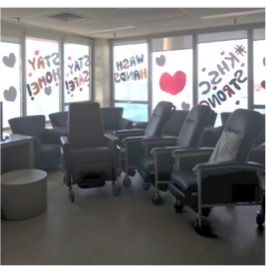 Stay well!
SA