October 15, 2020 - Dr. Archer's Update on COVID-19 response from the DOM and Medicine Program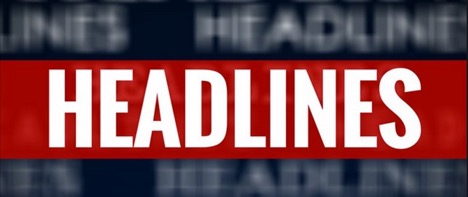 1) The Great Barrington declaration (click here): a cautionary note re a naïve presentation of the facts about COVID-19 public health policy and herd immunity that has gained Whitehouse support (click here)
2) COVID volumes stabilize in KFL&A following resolution of a community cluster at Queen's University 
3) Canadians drinking more during pandemic-a cautionary note and some advice (click here).
4) Testing asymptomatic people in local Pharmacies begins
5) The second wave of COVID-19 in Ontario now matches the 1st wave, with 721 new cases yesterday (click here) and a marked increases in positive COVID-19 tests (3%) (click here) 
1) The Great Barrington declaration (click here): a cautionary note re a naïve presentation of the facts about COVID-19 public health policy and herd immunity that has gained Whitehouse support (click here).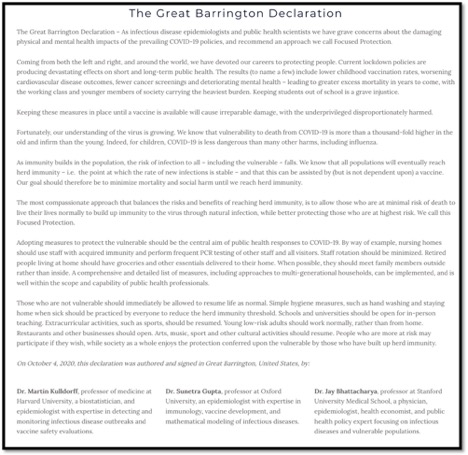 If you have an inflammatory idea the ideal moment to gain publicity for it is during a pandemic when major countries are led by narcissistic males with a predisposition to demagoguery and an anti-scientific bias (USA, Russia, and Brazil). In this charged environment has emerged the Great Barrington Declaration which cherry picks facts to support the notion that government is trying to "lockdown society". The signatories advocate that we should allow COVID-19 infections to occur and await protection from the herd immunity that will develop (see above). They advocate that, "individual people, based upon their own perception of their risk of dying from COVID-19 and other personal circumstances, to personally choose the risks, activities and restrictions they prefer". If this sounds like making traffic policy by allowing people to choose their own speed limit or the side of the road they prefer to drive on you are not far wrong. For those struggling to read their petition based on font size (above), here is the concluding paragraph
"Those who are not vulnerable should immediately be allowed to resume life as normal. Simple hygiene measures, such as hand washing and staying home when sick should be practiced by everyone to reduce the herd immunity threshold. Schools and universities should be open for in-person teaching. Extracurricular activities, such as sports, should be resumed. Young low-risk adults should work normally, rather than from home. Restaurants and other businesses should open. Arts, music, sport and other cultural activities should resume. People who are more at risk may participate if they wish, while society as a whole enjoys the protection conferred upon the vulnerable by those who have built up herd immunity."
Most readers will recognize that in Canada most of what they want to happen (schools, sports, businesses open) is happening currently. The idea of avoiding a broad, societal lockdown, which for the record no government or public health officer is proposing, is of course attractive to us all…but again, this idea is not being proposed! The dangerous part of their idea is that the preferences of the individual trumps the broader good of society. The notion that people will get sick and recover without consequence allowing society to become immune is simply not borne out by the facts to date. This is a libertarian view of health and should not be surprising since the petition emerges from the support of the American Institute for Economic Research, a free market Libertarian think tank. 
There is nothing great about this declaration, which has been signed by 12,000 physicians, including some from Canada. Rather the petition takes its name from Great Barrington, a resort town of 7,000 people in the southwest Berkshires in Massachusetts (click here). The declaration misrepresents current good public health practices, and offers incorrect ideas (like herd immunity only requiring infection of 10-20% of the population). The signatories agree with President Donald Trump. They suggest that everyone should go about their busines, get infected, allow herd immunity to develop and reassure us that if we do this all will be well (if you are not amongst the dead and damaged). Currently it is estimated that in the USA 90% of the population remains susceptible to COVID-19 (click here). In fairness, the declaration does advocate for protecting the vulnerable, which they call focused protection, although they offer no details as to how this would occur. This plan is naïve, misguided and thus it will not be surprising for you to learn it is supported by President Trump. I mention this declaration, not only to oppose it on the basis of fact, but also to arm you to thoughtfully consider their message.
One example of the Great Barrington Declaration put in practice is in Wisconsin. In Wisconsin Republican-controlled Legislature and a conservative law firm have been fighting and delaying masking policies in public spaces. Finally, in late September, a court ruling allowed the state's mask mandate to stand, rejecting the attempt to overturn the Governor's rational public health policy, all as coronavirus cases spiked and the number of people hospitalized hit record levels (click here).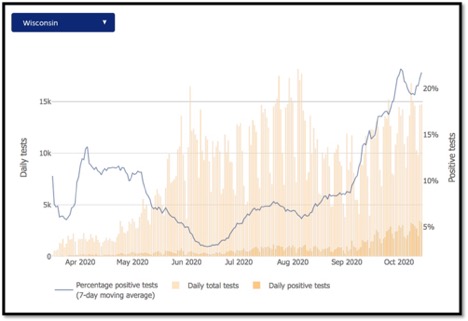 Wisconsin COVID-19 infections illustrate what happens when political ideology over-rules public health policy-test results shows 1/5 COVID-19 tests are now returning positive in Wisconsin (click here) and hospitalizations are skyrocketing.
In Ontario with relatively rational health policies the positive test rate in Wave 2 has spiked at 3% nowhere near Wisconsin's 25%. Canadian society is not locked down and no one in Public Health is advocating for a lockdown.  To my fellow physicians I urge you to be responsible and fact based in your pronouncements on issues like the Barrington Declaration and realize there are people susceptible to irrational ideas (so called cognogens-click here). As a health care professional, our jobs are to promote a science and evidence based approach to this pandemic. The Great Barrington Declaration, which is supported by Donald Trump (of bleach and strong light fame), is naïve at best and dangerous if taken seriously…enough said! Read more here (click here)

 
2) COVID volumes stabilize in KFL&A following a community cluster at Queen's University: There have been no new COVID-19 cases in our region since my note last Thursday. The total number of cases since the pandemic began is now 167 (unchanged from Tuesday). Currently there are 12 active cases locally (down from 14 cases on Tuesday). All local COVID-19 patients are recovering in the community (see update from KFL& A Public Health). There are no hospitalized patients at KGH. The KHSC lab did 957 tests since my report on Tuesday. Of these 1 positive test was from KFL&A the other 2 were in Perth-Smith Falls and Kawartha.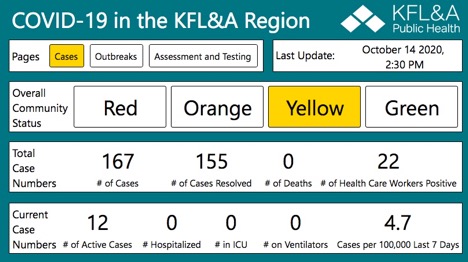 This local stability in COVID-19 allows us to continue to provide patients with much needed health care for the many diseases other than COVID-19.
2) Canadians drinking more alcohol during pandemic-a cautionary note (click here).
This section of today's note was inspired by a Medical Grand Rounds given earlier today by Dr. Melissa Kelley, a gastroenterologist and hepatologist. Dr. Kelley was reminding us of an increase in alcohol-related liver disease in Canada, particularly in younger people, especially young women. She noted that alcohol consumption was on the rise in the COVID-19 era in Canada.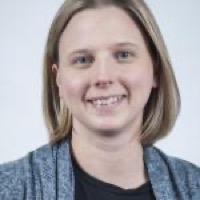 Dr. Melissa Kelley Division of Gastroenterology (hepatology)
In support of her theory I found the following Nanos poll commissioned by the Canadian Centre on Substance Use and Addiction and conducted by Nanos Research. They conducted a hybrid telephone and online random survey of 1,036 Canadians, 18 years of age or older, between March 30th to April 2nd, 2020. Participants were randomly recruited by telephone using live agents and administered a survey online. 
This NANOS survey confirms what any of us who visit the LCBO know first-hand-alcohol consumption is up during the pandemic! The survey found that 18 % of Canadians who were staying at home during the pandemic reported increased alcohol consumption (vs 12% % decreased and 70% no change)-see graph below.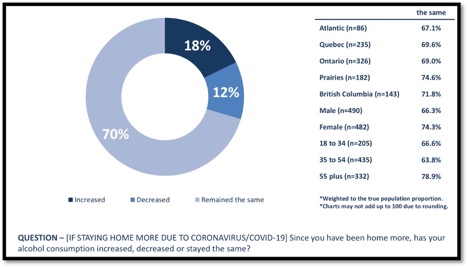 People who acknowledged increased alcohol consumption reported that they drank more because they are bored (49%), stressed (51%) and because their days now lack structure(51%) . Canadians 55 years of age and older were less likely to report their alcohol consumption has increased (10%) than Canadians 35 to 54 (25%) and 18 to 34 (21%). Women were more likely to cite stress (57%) as a reason for consuming more alcohol than were men (32%). Men were more likely to cite boredom as a cause for increased alcohol consumption (54% vs 44% for women) (see graph below).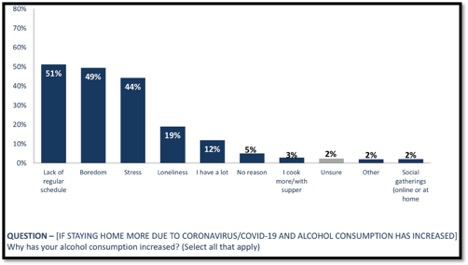 While cannabis use increased in some people this was in a small minority (6%) of those surveyed.
The margin of error for this survey is ±3.1 percentage points, 19 times out of 20. 
While alcohol is relatively safe at low doses the general advice for people who choose to drink, they should not exceed the following maximum limits (per guidelines form CAMH) (click here) and see Figure below: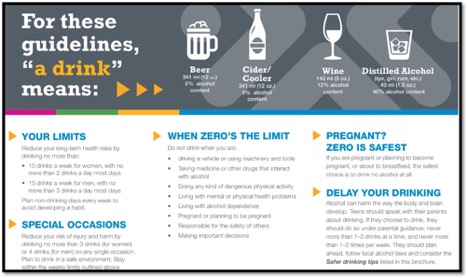 My Advice: COVID-19 infections, particularly infection with severe outcomes, are more likely if you are obese or diabetic, so reducing alcohol and exercising are healthy choices that cost little or nothing to implement. 
1) Be aware of why you are drinking and how much you are drinking
2) If you do drink alcohol stay within your limits (see Fig above). 
3) Avoid drinking alcohol during weekdays (Mon-Fri). 
4) Focus on maintaining your cardiovascular health by getting 10,000 steps/day or 30 minutes of exercise/day (which can simply be going for walk) is good for body and soul. 
5) Remember that there is no safer place than the great outdoors to avoid COVID-19! If there are no crowds you can exercise safely outside without a mask, although physical distancing must still be practiced. 
Reducing alcohol consumption and exercising are amongst the best ways you can be proactive in reducing your COVID-19 risk and maintaining your health.
3) COVID-19 testing in local pharmacy's begins: Four pharmacies in the area are now offering testing of asymptomatic patients: Shoppers Drug Mart (Kingslake plaza and Bayridge) and two independent pharmacies, 1 in Amherstview and 1 in Kingston). However, these tests are not being run in our hospital or the public health labs in Ontario. In fact, they are being shipped to California and tested there. As a consequence, turnaround time may be quite slow! Stay tuned for more details.
4) The second wave of COVID-19 in Ontario now matches the 1st wave, with 721 new cases yesterday (click here) and a marked increases in rates of positive COVID-19 tests (3%) There have been a total of 61,413 cases with 5483 hospitalizations, and 3017 deaths in Ontario, since the pandemic began. There have been no deaths since my report on Tuesday but ICU admission are up 1.9% (+4 cases) and hospitalizations up 8.9% (17 cases) since yesterday. The rate of positive SARS-CoV-2 tests is up sharply from 1.3% last week to 3.0 % yesterday.
Ontario's COVID-19 prevalence rate is 413.2/100,000 (click here). A month ago between wave 1 and 2 it was 263.8/100,000. This provincial rate is 5X higher than in KFL&A, which has a prevalence of 78 cases/100,000 population. Toronto is Ontario's hotspot for COVID-19 (697.4 cases/100,000 population), a rate 9 times higher than Kingston. Windsor no longer has the highest prevalence of COVID-19 (642.8/100,000), having been surpassed by Toronto.
The graph below shows that the majority of infections in Ontario are in young adults age 20-29 (blue and green below, on left). In contrast virtually all deaths are in people over the age of 60 years (gray on graph below) (click here). There seems to be a female predisposition to detection of COVID-19 infection (right graph).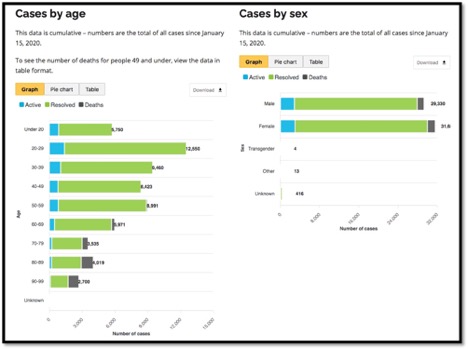 Age (left) and sex/gender (right) of people infected with COVID-19 Oct 15th 2020
Also note the sustained rise in hospitalizations in Ontario (shown by the black line in the graph below).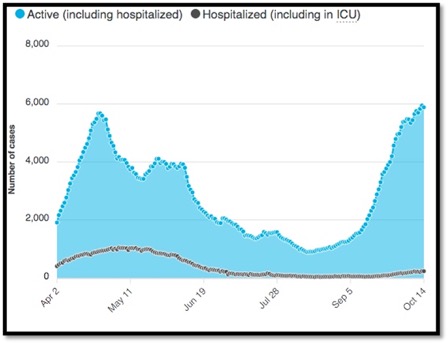 We are continuing to see more active cases in the Halton and Hamilton health regions, a new trend in the past week (click here for data).
Strategy for the second wave must include ongoing resilience, calmness and adherence to public health policies. With careful attention to public health measures we can flatten the second wave without shutting down schools, business and society. To address wave 2 we should:
Prioritize who we test and ensure rapid availability of test results. 
Limit indoor assembly to the permitted group size (<10)
Focus on key demographics who tend to get infected (young adults, migrant workers, low income neighbourhoods) 
Continue to respect our social bubbles and avoid socializing in large groups
Protect our essential workers including health care workers (so they can protect society). 
To do this we will need to continue practicing simple and effective public health measures (physical distancing, mask use indoors, frequent hand washing). 
What we should not do in wave 2: We should not shut down schools and businesses. The unintended consequences of shutting down society for the 99.9% are huge and not readily reversible (click here to read more on this topic). We need to manage outbreaks and hot spots with good public health policies, as are in place currently in KFL&A.
Use the Mobile Screening Tool: Complete the COVID-19 pre-screening tool here and you will be able to "skip the line": We are working hard to get as many patients as possible into our outpatient clinics to ensure care for the 99.9% of patients (i.e. those who do not have COVID-19 but who have a multitude of other pressing health needs). One way we physicians can help safely expedite entry of patients into our facilities is to ask them to complete the pre-screening questionnaire. This will screen out people who are sick and expedite entry to the facility for everyone else.
To all patients: Please complete your COVID-19 screening for your upcoming outpatient appointment online with the mobile screening tool. The mobile screening tool, available in English and French, only takes a few minutes to complete and you will receive an email with confirmation to bring with you, along with your appointment slip, in printed form or on your mobile device.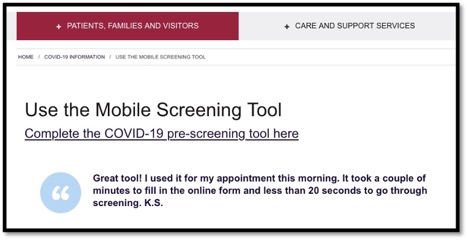 Screening staff will validate the confirmation at entry and you will be able to go directly to your appointment. This mobile screening must be completed a maximum of four hours before your appointment. If the screening confirmation expires, you will need to re-do the mobile screening or be screened in person (by a screener) when you arrive.
With the exception of caregivers for children, this mobile screening tool is for patients only and does not give family members or caregivers an option to pre-screen because we must continue to restrict family presence for outpatients at KHSC in order to maintain physical distancing. To complete the mobile-screening in English, click here and in French, click here.
KHSC visitor policy: One of the hardest aspects of COVID-19 care in the hospital is the need to restrict visitors to ensure we don't import COVID-19 into the hospital. A very few cases of COVID-19 can paralyze the hospital, particularly if they are brought in by visitors and then spread undetected, as happened in Foothills hospital in Calgary and in Toronto. KHSC has a clear visitor policy, which has been in place for many months. All details on the policy can be found using this link (click here) see below: 
Community Assessment Center at Beechgrove: (click here): All COVID-19 test must be scheduled appointments (versus walk in). Appointments can be scheduled by telephone or by our new Eventbrite on line scheduling system. This is working well and we are doing 250 tests/day. In addition to this we are doing Queen's testing and this volume is down too. This relates to more targeted testing guidelines form the province.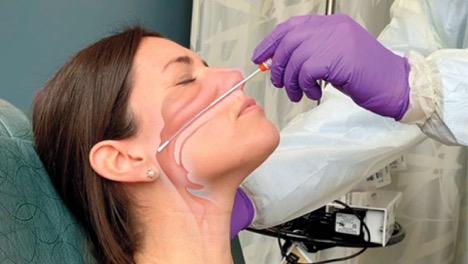 Before booking a test, individuals should complete the online tool to determine whether they qualify for testing (click here). We are still working on our on-line system (it will be available shortly).
A reminder: Per Ontario Health guidelines we do not test asymptomatic people unless they have a confirmed COVID-19 contact and we do not recommend testing children with runny noses as their sole symptom (click here). 
The Beechgrove Complex is south of the King St. West/Portsmouth Avenue intersection. Signage will direct people through the Complex to the Recreation Centre building at 51 Heakes Lane for walk-in testing. Operating hours: Testing hours will return to 9 a.m. to 4 p.m. daily.
Requirements if you need to be tested
1) A valid Ontario health card or a piece of photo identification.
2) Wear a mask and maintain physical distancing at all times while in the walk-in line.
KHSC capacity-preparing for an anticipated need for hospital admission: KGH has adequate bed capacity for a COVID-19 surge (with 81 available beds-up from 62 last week) and we have good ventilator capacity (58 ventilators). In the event of a COVID-19 hospitalization surge and/or quarantine of wards we will need to expeditiously transfer ALC people form the institution to more appropriate sites. Our PPE supply is good, despite a global shortage of some supplies like medical gloves. In fact, the problem of KHSC is the availability of PPE (we are committed to purchasing these supplies-but sometimes they are hard to obtain).
COVID-19 in toddlers and young children: (click here). 
Fortunately kids remain much less likely to be infected by SARS-CoV2 and when they are infected they usually become much less ill. The graph below shows the low incidence of cases in kids under age 10 years in Ontario (click here). The vast majority of upper respiratory tract infections in kids in Ontario are caused by other viruses, like rhinovirus and RSV. Thus, health policy makers and parents of young children should recognize that while children are not immune from COVID-19 infection, infections are relatively uncommon and outcomes are usually excellent for those who are infected. 
Children are usually infected by an adult, usually in their home, rather than by other children. Here are some data supporting this assertion, first for school age children and then for daycare age children. That said the number of cases in school age children which includes teenagers) has more than doubled over the past 2 weeks (increasing from 236 to 635 cases).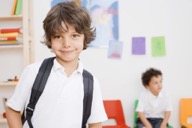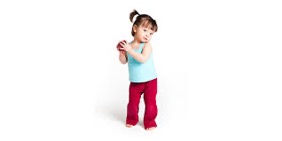 Amongst younger children and toddlers COVID-19 is relatively rare. In Ontario's 5,500 licensed child care centres and over 120 licensed home child care agencies there is also a very low COVID-19 burden (see table below). The rise in cases has been modest in these young children. 164 children in Ontario's licensed childcare facilities have been infected to date (up from 65 cases 2 weeks ago).
The reforms required to make our Long term care facilities (LTC) safe are simple (but expensive): We have 4060 LTC beds in KFL&A. As discussed in many prior notes, most COVID-19 deaths occur in people who are not only old but who are also frail and live in nursing homes and long term care facilities (LTC). As of today, the 1897 deaths in nursing homes account for 63% of all deaths in Ontario, click here. In the last 2 weeks the rate of death amongst LTC residents has once again begun to increase. There was an outbreak at Fairmont nursing home last week with 1 infected staff member (click here). The definition of an "outbreak" in a nursing home is quite strict and only requires 1 case to qualify as an outbreak.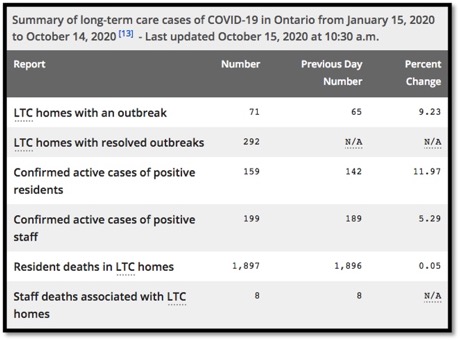 The reforms required to make our LTCs safe are simple to understand but expensive to implement: single rooms for all residents, proper funding of PSWs so they only work at a single site, availability of COVID-19 testing for residents and staff and adequate supplies of proper PPE. 
We want to protect residents of LTC facilities but we can't do this by locking them up and denying them access to family members and loved ones. The emotional trauma, despair and grief caused to people in LTCs in wave 1 is a story that is not yet fully told. In wave 2 we need to do better. LTC residents must be allowed to have ongoing access to their families in friends, with proper screening, PPE and in reasonable numbers. If we fail in this the consequences are as bad as failing to control COVID-19 infections in these facilities.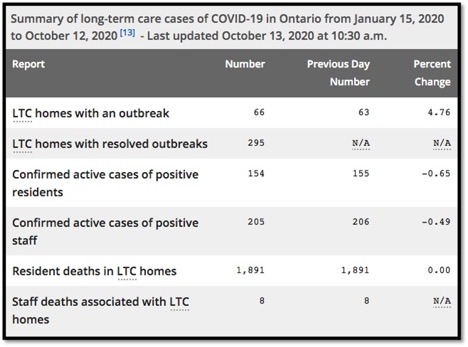 Deaths from COVID-19 in Ontario LTCs 
17 or more neighbourhoods in Toronto have a COVID-19 prevalence of over 1000 cases/100,000 population (click here). Toronto remains a collection of neighbourhoods with vastly different COVID-19 realities due to differences in social/economic, racial and health circumstances. For example, the Beaches has 204 cases of COVID-19/100,000 residents whilst Weston has 2584 cases/100,000. These rates, both in low and high prevalence neighbourhoods, have increased each day for the past month and continue to increase this week. Half of Toronto's neighbourhoods have a very high disease prevalence of over 1000 cases/100,000 population (each dot is a neighbourhood on the map below and all dots to the right of the one highlighted have >1000 cases/100,000 population). 
Canada's second wave: We have had 189,385 cases of COVID-19 in Canada and 9664 deaths (see below) since the pandemic began. Most cases (86%) are resolved. However it is clear the number of hot spots in Ontario, Quebec, Manitoba and Saskatchewan are increasing over the past 2 weeks (see below). We are well into a second wave, which exceeds the first in case number but not in hospitalizations (thus far).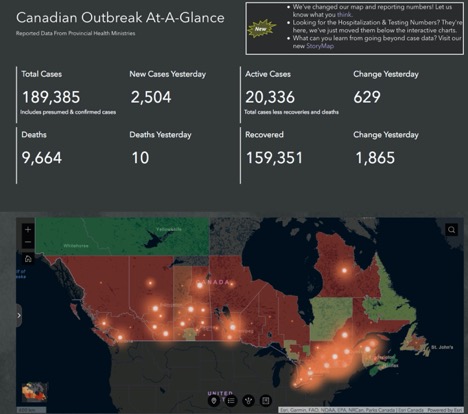 COVID-19 in Canada as of Oct 15th 2020.
COVID-19 testing: Ontario SARS-CoV-2 testing continues at a rate that exceeds the national average of 24.6%, with 31.0 % of Ontarians tested to date ( click here). Our overall positive test rate in Ontario still remains low (1.37%), although it has spiked to 3% in the last week. Another important caveat to our relatively favorable test positive rate is that in some areas, such as certain neighbourhoods in Toronto, positive test rates exceed 10. This is a reminder COVID-19 is global but its impact varies greatly even from one neighbourhood to the next.

SARS-CoV2 Testing in Ontario as of Oct 15th 2020
American data of COVID-19 testing: In contrast with Canada's 2.0% rate of positive tests, the USA has an average rate of positive COVID-19 tests of 5.1% (stable) (click here), although most states are seeing surges in case numbers in the last 2 weeks. The US-Canadian border will remain closed for routine travel at least until the end of October.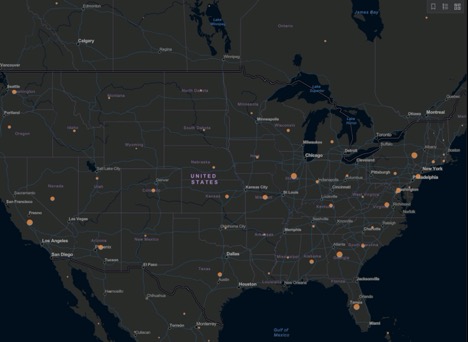 Active cases in the USA Oct 15th 2020 (the large the do the more the cases)
The COVID-19 global pandemic exceeds 1 million deaths and 38 million cases: There are now 38,701,030 cases globally and there have been 1,094,591 deaths. The number of cases has more than doubled since July 27th2020, when there were 16,296,635 cases globally. The pandemic hot spots are in the USA, India, Brazil, and Russia ( (click here). There are approximately 40 countries that have had a total of more than 100,000 cases. The USA with 7,423,328 cases and 209,857 deaths tops the COVID-19 list and accounts for ~20% of the global pandemic. India has the second largest number of cases (see list of countries with the most cases below left).
Stay well!