Bone Marrow Transplantation: Who, What When Where Why and How
Q: What could be worse than having leukemia? A: Learning that there are long delays in accessing potentially curative therapy (and/or that to be treated you must go to the USA).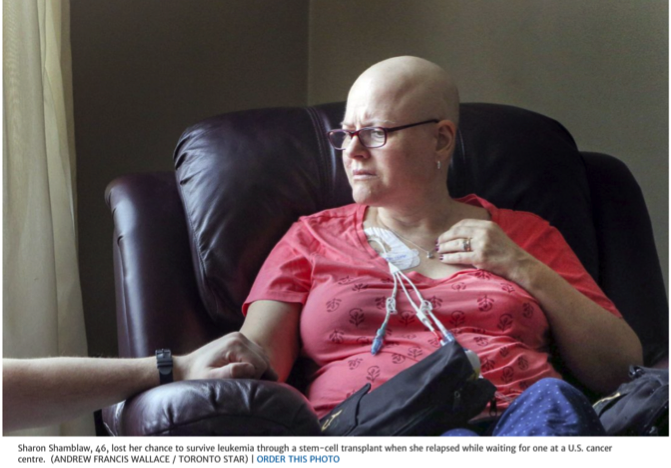 For a story of delay and its cost: click here on Sharon's story by DIANA ZLOMISLIC News reporter.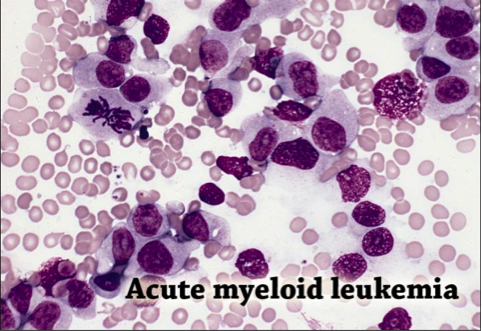 The large purple cells are leukemia cells
In 1956 Dr. Edward Donnall Thomas performed the first successful bone marrow transplant curing a leukemic patient by infusing bone marrow from his identical twin. Thomas, who would later win the Nobel prize, developed techniques to optimally match the cells of donor and recipient thereby reducing the toxicity caused by the infused cells to the host, the so called graft-versus-host disease. He also developed techniques to reduce the chances of transplant rejection (the opposite reaction). By 1968 he was able to perform the first successful bone marrow transplant in a leukemia patient using bone marrow from a relative who was not an identical twin. So how are we doing 60 years later? Sadly, not so well… Some patients in Ontario that have acute leukemia are suffering from lack of access to potentially lifesaving allogeneic hematopoietic stem cell transplantation (Allo-HSCT). Between fall 2015- present day 2017, ~200 Ontarians have been sent to the USA for HSCT costing US$ $100 millions –a cost much greater than would have been incurred had they been able to received Allo-HSCT at home! It's hard enough to be treated for leukemia-toxic chemotherapy and then waiting for a donor to be found whose bone marrow is a "match". However, the entire process is time-sensitive because HSCT works best when patients are in remission. This requires centres to be able to admit patients in remission for timely transplantation. The ability to perform timely HSCT has been challenging in Ontario as demand has outpaced the available services here – leaving some patients to wait too long. While sending patients to the USA provides a temporary respite from this, it is not sustainable or affordable in the long term and means our health care system, including hospitals and health care providers, needs to rise up to meet the demand. Furthermore it can be a painful experience for families to face life and death issues while aboard. The Minister of Health, Dr. Hoskins made the following pledges last year:
Expanding access for stem cell therapy treatment to include leukemia patients who are not in complete remission after chemotherapy.
Opening a stem cell transplant centre at Sunnybrook hospital to assist Princess Margaret Cancer Centre
Streamlining the convoluted referral process for patients sent out of country.
Creating a ministerial task force providing the government with ongoing advice.
Although KHSC and Queen's University were not mentioned by Dr. Hoskins we mobilized to begin building our local capacity to perform allogeneic BMT. We recruited Dr. Sita Bhella, a talented, trained allogeneic transplanter from the University of Toronto, to lead our 8-year old Autologous Stem Cell Transplant program. Dr. Eisenhauer and I asked her to lead the charge to create an Allogeneic Program. Below is a picture of the team Dr. Bhella has assembled to provide autologous and allogenic transplantation at Kingston Health Sciences Centre (KHSC). This team is the foundation of the growing allogeneic team.

From left to right: Karyn McKeever (NP), Nancy Parks (Stem Cell Unit RN), Rachel Sheldon (Quality Improvement Coordinator), Jennifer Davis (Stem Cell Unit RN), Sita Bhella, Angie Bauder (Stem Cell Unit RN), Julie Williams (Stem Cell Unit RN), Tricia Carasco (Pharmacist). Not pictured: Lee Ann Fox (Advanced Practice Nurse), Cindy Cox (Administrative Assistant) With help from Dr. Bhella I assembled a layperson's guide to HSCT, explaining the Who, What When, Where, Why and How Who and What: There are two types of disorders that benefit from hematopoietic stem cell transplants (HSCT) and each receives a very different type of transplantation. For purposes of this blog we will call the 2 types of transplantation auto and allo. Patients with multiple myeloma or lymphoma can be treated, brought into remission (i.e. eliminate detectable disease) and then receive an infusion of their own bone marrow. This is called autologous HSCT (Auto-HSCT). It involves high dose conditioning chemotherapy, followed by re-infusion of one's own marrow stem cells. Auto-HSCT carries with it risks related to the prolonged period of myelosuppression (infection and bleeding primarily) before re-engraftment takes place. Auto-HSCT does not work for acute adult leukemias, like AML or ALL which is where Allogeneic-HSCT comes in. Allo-HSCT involves profound chemotherapy (sometimes with total body radiation) to kill the elusive cancer cells. For these people the bone marrow must come from a donor (usually, but not always, related to the patient). Allo-HSCT is much more complex, riskier and expensive that Auto-HSCT. Patients with intermediate to high risk leukemias (acute myeloid and lymphoblastic leukemias, i.e. AML and ALL), multiply relapsed lymphomas, aplastic anemias and myelodysplastic disorders can benefit from allo HSCT. The goal of an allogeneic HSCT is to cure the aggressive underlying hematologic malignancy. Donated cells can come from a relative, sibling or an unrelated donor (including umbilical cord blood) who is a close genetic match to the recipient. Amongst the challenges with infusing someone else's stem cells is that they can attack the patient, a complication called graft versus host disease. Currently at KHSC, we have a robust, expanding stem cell transplant program that provides the complete care from beginning to completion for Auto HSCT. In addition, we have recently initiated a 100-day follow-up/survivorship clinic for Allo-HSCT patients. Currently 50-60 patients/year undergo an Auto-HSCT at KHSC from areas as far away as Ajax to Smith Falls.  We refer about 20-30 patients for an Allo-HSCT to Ottawa a year.  Through the creation of the 100-day follow up clinic and the long-term survivorship clinic, we hope to provide care closer to home for these complex patients.  Undergoing an Allo HSCT requires patients to move to Ottawa or Toronto for several months and undergo long term follow up at that centre for years. This can be costly and some chose not to undergo a lifesaving procedure due to cost and distance. When and Where: Over the past few years, the demand for hematopoietic stem cell transplantation has grown substantially across Canada. In Ontario, complex malignant hematology care, including HSCT, is overseen by Cancer Care Ontario working with provincial malignant hematologists. Allo HSCT typically has occurred at a limited number of specialized centres: Princess Margaret Cancer Centre in Toronto, McMaster University, University of Western Ontario and University of Ottawa. In contrast, AML care and Auto HSCT (also considered complex malignant hematology care) have been conducted at a few more centers, including KHSC at Queen's University. The centres performing Allo transplantation have been significantly strained under increasing need for this procedure – attributable to an increasing incidence of leukemia, broadening of eligibility criteria for offering Allo HSCT to these patients, as well as new indications for transplantation. As noted above, the demand for Allogeneic HSCT has led to increased wait times and the need for some patients to travel out of province for timely care.  For an Allo transplant to be most effective it should be offered within 2-3 months of diagnosis. Ideally, this is done when the patient is in remission but, although not optimal, transplantation still can induce a durable remission in a third to half of these patients (who otherwise will die). Providing outstanding care closer to home to our patients may improve the quality of life for our complex patient population.  Basically, we need to be doing this in KHSC to serve the 500,000 residents of the SELHIN. Why and How: Auto-HSCT involves the following steps: 1) Ensuring that patients are eligible for intensive chemotherapy. Increasingly we are trying to perform the chemotherapy on an outpatient basis, 2) Mobilizing an adequate number of CD34+ hematopoietic stem cells 3) Collecting the patients own stem cells through apheresis 4) Cellular processing 5) Conditioning chemotherapy to eliminate or reduce as much of the underlying malignancy as possible 6) Reinfusion of the healthy hematopoietic stem cells 7) Recovery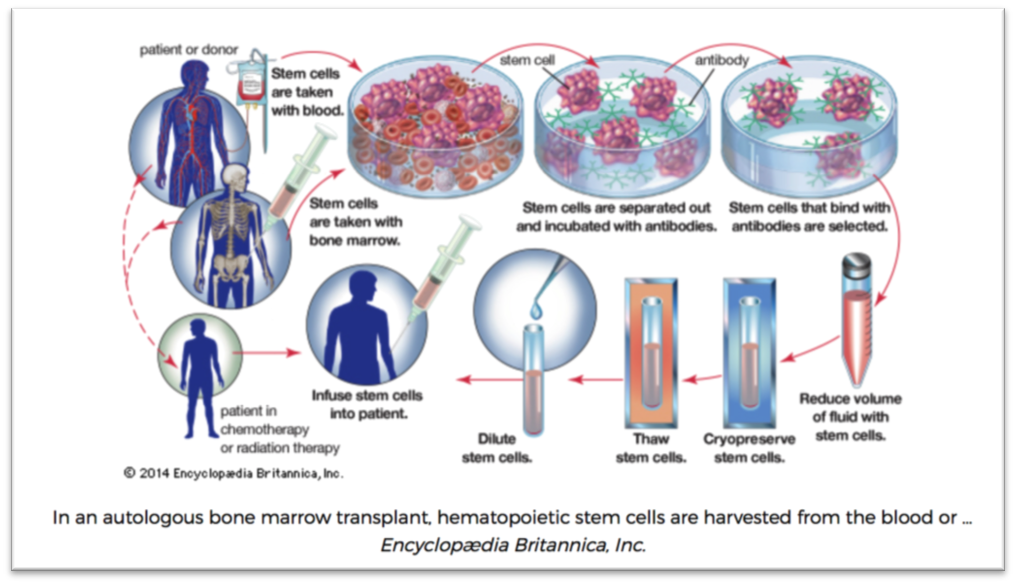 Allo-HSCT involves the following steps: 1) Ensuring patients are eligible and fit for intensive chemotherapy (plus/minus Total Body Radiation) 2) Finding a suitable donor (haploidentical, related, unrelated) 3) Ensuring that the donor is eligible and fit for donation 4) Collecting hematopoietic stem cells from the donor 5) Conditioning chemotherapy with graft versus host disease prophylaxis for the recipient 6) Infusion of the donor cells 7) Monitoring for acute complications 8) Monitoring for long term complications, such as infections, graft versus host disease and secondary malignancies.
http://www.bonemarrowmx.com/allogeneic-bone-marrow-transplant/
Although transplantation is a technical tour de force, safely transplanting a patient is as much about the team as it is about the cocktail of drugs used to induce remission or the infusion of the cells. In addition to the team of transplanters we have assembled for our Auto-HSCT program, the performance of allo transplants will require this team to expand significantly and thus raises the bar for the entre medical centre. The unique complications of allo (graft vs host disease and rare infections) require specialized trained physicians, pharmacists and laboratory personnel. In other words, building an allogeneic HSCT program requires the expertise of multiple specialties.  As we move forward we will require specially trained, transplant-savvy doctors in the following specialties: infectious diseases, Respirology, gastroenterology, laboratory medicine, and dermatology. We also will need additional pharmacy expertise.
Next steps Our next steps are to develop guidelines for the long-term management of patients undergoing allogeneic HSCT and to educate nurses, pharmacists, physicians to care for these complex patients. We are in the process of achieving FACT (Foundation for the Accreditation of Cellular Therapy) certification for our program and will begin by repatriating patients earlier post Allo transplantation. From the perspective of KHSC and our Cancer Program – expanding our already substantial complex malignant hematology footprint beyond acute leukemia and Auto-HSCT programs into a new Allo HSCT program is a logical and important next step. The start of this is underway – in a shared care model with our colleagues in Ottawa, we are now repatriating our own Allo patients 100 days post-transplant. A plan is in development to assemble an expanded Allo team while gradually bringing back patients earlier, eventually to day 1 transfers, to provide the care our patients need as close to home as possible. Through this we will also play an important role in increasing capacity for Allo-Transplant in Ontario. So, 60 years after the first transplantation our problem is delivering the now improved procedure in a timely manner closer to the patient's home. I for one am encouraged and proud that we at KHSC are rising to meet this substantial challenge. It is good for patients and good for the hospital and University!