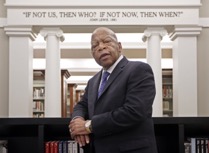 If you see something, say something: a personal story about systemic racism
When you see something that is not right, not fair, not just, you have to speak up. You have to say something; you have to do something. — John Lewis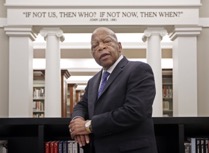 As a white male I am uncertain how best to participate in the conversation about race that is swirling in North America in 2020. I want to say something, but I do not want to say the wrong thing. I am not black. I wish to express my empathy, my support, my thoughts – but the fact is, I have never been in the shoes of those who are black. However, uncertainty is not a good enough reason to shy away from the discussion. It is likely best if we move forward together and acknowledge the systems that create and/or perpetuate racist policies and programs that produce social and health inequities. Moreover, as a leader in Canadian academic medicine I feel a responsibility to participate in the dialogue. Saying nothing at all is not helpful. Many folks would not know some of the reasons that led me to move from Chicago to Kingston, and the history leading up to my appointment as Department Head of Medicine at Queen's University. I have never publicly told this story and have wanted to for some time, so here it is. 
What follows is a story about systemic racism involving access to health care. Many people who were involved would not agree that it is an example of racism; rather they would argue it was "just business", collateral damage from a difficult financial decision. Overt racism is easy to identify when it is wearing a white hood, hurling racial taunts or assembling in armed throngs. However, more often racism is buried in decisions and practices that disadvantage black people and other racialized groups. Many impactful decisions, like who can access health care or study at a university, are made under the guise of non-racial, often financial, criteria. However, the consequences of these decisions, if not their intent, often disproportionately impact a particular racial group. As nicely defined in a National Post article "The idea of systemic racism is not about individual attitudes. It is about how society works. Good people can participate in systemic racism".  This of course does not let any of us off the hook for our personal behaviours, but I have struggled more to understand and identify acts of systemic racism than I have to understand personal acts of racism.
Some may not want to hear this story from a white male who has privileges, and authority, that others have been denied. Others may hear this story and disagree with its meaning or interpretation. A draft of this blog was circulated to ten people, some of whom were intimately familiar with the events described. This editorial board favoured rejection! Feedback included, Why talk about it now, this happened 10 years ago? Don't compare yourself to John Lewis-even by accident; This story could land you in trouble; You will just look like a disgruntled employee, You use too many "I's and Me's, -the story is not about you". The text was modified accordingly. When torn about whether to recount the story, I got the needed nudge to act from the words of civil rights leader and recently deceased Georgia congressman, John Robert Lewis. He emphasized the need for each of us to take personal action and to call out injustice when one saw it, stating "If not us, then who; if not now, then when?".
This personal recollection transpired a decade ago, a time before the Black Lives Matter movement. However, the BLM movement and related events at Queen's, particularly the acknowledgement of our historical exclusion of black medical students, influenced me to share this story. The story relates to the exclusion of black patients on Chicago's South Side from access to healthcare at the University of Chicago Medical Center, where I was employed as Chair of Cardiology. The medical centre did not exclude patients because they were black; they excluded them because of their nonlucrative insurance coverage (Medicaid) or lack of health insurance. The opinions expressed are my own and do not reflect the views of my current or former employers I was not required to sign any nondisclosure agreements upon my departure from the University of Chicago, and thus I am free to share this story.
In 2007 I was hired by the then Head of Medicine, Dr. Skip Garcia, to be the Chair of Cardiology at the University of Chicago. The University of Chicago and the country as a whole were thriving financially. The mandate was to increase the research intensive nature of the Cardiology Program, grow our clinician scientist program and lead a drive to create a Heart Institute. Things began well and I was selected as one of the University's 100 leaders. However, there were some early rumblings of concerns. I was soon apprised by the chief financial officer (CFO) that, "an empty bed was better than a bed with a Medicaid patient in it". We butted heads over this assessment. I came to understand he viewed a Medicaid patient occupied bed as an opportunity cost (i.e. we could have made more money if a patient with private insurance were in the bed). The economic view is not dissimilar from that guiding luxury retail chains; better to sell one pair of Christian Louboutin shoes than a dozen discounted shoes (similar profit with less labour cost). Although I didn't agree with the model, things were initially counterbalanced by a liberal and proactive faculty that were proud to provide healthcare to the South Side residents. I was no longer in Canada and understood the importance of bringing in profitable patients from other states and northern Chicago suburbs and of opening a downtown clinic. This ethos was commonly summarized as "No margin, no mission". In other words, a financially healthy hospital could do great things, and up to a point that was reasonable. However, we were soon to pass the point of reasonableness!
Relevant to this story, the University of Chicago sits in the middle of Illinois' poorest neighbourhoods (the red area near the bottom of the income-coded map below). This area is called the South Side.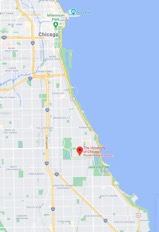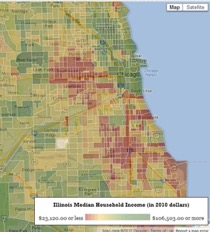 The University of Chicago (red marker on left map) is in a low income part of Chicago (at the southern part of the income map on the right, with average incomes $23,100/year)
The South Side is also predominantly black (over 80% of residents-see map below).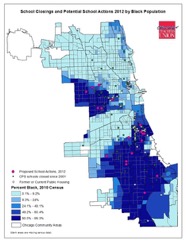 The neighbourhoods around the University of Chicago are home to black people
The South Side also has a staggering prevalence of lethal illnesses, like cardiovascular disease, cancer and trauma.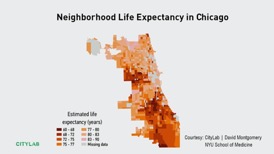 People on the South Side have a life expectancy a decade less than those who in Chicago's northern suburbs.
Go north just 5-10 miles and it's a different world; richer, whiter, more private health insurance, much less gun-related trauma and lots of hospitals; but on the South Side there are health care and food deserts. These deserts are areas with scarce hospital access and few grocery stores. So, South Chicago, is poor, black and has very poor health outcomes, including a reduced life expectancy. For many diseases, care must be delivered quickly and close to home (like heart diseases, trauma treatment and emergency medicine). There isn't time to go shopping for an alternative hospital in another part of the city when someone is acutely ill. South Siders have come to rely on the University of Chicago Medical Center. This neighborhood needed access to the quality healthcare that the University of Chicago proudly provided. However, in 2008 there was a huge crash in the stock market (click here), the biggest since the Depression.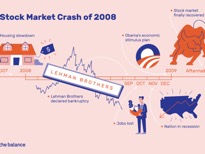 In early 2009, ostensibly in response to the stock market crash, the hospital leadership embarked on a strategy to improve their "payer mix" to enhance profitability. For Canadian readers "payer mix" is a foreign term, since the insurance status of patients is not a factor in determining access to care in a universal healthcare system. In contrast, every doctor in America understands payer mix. It is the euphemistic term that reflects the mixture of health insurance coverage that the patients in a practice or hospital hold. A good payer mix means your patients are predominantly people with private health insurance. A poor payer mix means you have lots of patients who are uninsured or have a form of government insurance provided to low income people, which is called Medicaid. Medicaid provides health coverage to 66.8 million Americans, including low-income adults, children, pregnant women, elderly adults and people with disabilities. Medicaid is administered by states, according to federal requirements. Hospitals don't like Medicaid because it pays lower fees for procedures and admissions than does private insurance. Some hospitals are not even fond of Medicare. Medicare, which began in 1966, is a national health insurance program for Americans aged 65 and older that is administered by the Centers for Medicare and Medicaid Services (CMS). Private insurance payments for any service are consistently greater than the Medicare rate, roughly double the rate for most services (click here). Medicaid reimbursements are even lower, averaging 89 percent of Medicare reimbursement rates. Nonetheless, many hospitals can break even while providing care for Medicaid patients (click here).
So if a good payer mix just means caring for a lot of privately ensured patients then why might it be racist to try and improve payer mix? The answer of course is that such practices do not automatically constitute systemic racism. However, the activities selected to improve payer mix must be selected carefully to avoid an adverse outcome. Private health insurance in the US is tied to employment and many Americans rely on Medicaid or have no insurance. These people are often unemployed or lack full-time employment. The 66.8 million Americans in the Medicaid program cluster in certain geographical regions and are disproportionally from disadvantaged groups, including black people. This is certainly true in South Chicago.
On Jan 7-8th 2009 I participated in a meeting of the 100 University Leaders held at International House. We were reminded the purpose of the meeting was to ensure we understood our role in making $100,000,000 in cost cuts over the next few months. We were told we needed to help drive the implementation and to "Commit to the necessary restructuring actions and inherent changes that produce a $100M net reduction of Chicago BioMedicine's cost base by July1, 2009". It soon became clear the purpose of the meeting was not to solicit advice about alternative approaches or to discuss the consequences of such actions but to deliver on cuts. One of the first slides shown was the graph below, illustrating the stock market crash. We were told, one should "never miss the opportunity to exploit a crisis".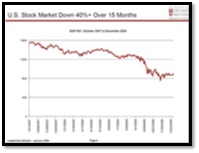 I understood this comment to mean that the financial crisis gave us "cover" to make financial rewarding but ethically dubious changes with less likelihood of criticism from the community and the media. If we were in financial crisis (like the rest of the country) it would be safe to make cuts, or so went the logic. Although portrayed as a decision born of necessity, to avoid financial loss, our cuts and subsequent bed closures were not triggered by an existential threat to the hospital or even financial peril. Throughout the country's financial crisis, we continued paying executives high salaries, we employed dozens of highly reimbursed vice presidents, and we physicians remained well paid. The hospital was not losing money-they were just not making money at the desired rate. They also did not overtly acknowledge that they were limiting care access to low income people, they simply closed the beds (hospital wards and units) that dealt with the kinds of diseases people in South Chicago suffered from (cardiovascular disease, trauma etc.). The hospital administration tried to make the case that the locals would get care elsewhere (the problem was, however, there were few alternative medical centers on the South Side).
My recollection of the meeting is that few attendees openly questioned this direction and I could tell from the silence around me that my comments regarding the adverse effects of cuts and restriction of access to care for the local population were unwelcome. In addition to the cuts we intensified our effort to improve payer mix. The University of Chicago was keenly aware that improving payer mix by even a few percent would improve profitability. There were positive aspects to our quest to improve payer mix. We put lots of energy into outreach and recruitment of new clinical sites and new patient populations. We extended our services to privately ensured patients in Chicago's northern suburbs and downtown core. We did this through partnerships with other medical centers and through opening a deluxe, concierge service, clinic on Huron Ave, just off the Magnificent Mile. However, this supply side reform was not deemed sufficient and things turned dark as strategies shifted to actively reducing access for people who were uninsured or insured by Medicaid.
As nurses were terminated and beds closed in nonprofitable areas of the medical centre (those serving South Siders, such as the Emergency Department and Cardiology Ward) many of the faculty felt moral discomfort. However, even the faculty were divided, not only because of different world views (is health care a right or a privilege?) but also because the impact of the cuts was not uniform. If you were a cancer doctor or dealt with inflammatory bowel disease there remained a steady supply of privately insured patients, good access to hospital beds and your practice was largely unaffected. If you were an emergency department doctor or a cardiologist, with patients who were more often local and insured by Medicaid, the access to the hospital was progressively ratcheted down. To illustrate how asymmetrical the service restriction plan became consider this. The University was well underway in plans to build a new $800M hospital pavilion. We were informed that neither an Emergency Dept nor a Cardiovascular program were to be included in this new facility! Can you imagine a brand new hospital with no emergency department or heart care floor? In 2009 the philosophy appeared to be, "If it doesn't make dollars; it doesn't make sense".
As 2009 progressed we intensified our efforts to improve payer mix by limiting access to poorly insured South Side residents. Ultimately (and incredibly), we were told we could no longer provide elective care for Medicaid patients. This had the expected consequences of chaos in the Emergency Department and on the Cardiology wards. Imagine a walk-in patient having a stent for a heart attack one day and then you, as their cardiologist, being told you could not book that patient to see you in clinic in follow-up. The restrictions on access to Medicaid patients primarily affected people with diseases that required timely, local, treatment, like heart attack, stroke and trauma. These people were largely black.
One hundred ninety of my colleagues and I signed a letter protesting cuts in the available beds. I found myself embroiled in controversy, fighting hospital proposals as radical as closing the coronary care unit! The Cardiology group was told that for the new hospital pavilion to include cardiology beds we would have to achieve a 50% private payer mix (i.e. half our patients would need to be privately insured). This was unrealistic for our geographic location and mission. The faculty letter protesting the direction that the hospital had chosen was directed to the Board of Trustees; however, somehow this letter was leaked to the Wall street journal (see below).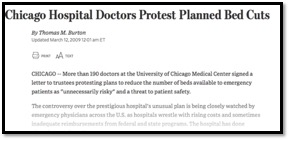 The article noted the following (roughly): "More than 190 doctors at the University of Chicago Medical Center signed a letter to trustees protesting plans to reduce the number of beds available to emergency patients as "unnecessarily risky" and a threat to patient safety. The controversy over the prestigious hospital's unusual plan is being closely watched by emergency physicians across the U.S. as hospitals wrestle with rising costs and sometimes inadequate reimbursements from federal and state programs....Hospital officials acknowledge long waiting times and a high rate of patients leaving without being seen and say they planned to address them by diverting some ER patients to other hospitals and, in many cases, have them seen by University of Chicago doctors....Hospital administrators said in recent weeks that they have planned to cut 24 beds out of about 50 available to ER patients who needed to be admitted for general-medicine care, and nine out of 63 intensive-care beds to which the most acutely ill ER patients can be admitted....Administration officials say they face a unique challenge because of the hospital's location near poor neighborhoods on the city's South Side. The hospital said 35.6% of patients it admits are on Medicaid -- one of the highest rates of any hospital in the Chicago area, according to the hospital's estimates. Like other entities, the non-profit hospital faces difficult economic times, though its revenue exceeded expenses by $87 million last year and $85 million in 2007".
After this letter, things deteriorated. Over the next 2 years we lost ~25% of our faculty. Ironically we lost people on both sides of the "access to care" debate, including the Head of Medicine who hired me and the Head of Emergency Medicine and on the other side the Dean/CEO who proposed the cuts, as well as his CFO. No one talked about systemic racism; those faculty who were concerned simply considered the hospital's actions unjust. Many, including me, pointed out that a hospital could not survive (let alone be considered ethical) solely on privately insured patients, at least not if it were located on the South Side. Privately insured patients had too many choices for their hospital of preference and most chose not to come to the South Side (which was considered by many in the white-predominant suburbs as "unsafe").
On June 3rd 2009 U.S. Rep. Bobby Rush announced that he had requested a Congressional investigation into "whether the University of Chicago Medical Center engages in 'patient-dumping' practices designed to steer primarily poor and uninsured people to other health care facilities." (see below). His letter requesting the investigation dealt broadly with questions of health care for the poor during difficult economic times (not just at our hospital). However, the news release issued by his office specifically referenced the fact that our Medical Center's activities might explicitly threaten our eligibility for federal funding (which required us to care for Medicaid patients).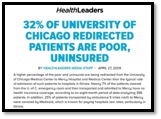 Here is a sampling of what was in the media at this tumultuous time. Other hospital had challenges too; but we were outliers in the prohibition against Medicaid patients.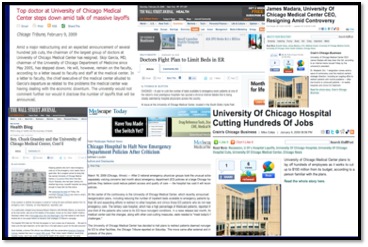 A small sample of the new stories about the restricted to access to care and the response to these policies at the University of Chicago 
In 2011, I was asked to step down as Chair of Cardiology. This occurred despite the fact that our heart and Heart Surgery program had been ranked in the top 20 programs in the country by the US News and World Report, that our Division was ranked #2 in outpatient satisfaction and, that while we accounted for only 10% of Departmental faculty, we accounted for 33% of its financial collections. Moreover, our cardiac transplantation program was the largest in the state, our electrophysiology program the largest in the city and our Pulmonary Hypertension program was known internationally. I remained at the University as a cardiologist and researcher and proudly served the region as President of the Chicagoland chapter of the American Heart Association. I left the University of Chicago, where I remain Professor Emeritus, and returned to Canada in November 2012. 
This was not the first time restriction of access to care has occurred at the University of Chicago. Indeed a student strike in 1947 reflected the outrage of students at the exclusion of black patients from the University of Chicago hospital (then called the Billings Lying In hospital) and exclusion of black medical students from the medical school (see news articles below).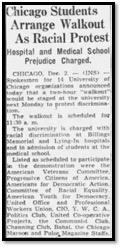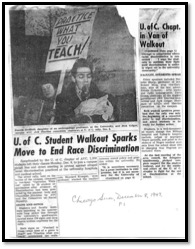 Click here for link to story about the University of Chicago Student Strike of 1947
Postscript: Over the subsequent years, there have certainly been improvements at the University of Chicago. The prohibition against elective care for Medicaid patients ended. Cardiology and emergency medicine programs were moved into the New Hospital Pavilion and the hospital even opened a trauma centre, although how this occurred is instructive. Throughout the past decade, the University Hospital had refused to run an adult, level 1 trauma centre. Although trauma abounds on the South Side, the victims are largely uninsured and their care was not profitable. This led to long-distance transport of gunshot victims and on occasion poor outcomes. Transport of a person with a gunshot wound (and most of these people were black) more than 5 miles was associated with a 21% increase in mortality (click here). Despite repeated lobbying the medical center cited cost and overcrowding to decline opening a trauma center (click here). The Trauma center was finally approved largely because the community persistently and aggressively lobbied and protested (click here).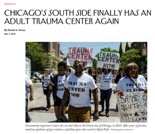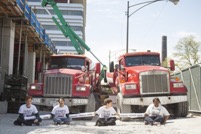 Chicago has ~720 gunshot wounds/year, many occur close to the University of Chicago. In August, 2010, 18 year-old Damian Turner, an aspiring musician and community organizer, was caught in the crossfire of a drive-by shooting on Chicago's South Side. He was shot four blocks—one minute by car—from the University of Chicago Medical Center; however, paramedics drove him to Northwestern Memorial Hospital nine miles away... (Click here to read the story which inspired the movement that ultimately led to approval of a trauma center). The trauma center has made a huge improvement to local care. Before the trauma center opened, Chicagoans in mostly black neighborhoods were 8.5 times more likely than people in mostly white neighborhoods to live in "trauma deserts," (click here). The access to trauma care was improved almost 7-fold by opening of the trauma centre.
To give the University of Chicago credit, it exists on the South Side not in a leafy, peaceful, northern suburbs. The University in this regard is somewhat a victim of the larger chaos in America's approach to under-insured patients, which was attenuated but not solved by Obama Care (the Affordable Health Care Act). However, the University of Chicago Medical Center receives public health care funding which requires them to provide access to all and, despite this, the medical center has a painful track record of denial of care. The hospital's, "No margin, no mission" mantra was laid bare by the fact they were not actually in financial peril at the time and cynically chose a course that deprived many patients of care. Were the Medical Center's actions racist? Not intentionally; but they had the effect of denying care to black residents of South Chicago and today would be considered part of systemic racism.
What are the learnable lessons from this experience? First, I learned how to get in trouble, or more accurately, as the late John Lewis said, speaking atop the Edmund Pettus Bridge in Selma, Alabama, on March 1, 2020 how to "Get in good trouble, necessary trouble, and help redeem the soul of America" . This blog is a call for all of us to stand up and be counted and to be willing to get in good trouble-if you see something racist speak up. That said, we should speak up in a way that is effective and when possible educates and corrects; rather than diminishes and demeans. Racism is not an American problem and it's not just a white problem. Racism is in us all (which I was reminded when I recently read White Fragility, click here). White people are not uniquely racist, but the power that comes with being white (as part of the socially constructed narrative surrounding race) means that our racism, whether intentional or inadvertent, has much more consequence than the racist views that are held by other groups. Second, I believe the other lesson learned is that powerful organizations can choose "margin over mission" and propagate systemic racism.
In recent months there has been a push back against the Black Lives Matter movement as well as many episodes of anti-Asian racism and racism against Indigenous people in our own community. These events compel us all to participate in the battle against racism at Queen's, across Canada, and beyond. It is not easy to stand up and be counted when you see a racist act; but there are ways to speak up, deescalate, support the victim, and document racist events. Sarah Ferguson, from UNICEF USA, offered the following tips on how we can all be allies and help stand up against racism (click here). She also encouraged financial support of human rights organizations.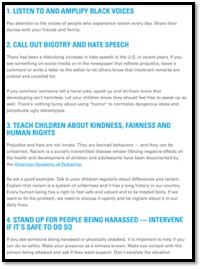 This video also offers some interesting ideas as to how we can stand up against racism (click here).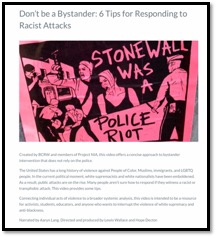 Finally, thanks to my editors. Here are some of their comments:
Regarding institutions: "Institutions are like individuals. Sometimes they go astray from their principles and make bad decisions. If you are their true friend you need to call them out and hold them accountable to make them get back on track."
Regarding preaching diversity from non-diverse areas: "There are very few black lives matter signs in my Hyde Park neighborhood but the neighborhood has lots to be proud of and lots of problems and is racially mixed. The north shore neighborhoods of Wilmette and Winnetka are not racially diverse but have a BLM sign on every lawn." 
A paraphrase on the idea of getting in "good trouble" "Please acknowledge that it is not easy to do the right thing in real time. If you are not black you may not feel entitled to speak up. When the discrimination occurs in front of you it can be hard to have the courage and presence of mind to act."
A warning: "This is definitely a story that needs to be shared, it illustrates the corporate underpinnings of racism that are creeping into medicine and academia - exploiting a crisis is especially gut-wrenching and sad. You may get into trouble again - accusations of slander, leaking confidential info - but I do not think this should or will deter you."
Another warning: "I wouldn't touch this with a 10-foot pole".
A reminder it's not about me: "One of the things I read in "So You Want to Talk About Race" [Ijeoma Oluo] is to be careful, (as a white person), in how many times you talk about "I" and "me". Her suggestion is that when you are making a commentary about race / structural racism, to be mindful not to make it about you. We feel you are making important points, and it is obvious you are reflecting on what happened a decade ago in light of current events. To this end, the details of your hiring at UofC, experience as Cardiology chief, conflicts and subsequent resignation are clearly personally painful but switch the focus on you - which detracts from your central message that we should stand up for our principles and work against discrimination together. This is well illustrated by your reference to the hundreds of doctors who signed a letter disagreeing with hospital policy.
A critique: "It feels a bit too long"
I hope this bit of history is helpful as we work together to a more equitable and just society where all people are treated justly.