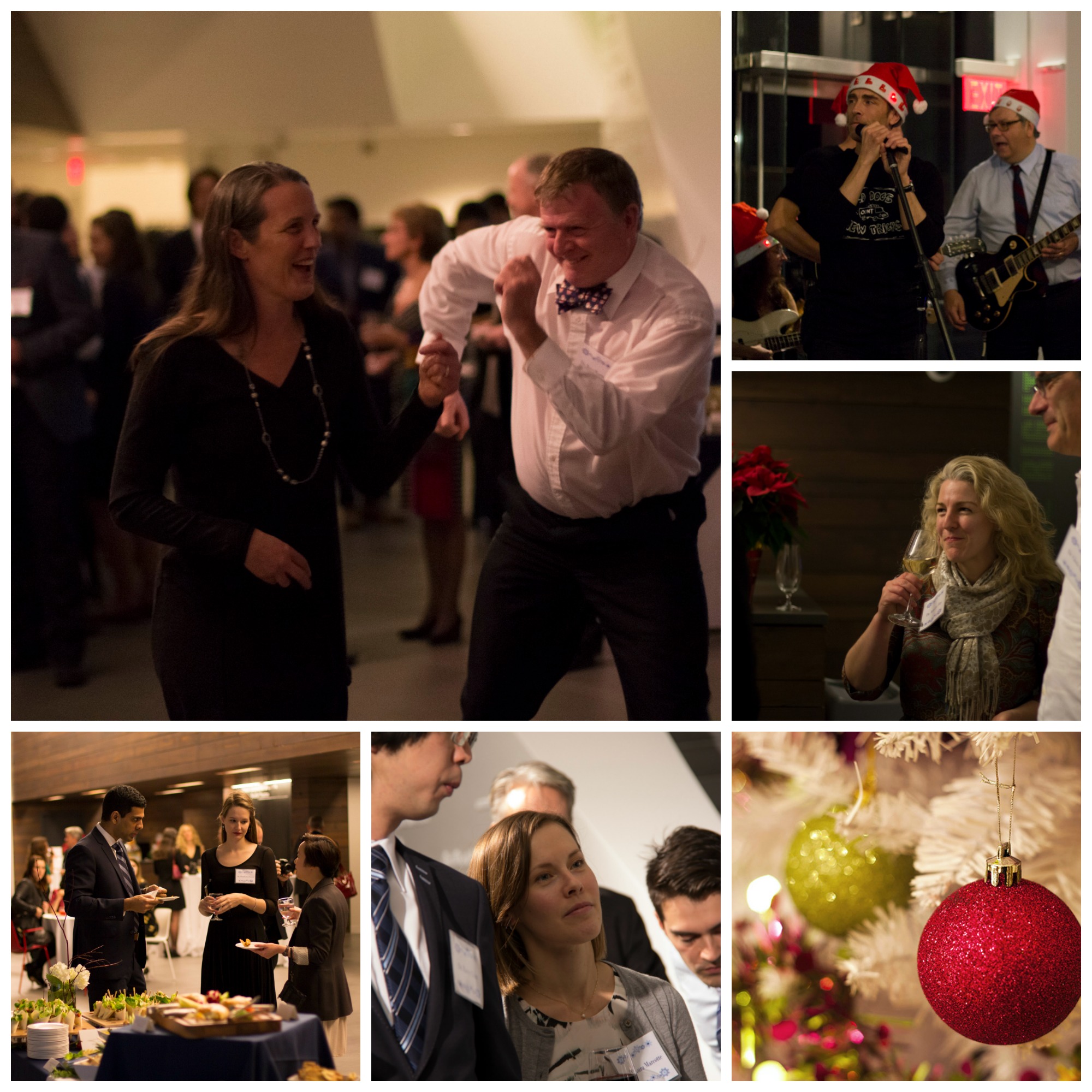 A Year in Review: Stronger Together
As December comes to a close we often find ourselves looking back at the achievements and successes of the past year. This is a season of reflection, celebration, friendship and family.
Each year I write holiday cards to my colleagues and friends. During this time I like to pause and consider each of the dedicated physicians and support staff that work alongside me. This year, like all others, I am overcome with a feeling of pride as I consider our accomplishments. In addition, I am moved by the sense of collegiality, collaboration, and the ceaseless drive for success and innovation that has resulted in an excellent year for the Department of Medicine as a whole, and for each of us individually.
The Department of Medicine 2015 Annual report will be published before the year closes, and provides an opportunity to read first hand some of the many successes within the Department of Medicine. The topics in this report range from quality clinical care, innovative research, and superior educational achievements. For now, in advance of the full report, I provide you with an executive summary of successes. This is not an exhaustive list so be sure to review the annual report available in the iTunes store soon! Congratulations on all that you have achieved!
"Alone we are strong, but together we are stronger."
Department of Medicine Annual Report 2015
Executive Summary
2015 has been a great year for the Department of Medicine. Due to the hard work of the faculty we have met and exceeded our targeted metrics in virtually all domains. Our focus has been on expansion of the faculty, hiring a talented new cadre who will create and support programs of distinction in clinical care, research and education.
Moving forward, we will continue to strive to achieve the following goals:
Implement a new program for the education of medical residents; a Royal College Initiative championed by Dr. Reznick, entitled, Competency by Design (CBD).
Continue to expand our research portfolio by doubling the size of our research enterprise.
Create a Translational Institute of Medicine (TIME) to connect and catalyze our research enterprise and support creation of a new postgraduate, degree-granting program in medical research.
Continue to create a robust sense of citizenship amongst our faculty with a focus on enhancing well-being and physician wellness.
Invest in faculty development, ensuring we develop our talented team through programs of mentorship as all as the provision of opportunities for advanced training in leadership, medical education and public health.
Expand the quality and quantity of our clinical care with new programs of distinction that provide the ~500,000 people of the South East Local Health Integrated Network (SELHIN) with access to state-of-the-art, tertiary and quaternary care for complex diseases.
Enhance communication and advocacy with stakeholders including our clinical partners in the SELHIN, our referring doctors, patients and politicians
I) Future Recruitment Highlights:
The Department of Medicine's 3-year HR plan was submitted to SEAMO's Strategic Priorities Committee and will see an additional 12 recruits over the next 3 years. A highlight of the 3-year plan is a major investment in growing the Division of Neurology, an initiative guided by an external consultation from Dr. Doug Zochodne, University of Alberta.
II) Professional Development Highlights:
a) Welcome aboard: The Department has successfully implemented a new on-boarding process for new faculty, ensuring that they start their career with the Department of Medicine feeling supported. The Department provides new faculty members with a laptop and new office furniture, and facilitates hospital privileges along with access to the hospital Patient Care System (PCS), and other systems that may be needed within the hospital
b) Medical Grand Rounds and Mortality and Morbidity rounds: These rounds are well attended by the Department members and house-staff. They provide a forum for community and sharing which has made the Department of Medicine more cohesive. Remote participation continues to be popular for off-site members. In 2015 we added the ability to record rounds and the link to access the rounds is made available to faculty and house-staff.
c) Biannual retreats: Dr. Vanner leads The Departmental retreats. From these retreats emerge the ideas that eventually become Departmental strategic goals. The Retreat on Strategic Planning was a huge success and saw a tremendous turnout, and enthusiastic participation from the faculty (>90% attendance). The program was interactive with pulse point surveys to maximize engagement and obtain input from all members. The evening included panel discussions on clinical, education and research cornerstones and an anonymous faculty "happiness survey". The results of the retreat shaped and informed many of our key initiatives for 2016.
d) Funding for advanced education: Josh Lakoff (Endocrinology), Dr. Janet Lui (Hematology) and Dr. Ben Glover (Cardiology) were successful in obtaining SEAMO MEDP grants. In 2016, they will begin their chosen Masters program.
e) Mini sabbaticals: Mini-sabbaticals were granted to Drs. Chris Smith, Elaine Petrof, Rachel Holden and Mala Joneja. Mini-sabbaticals are awarded to individuals to further enhance their recognized success in educational, clinical and/or research domains.
f) Faculty recognition: The Annual Awards Ceremony was held at the Isabel Bader Centre and saw the largest turnout yet for the faculty. A guest of honour was neurologist Dr. Allison Spiller, who was presented with a Career Achievement Award for her years of service to her patients and to the Department of Medicine. Dr. Spiller died shortly after the ceremony after a long struggle with cancer. She is remembered as a hugely talented and passionate neurologist with unbounded energy.
g) "DOM Library": For the annual report meetings with faculty members, Dr. Archer instituted a book give-away as a thank-you to Department members, symbolic of the importance of maintaining work-life balance.
III) Clinical Highlights:
a) Clinical Programs of Distinction: The Department is pursuing clinical programs of distinction. These programs are complex and involve faculty from multiple Departments; with a requirement for highly trained faculty and specialized equipment as well as MOHLTC funding. Our nascent programs include:
Creation of a formally recognized Epilepsy Centre.
Creation of programs in neurostimulation.
Allogeneic transplant program.
Living related renal donor transplantation.
Expansion of our programs in structural heart disease and arrhythmia intervention.
IV) Research Highlights:
i) Program growth: Research revenue for fiscal 2014-15 was $13.2M, an increase of $3.7M from 2013-14, and $5.6M from fiscal 2012/2013. The five-year goal for the DOM over the period 2013-2018 remains doubling of external research support to exceed $16M/year.
ii) Grant highlights:
a) Seed grants: The Departmental Development and Innovation Fund offered $463K in internal seed grants to leverage external funding. Clinical and basic science operating grants were awarded to Drs. Boyd, Reed, Neder, Jin, White and Johri. An Educational grant was awarded to Dr. Viola, and ICES project grants were awarded to Drs. Lougheed and Gill.
b) $8 million CFI application creates the Queen's Cardio Pulmonary Unit (Q-CPU). (PI Dr. Archer): Q-CPU is a Molecules to Populations Translational Research Centre that seeks to develop new therapies for heart and lung disease and pulmonary hypertension. Q-CPU occupies ~8000ft on level 1 of the Biological Sciences building. The location will open, following renovation, in November 2016. Q-CPU will be a leading research platform, supporting a group of researchers in the development, preclinical testing and commercialization of new therapies for PH.
Q-CPU will build on existing institutional and CFI investments, and enhance linkages between basic and clinical investigators and the associated infrastructure at our institution. Q-CPU investigators include MD and PhD faculty in several departments (Department of Biomedical and Molecular Sciences, notably the CCR Group led by Dr. Don Maurice) and Medicine (with faculty from Respirology, Neurology, Hematology and Cardiology).
The team includes investigators at the Universities of Alberta, Minnesota and Utah. We are an outward looking unit with established partnerships that will allow national and international collaborations. There are 4 cores to the Q-CPU: Experimental Therapeutics, Translational Research, Clinical Trials, and Population Health Sciences. Q-CPU includes a Virtual PAH Clinical Trials Network, linking PAH clinics in Kingston, Ottawa, Minneapolis, Salt Lake City, Sao Paulo and Edmonton.
c) Foundation Award: Archer received a CIHR grant of ~$3.8M for his translation research on the role of disordered mitochondrial dynamics in the pathogenesis of pulmonary arterial hypertension and cancer. 
iii) Groundwork for creation of the Translational Institute of Medicine (TIME): The creation of TIME comes with the goal of creating better connectivity, visibility and elevation for our existing research teams. It is our intention that TIME will ultimately become a faculty-based institute with its own graduate program (based in the Department of Medicine). TIME will be directed by Dr. Vanner and the graduate program will be led by Dr. Paula James. TIME will be based upon existing research programs in the Department of Medicine, many of which span Departments (e.g. Q-CPU, the new CFI-funded Queen's Cardiopulmonary Unit, GIDRU, the Allergy Evaluation Unit, the Resp. Research Group, the Arrhythmia Group, and the Bleeding Disorder Group). Each of these research entities will retain their identities and names, but serve as part of TIME's matrixed organizational structure. TIME will interface with DBMS (Q-CPU and GIDRU already do this extensively), other Departments and other research groups (HMRC, Neurosciences, NCIC). TIME will however be a discrete entity that is complimentary to these groups. TIME will meet a number of specific strategic goals. Using a variety of streams, TIME will fund a small team of core scientists who will operate specialized core facilities dealing with: optical core imaging, cell culture and flow cytometry, small animal imaging (PET, CT and ultrasound), genomics/proteomics, and population health science (ICES). We believe TIME will attract investments such as CFIs, CRCs and other larger funding initiatives. Nationally and internationally we believe the combined expertise and resources will increase our competitiveness for funding from tri-council funding agencies, national funding agencies, pharmaceutical companies, and donors. This new organizational structure is anticipated to avoid redundancy in equipment acquisition and instability in support of scientific HQPs. TIME will also support the creation of a Post-Graduate Program in Translational Medicine.
V) Education Highlights:
a) Core Internal Medicine Residency Program: After 7 successful years of growth and improving quality and trainee satisfaction, under Dr. Chris Smith's leadership, the program made a smooth transition to the able leadership of Dr. David Taylor on July 1st Prior to this, Dr. Taylor was a very successful Clerkship Director for the Core Medicine rotation. David recently completed his 2-year Masters of Medical Education at the University of Illinois. We experienced an unprecedented 100%, first-round, match success in the 2015 CaRMS match.
b) PGME Program growth: The PGME program has increased in size 17% since 2011-2012. In July 2016, there will be 69 residents. We also intend to expand our PGME program through recruitment of IMGs and expansion of our GIM specialty program, directed by Dr. Laura Marcotte. New PGME programs are being considered in Dermatology and Endocrinology.
c) iPAD Program: With the support of Dr. Taylor, one of our residents, Dr. Sidd Srivastava, has taken the lead in exploring how to maximize the iPad program. An observational study was undertaken to identify the usefulness of iPads in Medicine for medical education and patient care domains. Overall, the Departmentally issued mobile tablets only partially met the expectations of residents due to technical limitations in the hospital environment (internet bandwidth). Based on these results, Dr. Srivastava has been working with Kingston General Hospital on improving hospital wireless infrastructure. The residents published another iBook to add to their collection, summarizing cases discussed at Morning Report - Volume 6 is now available on iTunes Bookstore.
d) Competency based medical education (CBME): The Royal College's push towards CBME represents a major shift for the post-graduate programs in the Department. The most significant transformations will be incorporating training milestones into the curriculum, and developing broad-based assessment programs that reliably capture trainee performance related to these milestones. The Department of Medicine has been very active in participating in CBME workshops with 13 members participating as leaders or nascent leaders. To prepare a fertile environment for the development and implementation of CBME, we have created an overarching education committee for PGME, led by Dr. Chris Smith. This committee is comprised of all the Training Program Directors and has as its mandate the sharing and coordination of educational best practices to ensure smooth and coordinated implementation of the new CBME program by July 2017.
It is anticipated that implementation of CBME will create better doctors and provide a rich opportunity for Medical Education scholarship. We are off to a good start in regard to the latter point, with PGME Special Purpose Grants being awarded to Dr. David Taylor (developing a resident orientation package that is aligned with the CBD curriculum), Dr. Laura Marcotte (assessing the implementation of Work-Based Practical Assessment for GIM), and Dr. Peggy DeJong (transitioning to discipline e-modules for basic coronary care, common cardiology issues, and ECGs).
VI) Governance and Finance Highlights:
We have enhanced our financial transparency and implemented the many reforms developed and approved by our faculty over the past 3 years, including, but not limited to, the creation of an operating fund and development of role descriptions for Division Chairs and the Department Head.
a) Improved financial transparency: The Department is on stable financial footing due to the superb accounting work of Ms. Emily Briffett, and the diligent oversight provided by the RIC, chaired by Dr. Chris Simpson. Members of the Department benefit from clear notifications of payments and remittances and more frequent reporting on individual billing penetration and other productivity metrics.
b) Accountability framework: Thanks to members of the ongoing Accountability Committee, chaired by Dr. Bill Paterson. The committee has assisted with the oversight of the Department of Medicine's many initiatives to enhance productivity in research and clinical care and increased the transparency of our practice plan. The Department of Medicine is exceeding all SEAMO required metrics. For example, departmental billing penetration (a measure of clinical activity) remains high at ~78% reflecting increased clinical care delivery and increased attentiveness to billing documentation. This is a key productivity metric and exceeds the SEAMO target of 70%.
VII) Outreach and Advocacy Highlights:
a) Outreach: The Department has successfully launched Endocrinology, Dermatology and Respirology (sleep medicine) clinics in Napanee. Branching into the community and utilizing this clinical space has allowed our specialists to reach patients closer to home as well as increase their clinical capacity due to limited physical space at KGH/HDH.
b) Advocacy: In December 2015, the Department hosted Sophie Kiwala, MPP of Kingston & the Islands, on a "tour" of the Department and the hospitals, showcasing the research groups and facilities, meeting with key groups and Division Chairs representing the educational and clinical domains. The Department is committed to continuing on this trend for 2016, and will participate with a tour with Denise Cole, Assistant Deputy Minister for Health Workforce Planning and Regulatory Affairs and MP Mark Gerretsen.
c) Enhanced Departmental Website and News, Innovations and Discoveries Blog: We have enhanced our Web and Internet presence. Updates include professional-grade faculty portraits, bios, and contact information. Our blog and twitter have over 500 readers/followers.
d) Medical Grand Rounds (MGR) App and (coming soon) Department Intranet: Dr. Jeff Wilkinson, one of our Cardiology residents, has developed an App for iPhones, which has an interactive schedule and evaluation tool. This evaluation tool (Well-rounded@Queen's) will allow faculty and residents to provide real-time feedback on presentations, increasing the rate of response for our presenters to learn from.
e) Continuous Professional Development (CPD): The 2015 2nd Annual CME Day was held on May 13th and was a great success with over 80 participants from the primary care community. The involvement of our colleagues Dr. Wolfrom and Dr. Sloan in the Department of Family Medicine was key to creating the links between our specialists and the family physicians. We also offer a highly successful Dermatology Day CME event.
f) Philanthropy: Dr. Archer is actively involved with the University Hospitals Kingston Foundation (UHKF) as the Chair of the Physician Advisory Capacity Committee. Presently, the main mission is to enhance transparency of the donation accountability process thereby improving trust and engagement between UHKF and physicians.
A notable gift to the Department of Medicine was made in honour of legendary Queen's Cardiologist, Dr. J.O Parker. The John O. Parker Lectureship in Cardiology Research at Queen's University was established with the support of Dean Reznick and Mr. Bill Leacy, via a generous donation from the Parker family. The Department of Medicine provided $50,000 in matching funds in recognition to the many contributions of Dr. Parker to clinical cardiology and research discovery in the field of cardiovascular research at Queen's University.
The above summary provides you with an idea of the many projects underway in the DOM, as well as many more featured within our iBook. I look forward to your thoughts and feedback.
Acknowledgements: The success of the Department would not have been possible without a dedicated faculty and amazing house-staff and students. The wise counsel and leadership of Dr. Stephen Vanner, Deputy Head of Medicine, and our talented administrative team led by Ms. Anita Ng (Manager of Operations). Appreciation is extended to Ms. Emily Briffett (Finance Officer) for her diligence with Departmental Finances, Ms. Jill McCreary (Executive Assistant to Dr. Archer), Mrs. Jennifer Andersen (Staffing & Administrative Coordinator), and Ms. Clarrie Lam (out-going Research & Grants Coordinator). The Department welcomes new team member Ms. Whitney Montgomery (Research & Financial Officer), who will take over for Ms. Lam as she takes on her new role as Manager of the new Queen's CardioPulmonary Unit (Q-CPU) research facility.