November 26, 2020 - Dr. Archer's Update on COVID-19 response from the DOM and Medicine Program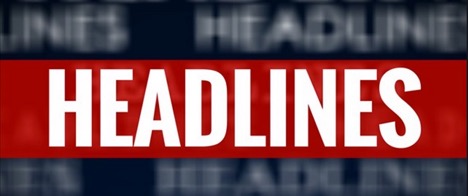 1) All I want for Christmas….advice for expatriate Canadians trying to return to Canada for the holidays
2) Ontario has had 109,361 cases including 12,871 active case in Ontario and a 3.7% hospitalization rate (click here): 
3) COVID-19 volumes have increased in KFL&A and we remain in YELLOW status (see update from KFL& A Public Health)
4) Canada's second wave of COVID-19: 347,465 total cases, a rapid spike in infection in western Canada and Nunavut (and the Maritime bubble breaks) (click here):
5) The COVID-19 global pandemic exceeds 1.4 million deaths and over 60 million cases (click here)
6) Good news of the day (end of note)
Regular reminders and updates:
KHSC bed capacity 
Use the Mobile Screening Tool to expedite clinic visits 
KHSC visitor policy
COVID-19 testing at Beechgrove Community Assessment Center: (click here): 
Increased outbreaks and deaths in Long Term Care facilities (LTC)
COVID-19 in toddlers and young children: (click here). 
1) All I want for Christmas….advice for expatriate Canadians trying to return to Canada for the holidays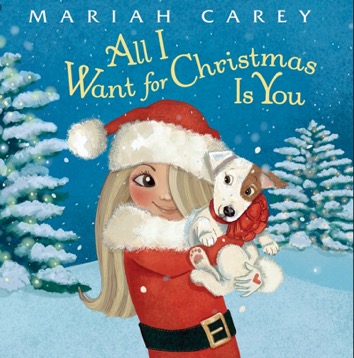 Image source click here)
Many residents of Ontario have family living abroad, particularly in the USA. There is a strong desire to reconnect families after a year apart. Is this possible? If so how? What are the rules and regulations? Let me start by saying it is possible but your visit won't be easy. Also, my advice is to minimize travel and if you are getting together do so within your family group (not in large extended family or family and friend groups). As you will see below, all the regulations are designed to prevent the spread of COVID-19; not to make your visit easy!
First, some caveats:
the answers re travel vary depending on whether the visitor is a Canadian citizen or foreign national. This target audience for this note is for Canadian citizens living in the USA and visiting Canadian citizens in Canada.
COVID-19 related travel advice is by its very nature dynamic and may change over time. I advise that travellers always check with CBSA for changes/updates.
Please use ArriveCAN mobile app which will follow all updates to protocol and policies
The regulations are vague in certain areas
travel of any type is only advised if both the visitor and host are free of symptoms of COVID-19. No one should travel when sick. Commercial airline restrictions may also prevent you from boarding your plane if you're sick.
Although the advice is mine, I wish to thank Dr. Gerald Evans, Daphne Mayer, B.A.Sc. MPH, GDip HSPR Manager, Public Health Programs and Services and Dr. Kieran Moore for providing me with some source documentation.
Canada's public health agency (PHAC) offers advice mostly focusing on Canadians who are coming back to Canada and staying more than 2 weeks. Canadians can return to Canada provided they have an acceptable quarantine plan and self-isolate for 14 days. If they have no symptoms at the end of quarantine, they can re-enter society, subject to whatever public health restrictions apply in the area they are visiting. 
When entering Canada, you'll be:
Asked if you have a cough, fever or difficulty breathing
Required to acknowledge that you must quarantine for 14 days regardless whether you have symptoms
Asked if you have given instructions about the actions you must take under the emergency order and the penalties for non-compliance
a suitable place to isolate or quarantine, where: 
you will have access to basic necessities, including water, food, medication and heat 
you won't have contact with people who are:65 years or older, have underlying medical conditions or have compromised immune systems
you won't be in a group or community living arrangement such as: industrial camps, student residences, construction trailers, residential or long-term care facilities, sharing a small apartment, living in the same household with large families or many people, having roommates who haven't travelled with you that you can't avoid
Travellers entering Canada must provide traveller contact information through one of 3 means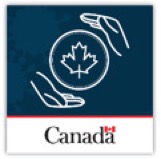 the ArriveCAN mobile app or
the ArriveCAN website or
a paper form
By using the ArriveCAN app or website you can speed up your arrival process in Canada, whether you're entering Canada by air, land or sea . As a result you will spend less time with border and public health officers. Submit your information easily and securely before arriving in Canada. ArriveCAN is available to download as a mobile app or you can sign in online.You can use ArriveCAN to:
provide required contact information for you and your family travelling together
answer questions about your quarantine plan 
get an ArriveCAN confirmation receipt to show to border services officers 

take a screenshot or print your confirmation if you sign in online

report after your entry and complete COVID-19 symptom self-assessments
You will be asked to provide the following information in ArriveCAN:
contact information (name, date of birth, email address, phone number and travel document details)
travel details (date of arrival, port of entry, if you're entering by land or marine vessel, or flight number, airport and airline, if you're entering by air
the purpose of your travel (such as exempt travel, work, study, family reunification or compassionate reasons)
any symptoms you may be experiencing
Quarantine plan questions will include:
whether you have a place to quarantine or isolate for 14 days
the address of the place where you'll be staying during your quarantine 
if there are vulnerable people at that place
if it's a group living environment or houses multiple families
if you can have food, medication and other necessities delivered to you 
undergo screening by a border official
When you quarantine: Federal regulations require a strict quarantine, with no contact with others during the period of quarantine (click here). 
However, the policy goes on to say that when you quarantine you:
Must not be living with those at risk of more severe disease
Have a separate bedroom if the space is shared with family/friends who didn't travel with you
Limit interactions with others in a household
If spaces, such as a kitchen, are shared

Wear a mask or face covering if a 2m distance cannot be maintained.
Thoroughly and regularly clean common areas after use

Do NOT leave your place of quarantine unless it is for a medical emergency, an essential medical service or treatment, or it is pre-authorized.
Do NOT have any guests even if you are outside and stay 2m apart from them.
Here are some facts about the required duration of quarantine and the likelihood of emerging uninfected: While the current rule for quarantine is 14 days, this may change, since 10 days appears to be adequate. Most asymptomatic infected individuals get symptoms within 4-5 days. Despite evidence of prolonged SARS-CoV-2 RNA shedding in respiratory and stool samples, survival of viable virus appears to be short-lived (<9 days-click here). If you are asymptomatic after 7 days quarantine you are 95% likely NOT to be infected. If you add a negative PCR test on day 8 the likelihood of not being infected increases to 97%. If asymptomatic after 10 days of quarantine there is a 97%, chance of you not being infected (and this increases to 98.5% by day 14, even with no COVID-19 test).
Leaving Canada before your 14 day quarantine is completed: Not every visitor can spend more than 2 weeks over the holidays. So how does a Christmas visitor, leave Canada while in mandatory quarantine or isolation? (click here). If you arrive in Canada, have started your 14-day mandatory quarantine or isolation period but then have to leave the country before this period ends, you must:
continue to quarantine or isolate until you depart Canada
wear a non-medical mask or face covering while around others
get permission and follow the instructions laid out by a quarantine officer (for people in isolation only)
The Contraventions Act gives police (including the RCMP, provincial and local police) more power to enforce the Quarantine Act. They can issue tickets to people who don't comply with the act or the emergency orders. Fines range from $275 to $1,000. Violating any instructions provided to you when you entered Canada or failing to provide accurate information is an offence under the Quarantine Act and could lead to up to: 6 months in prison and/or $750,000 in fines. If you choose to break your mandatory quarantine or isolation, resulting in the death or serious bodily harm to another person, you could face a fine of up to $1,000,000 and/or imprisonment of up to 3 years. 
So should you travel and how should you travel? It's complicated. 

The social and psychological imperatives of a holiday visit to one's family vary hugely. For some the trip is a "nice to have"; for others it may prevent the final thread from fraying. If the region you are coming from or entering is in surge (red zone or lockdown), travel is unwise. If you are travelling between green or yellow zones the risks are lower. If you have a choice on how to travel, car is likely the best, with fewer requisite interactions with other people. That said, air travel is quite safe provided you mask, wash hands etc. because the air on planes is highly filtered and frequently circulated. Nonetheless, flying often involves riskier activities like the Uber to the airport, passing through check-in and security and retrieving your luggage.
Bottom line: If you feel a strong need to travel to visit your immediate family and are healthy and be aware of the complex and changing rules, ensure you can quarantine and respect the rules since enforcement measures are severe. If you are a Canadian living in the USA and can cope with staying "home alone", this is a good year to do so. 2020 will likely be the last Christmas COVID-19 will cancel. We are definitely not hoping for a sequel!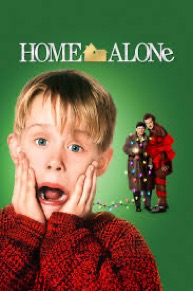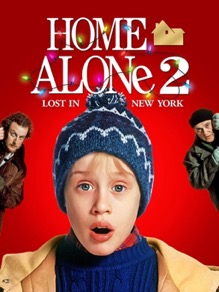 2) Ontario's has had 109,361 cases with 12,871 active case in Ontario and a 3.7% hospitalization rate (click here):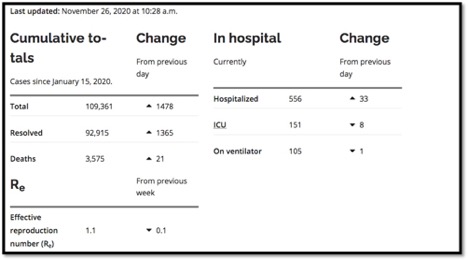 Ontario's pandemic at a glance Nov 26th (click here)
There were 1478 new cases today, up +1.4% from yesterday (click here). There have been 7145 hospitalizations, and 3575 deaths in Ontario, since the pandemic began (up 6.5% and 3.3% since yesterday, respectively). The rate of positive SARS-CoV-2 tests in Ontario since the pandemic began is 1.79% but remains high at 3.9% today (although this is down from a peak of 5% ~2 weeks ago).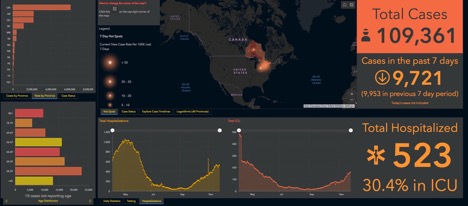 Thus, the pandemic is not currently well controlled with 12,871 active case in Ontario today including 523 hospitalizations (a 3.7% rate).
Ontario's provincial rate (735.7/100,000 population) has doubled in the past month and is now almost 6X higher than in KFL&A (113.3 cases/100,000 population). Peel (on Toronto's western border) is the hot spot in Ontario with 1461 cases/ 100,000 population. Toronto's prevalence remains high at (1204.5 cases/100,000 population, up from 711 cases/100,000 population 2-weeks ago and ~10 times higher than Kingston) (see map below). Ottawa is also a hot spot at 784.7 cases/100,000 population (click here). The incidence of cases continues to be highest in young adults (age 20-29) and the elderly (see graph below). There is similar incidence in males and females, except in those over 90 where we are seeing female predominance. However, most deaths are still in people over the age 60 (click here).
Neighborhood variation in COVID-19 in Toronto: Half of Toronto's neighbourhoods are COVID-19 hotspots and have a cumulative prevalence of over 1000 cases/100,000 population (click here).
Toronto remains a collection of neighbourhoods with vastly different COVID-19 realities due to differences in social/economic, racial and health circumstances. Although COVID-19 is increasing in the city as a whole, case load is very high in some Toronto neighbourhoods. For example, Maple Leaf (highlighted on the map below) has had 3986 cases/100,000 residents, roughly 12X the burden of COVID-19 in the more affluent Beaches neighbourhood (311 cases of COVID-19/100,000 residents). When one examines recent cases (i.e. those diagnosed since Nov 4th), case prevalence is lower-although still concerning-ranging from 32 cases/100,000 residents, the Beaches versus 1127 cases/100,000 residents, in Maple Leaf. 
3) COVID-19 volumes have increased in KFL&A and we remain in YELLOW status (see update from KFL& A Public Health): There have been 18 new cases in the region since my note on Monday. There are 16 active cases in the region. There are 28 active case in Hastings-Prince Edward County and 16 cases in Leeds-Grenville-Lanark. The total number of cases since the pandemic began is now 245, up 12 case since Monday, with 8 new cases since yesterday. Currently there are 16 active cases in KFL&A, down 8 from Monday. All local COVID-19 patients are recovering in the community (see update from KFL& A Public Health). In the past 3 days we have done 1807 COVID-19 tests with 15 positive tests (2 from Kingston, 10 from Kawartha area, and 3 from Leeds-Lanark Grenville). There have been new 2 outbreaks in KFL&A including: 1 workplace and one new nursing home. The details of the case in the workplace, a healthcare facility, will be presented by KFL&A in the news later today.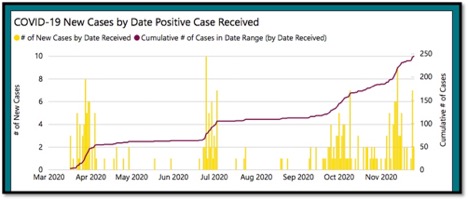 KFL&A this week
4) Canada's second wave of COVID-19: 347,465 total cases, a rapid spike in infection in western Canada and Nunavut (and the Maritime bubble breaks) (click here): We have had 347,465cases of COVID-19 in Canada and 11,710 deaths (see below) since the pandemic began. There are 57,438 active cases in Canada today, up 656 from yesterday. Most cases of COVID-19 in Canada have been (in descending order), in Quebec, Ontario, Alberta and BC. 16.7% of all cases are now active cases. Canada has done over 12.4 million tests and has a cumulative test rate positivity (since the pandemic began) of 2.77%.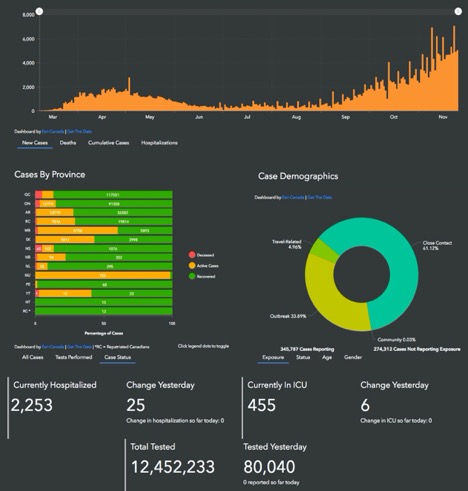 COVID-19 in Canada Nov 26th 2020
Rates of infection are rapidly rising in all Western provinces (BC to Manitoba) whereas they are rising more slowly) in Quebec and Ontario. Rates of new infection are low in all Maritime provinces. There are new outbreaks in the North in indigenous communities in Nunavut (click here) (see below), which is very concerning given their very limited health care resources.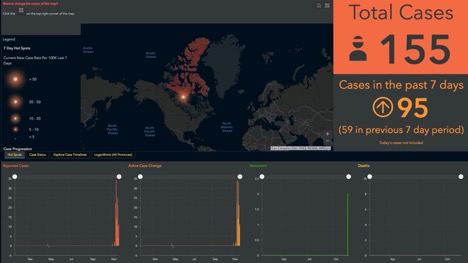 COVID-19's aggressive second wave in Nunavut (orange on map)
The Maritime bubble has broken with PEI and Newfoundland now restricting entry from other Atlantic provinces (click here). The bubble had allowed residents of the four provinces to travel freely within the Atlantic region, without having to self-isolate. However with increasing cases in NB and Halifax the bubble has burst and interprovincial travel is restricted once again.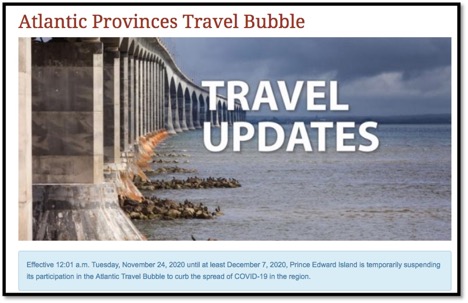 5) The COVID-19 global pandemic exceeds 1.4 million deaths and over 60 million cases (click here): There are now 60,738,189 cases globally and there have been 1,427,822 deaths. The number of cases has increased over 3-fold the beginning of August, 2020 when there were 16,296,790 cases globally. The pandemic hot spots are in the USA, India, Brazil, and Russia (click here). The USA with 12,795,581 cases and 262,446 deaths tops the COVID-19 list and accounts for ~21% of the global pandemic, while the USA only accounts for ~4% of the world's population. India has the second largest number of cases (see global map of COVID-19 Nov 23rd-below).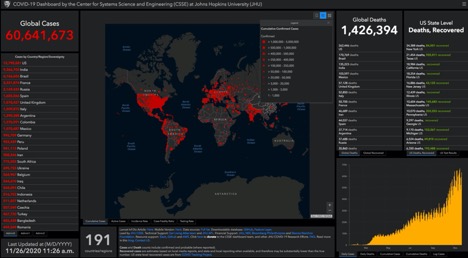 USA positive test rates (click here): In contrast with Ontario's ~4% rate of positive tests, the USA has an average rate of positive COVID-19 tests of 9.5% (a dramatic rise from October but unchanged from last week) (click here). However, rates of positive testing are a staggering 43% today in South Dakota (versus just over 10.6% in Illinois, and 7.8% in New Jersey).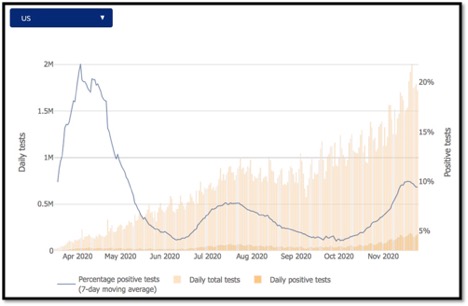 % USA COVID-19 tests returning positive Nov 26th 2020
The US-Canadian border will remain closed for routine travel at least until the end of November (click here). That said, Canadians can still fly to America (certain rules apply) and as discussed in the first article, Canadian citizens can return to Canada from America, with a number of requirements, including quarantine).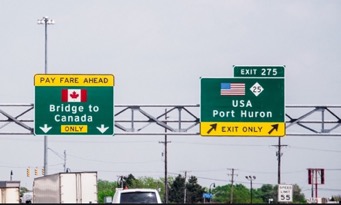 Regular reminders
KHSC bed capacity: Resuming elective admissions but beds remain in short supply
Kingston General Hospital (KGH) has 85 beds, down from Thursday (when it was 88 beds). We also have 43 ventilators available. Not all of these beds are in locations that can accommodate an adult COVID-19 patient, however. Elective inpatient care continues; but with the rising wave of COVID-19 in Ontario it is uncertain how long this can be sustained. I urge colleagues to see patients in person that require face to face visits (it remains safe to do so). When in person visits are not possible, we offer video visits (using REACTS and OTN), telephone visits and e-consults (using our asynchronous, online consultation for family doctors). While both elective admissions and elective clinic visits are available to us, let's make hay while the sun shines!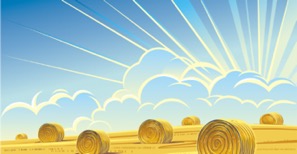 Use the Mobile Screening Tool to expedite clinic visits: Complete the COVID-19 pre-screening tool here and you will be able to "skip the line": One way to safely expedite entry of patients into our facilities is to have all patients complete our pre-screening questionnaire before their clinic visit. This will screen out people who are sick and expedite entry to the facility for everyone. Reducing lines waiting to enter the clinics will be particularly important as colder weather arrives. The mobile screening tool only takes a few minutes to complete and you will receive an email with confirmation to bring with you, along with your appointment slip, in printed form or on your mobile device. To complete the mobile-screening in English, click here and in French, click here.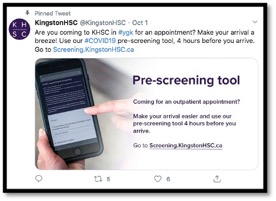 KHSC visitor policy: One of the hardest aspects of COVID-19 care in the hospital is the need to restrict visitors to ensure we don't import COVID-19 into the hospital. A very few cases of COVID-19 can paralyze the hospital, particularly if they are brought in by visitors and then spread undetected. All details on the policy can be found using this link (click here). 
COVID-19 testing at Beechgrove Community Assessment Center: (click here): All COVID-19 test must be scheduled appointments (versus walk in). Our online system, Coconut, launched today and will assist in contact tracing. Appointments can be scheduled by telephone or by our new Eventbrite on line scheduling system. Before booking a test, individuals should complete the online tool to determine whether they qualify for testing (click here). The Beechgrove Complex is south of the King St. West/Portsmouth Avenue intersection. Signage will direct people through the Complex to the Recreation Centre building at 51 Heakes Lane for walk-in testing. Operating hours: Testing hours will return to 9 a.m. to 4 p.m. daily. To be tested you will require: A valid Ontario health card or a piece of photo identification. You must also wear a mask and maintain physical distancing at all times while in the walk-in line.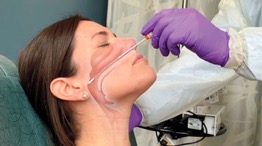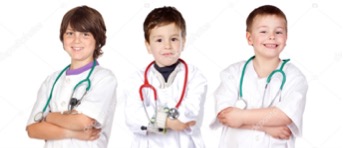 Because health care workers (doctors and staff) are increasingly having to miss work because their children have been sent home from school or daycare with symptoms of a upper respiratory tract infection, we have arranged that their children can access expedited testing at Beechgrove . The goal of this service is simply to allow the healthcare worker to return to work as quickly as possible for the public good. The children of staff will be tested between 1230 -1300 by appointment, 7 days/week. The new program for families applies to children up to age 18, an includes children of staff and physicians who provide clinical care and service. Staff and physicians themselves should contact occupational health to book their testing appointment. To book an appointment for a child, KHSC staff should call 613-548-2376. Testing of clinical staff and faculty and their children is processed at the KHSC lab with an average turnaround time of less than 24 hours.
Increased outbreaks and deaths in Long Term Care facilities (LTC): We have 4060 LTC beds in KFL&A. As discussed in many prior notes, most COVID-19 deaths occur in people who are not only old but who are also frail and live in nursing homes and long term care facilities (LTC). As of today, the 2187 deaths in nursing homes (up 46 cases from Monday) account for ~62.0% of all deaths in Ontario, click here.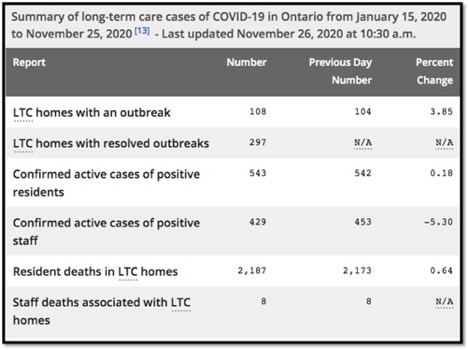 In the last month the rate of death amongst LTC residents continues to increase daily! Outbreaks in nursing homes usually start with a person in the community (health worker or family) acquiring the infection and importing it into the facility. Thus, protecting LTCs is best done with a combination of reducing community spread of COVID-19 and ensuring single occupancy rooms in LTCs (as well as appropriate pay for PWS workers, provision of PPE and rapid testing capacity).
COVID-19 in toddlers and young children: (click here). 
Fortunately kids remain much less likely to be infected by SARS-CoV2 and when they are infected they usually become much less ill (click here). The vast majority of upper respiratory tract infections in kids in Ontario are caused by other viruses, like rhinovirus and RSV. Thus, health policy makers and parents of young children should recognize that while children are not immune from COVID-19 infection, infections are relatively uncommon and outcomes are usually excellent for those who are infected. Nonetheless, we are about to prioritize children of healthcare workers for testing at KHSC so we can return the parents to work when children with symptoms (which will rarely prove to be COVID-19) are sent home from school or daycare.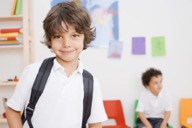 Children are usually infected by an adult, usually in their home, rather than by other children. The number of cases in school age children (which includes teenagers) has increased dramatically to 2673 up over 400 cases from 2209 on Monday and almost triple the number from 3 weeks ago (985 cases).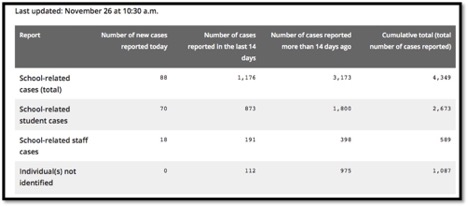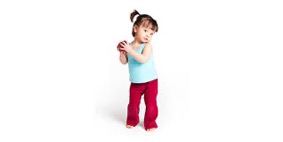 Amongst younger children and toddlers COVID-19 remains relatively rare. In Ontario's 5,500 licensed child care centres and over 120 licensed home child care agencies there is a very low COVID-19 burden (see table ). The rise in cases has been modest in these young children. 398 toddler age children have now been infected to date, up from 357 cases on Monday and almost double the 209 cases from 3 weeks ago.
6) Good news of the day:
1) Miles of Smiles: The Hospital Foundation is selling buttons so we can see the smiling faces of our faculty and staff while they work with masks on! The DOM bought 150 of these buttons for faculty and residents. Kudos to Dr Bob Connelly, Head of Pediatrics who was our pioneering button maker! Here are some smiling DOM faces with their new buttons.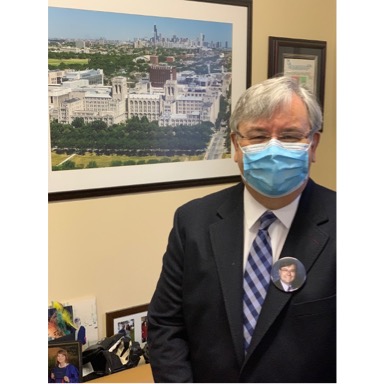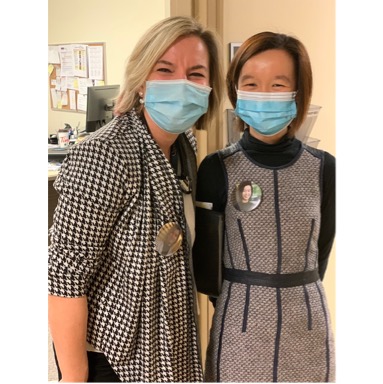 Miles of Smiles: Top: Dr Evans (Chair of Infectious Diseases) and Just Above: Drs Marosi and Leung (General Internal Medicine faculty)
2) The Dean visits KHSC: The DOM was honoured to tour Dr. Philpott, our Dean and the CEO of SEAMO, through KGH showing off the clinical service we provide. Thanks to Drs Pichora, Fitzpatrick, Smith & McLellan and Renate Ilse and Michelle Matthews for their participation in this event. Dr. Philpott got to see and hear first-hand the amazing work our health care team is doing. She was most impressed! Congratulations to team KHSC for all you do to keep south eastern Ontario healthy!
Stay well!