November 9, 2020 - Dr. Archer's Update on COVID-19 response from the DOM and Medicine Program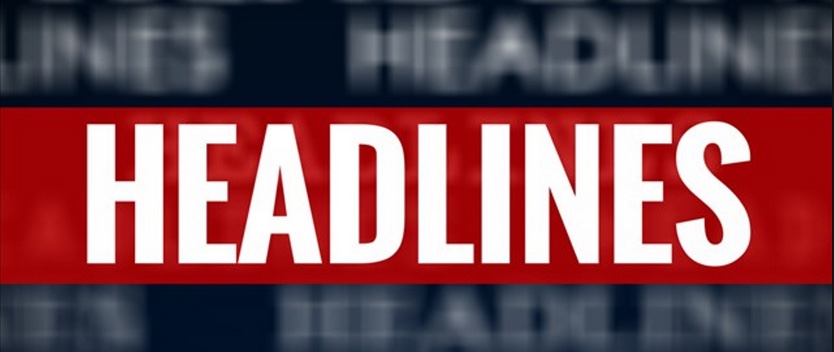 1) A COVID-19 vaccine appears to be strongly effective in phase 3 trial (more than 90% effective in preventing COVID-19 in participants in a preliminary data analysis): click here
2) COVID-19 volumes remain stable in KFL&A but there has been a family cluster outbreak (affecting a local school) (click here)
3) The second wave of COVID-19 accelerates in Ontario with over 1000 new cases/day (click here) 
4) Canada's second wave of COVID-19-rapid increases in new cases in western Canada:
5) KHSC capacity: Resuming elective admissions but beds remain in short supply
6) Good news of the day: New faculty join the Department of Medicine
1) COVID-19 vaccine appears to be strongly effective in phase 3 trial (more than 90% effective in preventing COVID-19 in participants)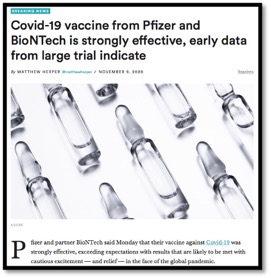 Phase 3 clinical trials of a vaccine are large randomized studies in which some people get the vaccine and others received placebo. News is out this morning from a Phase 3 trial of a leading COVID-19 vaccine. The first interim look at the effectiveness of the Pfizer/BioNTech mRNA vaccine is promising. In 43538 volunteers, researchers observed 94 total infections. Vaccine recipients were over 90% protected relative to the placebo group. Immunity occurred within 7 days of the send "booster" dose of the vaccine. There were no signals to indicate vaccine toxicity (harm) or major side effects in this interim report of over 34,000 volunteers. The results are likely to be broadly applicable since 42% of the study came from diverse racial and ethnic groups. While this is an interim analysis, and the findings appear robust, there is little detail in the public domain yet. The two companies that made the vaccine are involved plan to submit the data for peer review publication, a crucial step in evaluating the quality of the results. The vaccine data will be presented to the FDA in a request for Emergency Use Application in the 3rd week of November (click here). They expect to deliver 50 million doses of vaccine globally in 2020 and another1.3 billion in 2021.
If you are interested: here is how an mRNA vaccine works to produce immunity (click here). For traditional vaccines we have injected people with live or inactivated viruses or viral proteins. This new type of vaccine carries NO VIRUS-only the genetic code for the virus' spike protein.. Within our cells, the mRNA code is read and the protein is produced, allowing our own immune systems to develop antibodies. This vaccine requires storage at -70C, a very cold temperature that will make vaccine distribution challenging since special refrigeration is required.
Vaccines are the best way to safely generate personal and herd immunity. The widespread use of an effective vaccine very different than the Great Barrington declaration's (GBD) proposal to generate herd immunity through natural infection. The GBD's an approach (unlike a vaccine) would expose people to the risks of a COVID-19 infection, which include death (3-5%) and disability (click here)!
There are of course questions, durability of response, adoption by a skeptical public and how societies will deal with the logistical challenges of vaccine distribution. That said, if the vaccine is as effective as it appears this would transform the pandemic and be a key step on the way back to a pre-2020 version of normal!
View the full release here: https://www.businesswire.com/news/home/20201109005539/en/
2) COVID-19 volumes remain stable in KFL&A but there has been an outbreak (3 cases in a local school) (click here): There have been 4 new COVID-19 cases in our region since my note on Thursday. The total number of cases since the pandemic began is now 185. Currently there are 6 active cases locally. All local COVID-19 patients are recovering in the community (see update from KFL& A Public Health). We performed 1356 COVID-19 tests in the past 4 days. Two positive tests were from Kingston, 2 from Leeds-Grenville, 2 from Perth Smith Falls and 3 from the Kawartha area. There are no hospitalized patients at KGH.
Three new cases occurred involving in Our Lady Of Lourdes Catholic School, on Cranbrook St and the Algonquin and Lakeshore Catholic District School Board announced its temporary closure (click here). This was a family cluster with 1 adult and 2 children in the family being infected. The school board made the announcement on Sunday, Nov. 8, 2020. It is unclear how long this school will be closed.

COVID-19 in KFL&A Nov 9th 2020
3) The second wave of COVID-19 accelerates in Ontario with 1242 new cases (click here)
There have been a of 81,693 cases, with 1242 new cases since yesterday, up 1.5% from yesterday (click here). There have been 6304 hospitalizations, and 3245 deaths in Ontario, since the pandemic began (up 7.6% and 3.8% since yesterday, respectively). The rate of positive SARS-CoV-2 tests in Ontario remains high at 3.7%, down 0.3% from yesterday! The Ro for COVID-19 is currently 1.2 (ideally it should be <1.0 if we have the virus successfully controlled).
Ontario's provincial rate (574.5/100,000 population) has doubled in the past month and is now 6X higher than in KFL&A (85.1 cases/100,000 population). Toronto remains Ontario's hotspot for COVID-19 (967.1 cases/100,000 population, up from 711 2-weeks ago and 10 times higher than Kingston). Ottawa is also a hot spot at 718.9 cases/100,000 population (click here). Despite 3 weeks of increased provincial restrictions, wave 2 has not begun to plateau.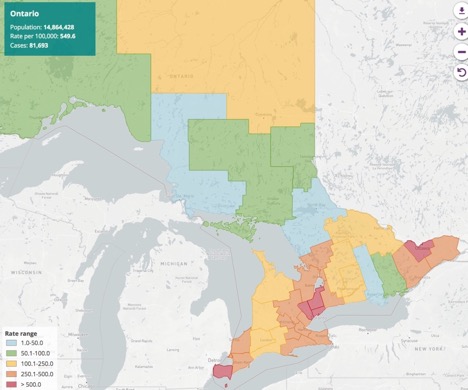 COVID-19 prevalence in Ontario Nov 9th 2020
Deaths and hospitalizations have begun to increase in wave 2 -on right (See graph above). There are 374 (black line) hospitalized people out of 9105 active cases (red bars), a hospitalization rate of 4.1% (see graph below).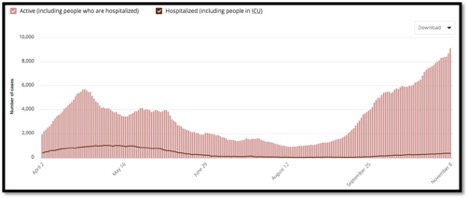 The majority of infections in Ontario are in young adults age 20-29. While most cases are in people under 60 years of age, almost all deaths are in people over the age 60, see graph below (click here).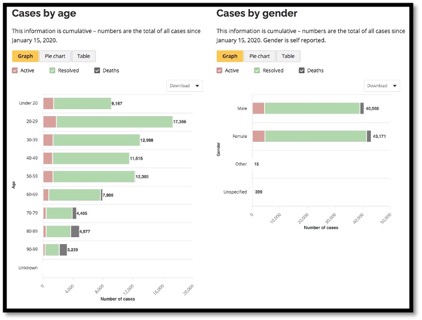 What we should do in wave 2 of the COVID-19 pandemic?
We should:
Use good public health practices: handwashing, physical distancing, use of masks in all indoor venues when physical distancing not possible
Prioritize who we test and ensure rapid availability of test results. Turnaround times for COVID-19 test results that exceed 24 hours make case management difficult.
Focus on testing and educating key demographics who tend to get infected (young adults, migrant workers, low income neighborhoods)
Continue to respect our social bubbles and avoid socializing in large groups
Protect our essential workers, including health care workers, so they can protect society.
Fact check and have skepticism about media stories that offer sensationalistic perspectives, including new "miracle cures" or anti-public health policy rhetoric.
What we should not do in wave 2: We should not broadly shut down schools and businesses and this is not being proposed by public health or the government. The unintended consequences of shutting down society for the 99.9% are huge and not readily reversible (click here to read more on this topic). Rather, we need to manage outbreaks and hot spots with good public health policies, as are in place currently in KFL&A. This will involve intermittent closures of affected facilities and operations in affected regions; but should not require a general shut down of the economy at the level of the country, province or cities.
Neighborhood variation in COVID-19 in Toronto: Half of Toronto's neighbourhoods are COVID-19 hotspots with prevalence of over 1000 cases/100,000 population and Weston exceeds 3000 cases/100,000 (click here).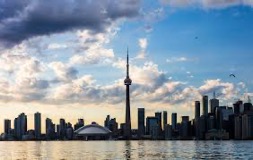 Toronto remains a collection of neighbourhoods with vastly different COVID-19 realities due to differences in social/economic, racial and health circumstances. For example, the Beaches has a cumulative prevalence of 274 cases of COVID-19/100,000 residents whilst Weston has had 3313 cases/100,000 residents. When one examines new cases (i.e. what those diagnosed since Oct 16th) case prevalence is of course lower-although still concerning-ranging from 26 cases/100,000 residents, in Lawrence Park South, to 651 cases/100,000 residents, in Cabbagetown-South-St. James Town). Cabbagetown-South-St. James Town and Weston are the two neighbourhoods with prevalence >500 cases/100,000 residents.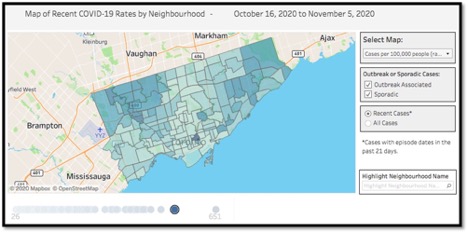 Prevalence of COVID-19 by Toronto neighborhood since Oct 16th 2020
4) Canada's second wave of COVID-19-rapid increases in new cases in western Canada: We have had 261,829 cases of COVID-19 in Canada and 10,510 deaths (see below) since the pandemic began. 13.4% of all cases are now active cases, consistent with wave 2 not being under control. Canada has done over 11 million tests and has a cumulative test rate positivity (since the pandemic began) of 2.36%. Ontario remains the province with the highest amount of testing and has a cumulative positive test rate of 1.56%, although it is much higher lately (3.7%). Note the increasing % of new cases in the bar graph on top below and increasing number of active cases (in orange in the lower graphs). Across the country rates of infection are rapidly rising in all Western provinces (BC to Manitoba) whereas and rising (but more slowly in Quebec and Ontario). Rates of new infection are stable and low in all Maritime provinces.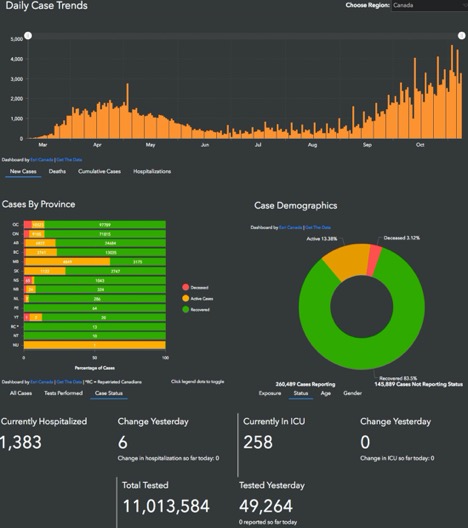 5) KHSC capacity: Resuming elective admissions but beds remain in short supply
Kingston General Hospital (KGH) is has 66 beds available, up slightly from last Thursday (when we had 66 beds). Not all of these beds are in locations that can accommodate an adult COVID-19 patient, however. Elective inpatient care has resumed.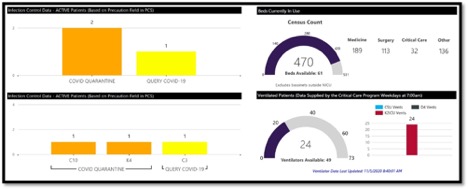 Elective outpatient work continues. I urge colleagues to see patients in person that require face to face visits (it remains safe to do so). When in person visits are not possible, we offer video visits (using REACTS and OTN), telephone visits and e-consults (using our asynchronous, online consultation for family doctors). We need to be mindful that the system is under stress and try and interact with each other and with our patients recognizing the significant stresses in society and in the hospital (i.e. tread softly and read emails twice before sending). On the bright side, both elective admissions and elective clinic visits are available to us, so let's make hay while the sun shines!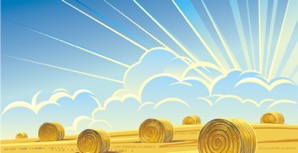 Regular reminders
Use the Mobile Screening Tool: Complete the COVID-19 pre-screening tool here and you will be able to "skip the line": One way to safely expedite entry of patients into our facilities is to have all patients complete our pre-screening questionnaire before their clinic visit. This will screen out people who are sick and expedite entry to the facility for everyone.Reducing lines waiting to enter the clinics will be particularly important as colder weather arrives. The mobile screening tool only takes a few minutes to complete and you will receive an email with confirmation to bring with you, along with your appointment slip, in printed form or on your mobile device.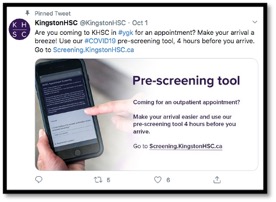 Screening staff will validate the confirmation at entry and you will be able to go directly to your appointment. This mobile screening must be completed a maximum of four hours before your appointment. If the screening confirmation expires, you will need to re-do the mobile screening or be screened in person (by a screener) when you arrive. With the exception of caregivers for children, this mobile screening tool is for patients only and does not give family members or caregivers an option to pre-screen because we must continue to restrict family presence for outpatients at KHSC in order to maintain physical distancing. To complete the mobile-screening in English, click here and in French, click here.
KHSC visitor policy: One of the hardest aspects of COVID-19 care in the hospital is the need to restrict visitors to ensure we don't import COVID-19 into the hospital. A very few cases of COVID-19 can paralyze the hospital, particularly if they are brought in by visitors and then spread undetected, as happened in Foothills hospital in Calgary and in Toronto. KHSC has a clear visitor policy, which has been in place for many months. All details on the policy can be found using this link (click here).
A reminder re: Community Assessment Center at Beechgrove-how to access and new access for staff and families: (click here): All COVID-19 test must be scheduled appointments (versus walk in). Appointments can be scheduled by telephone or by our new Eventbrite on line scheduling system. Before booking a test, individuals should complete the online tool to determine whether they qualify for testing (click here). We are still working on our on-line system (it will be available shortly). The Beechgrove Complex is south of the King St. West/Portsmouth Avenue intersection. Signage will direct people through the Complex to the Recreation Centre building at 51 Heakes Lane for walk-in testing. Operating hours: Testing hours will return to 9 a.m. to 4 p.m. daily. To be tested you will require: A valid Ontario health card or a piece of photo identification. You must also wear a mask and maintain physical distancing at all times while in the walk-in line.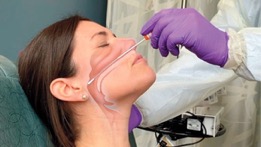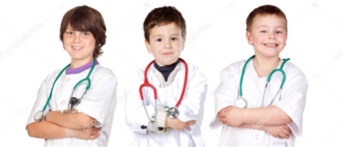 Testing for the community has been done at Beechgrove for many weeks now. This testing is running very smoothly because it is done by appointment and we have amazing staff . Consequently, we began testing staff at Beechgrove instead of Hotel Dieu to Beechgrove, effective Monday this week.
Because health care workers (doctors and staff) are increasingly having to miss work because their children have been sent home from school or daycare with symptoms of a upper respiratory tract infection, we have arranged that their children can access expedited testing at Beechgrove . The goal of this new program is simply to allow the healthcare worker to return to work as quickly as possible for the public good. The children of staff will be tested between 1230 -1300 by appointment, 7 days/week. The new program for families applies to children up to age 18, an includes children of staff and physicians who provide clinical care and service. Staff and physicians themselves should contact occupational health to book their testing appointment. To book an appointment for a child, KHSC staff should call 613-548-2376. Testing of clinical staff and faculty and their children is processed at the KHSC lab with an average turnaround time of less than 24 hours. Great job team KHSC!!!
Increased outbreaks and deaths in Long Term Care facilities (LTC): We have 4060 LTC beds in KFL&A. As discussed in many prior notes, most COVID-19 deaths occur in people who are not only old but who are also frail and live in nursing homes and long term care facilities (LTC). As of today, the 1996 deaths in nursing homes (up 1976 from Thursday) account for 61% of all deaths in Ontario, click here. In the last 3 weeks the rate of death amongst LTC residents has once again begun to increase and there are 3 local nursing home outbreaks (which is defined as a single case) including: Chartwell Wedgewood retirement center in Brockville (click here), the Fairmont nursing home (click here) and the Helen Henderson LTC (click here). A reminder-outbreaks in nursing homes usually start with a person in the community (health worker or family) acquiring the infection and importing it into the facility. Protecting LTCs is best done with a combination of reducing community spread of COVID-19 and ensuring single occupancy rooms in LTCs (as well as appropriate pay for PWS workers, provision of PPE and rapid testing capacity).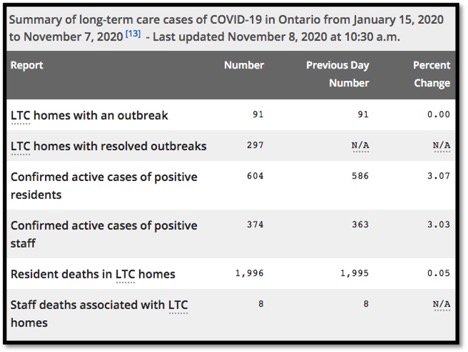 COVID-19 in toddlers and young children: (click here).
Fortunately kids remain much less likely to be infected by SARS-CoV2 and when they are infected they usually become much less ill (click here). The vast majority of upper respiratory tract infections in kids in Ontario are caused by other viruses, like rhinovirus and RSV. Thus, health policy makers and parents of young children should recognize that while children are not immune from COVID-19 infection, infections are relatively uncommon and outcomes are usually excellent for those who are infected. Nonetheless, we are about to prioritize children of healthcare workers for testing at KHSC so we can return the parents to work when children with symptoms (which will rarely prove to be COVID-19) are sent home from school or daycare.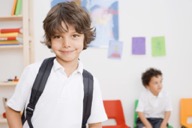 Children are usually infected by an adult, usually in their home, rather than by other children. The number of cases in school age children (which includes teenagers) has increased to 1523 up from 1435 on Thursday and 985 cases 2 weeks ago.
Amongst younger children and toddlers COVID-19 remains relatively rare. In Ontario's 5,500 licensed child care centres and over 120 licensed home child care agencies there is a very low COVID-19 burden (see table below). The rise in cases has been modest in these young children. 279 children have now been infected to date, up from 266 children on Thursday and 209 cases 2 weeks ago.
The COVID-19 global pandemic exceeds 1.2 million deaths and over 50 million cases: There are now 50,539,082 cases globally and there have been 1,258,230 deaths. The number of cases has increased over 3-fold since July 27th 2020 when there were 16,296,790 cases globally. The pandemic hot spots are in the USA, India, Brazil, and Russia (click here). The USA with 9,975,500 cases and 237,587 deaths tops the COVID-19 list and accounts for ~20% of the global pandemic, while only accounting for ~4% of the world's population. India has the second largest number of cases (see global map of COVID-19 Nov 5th-below).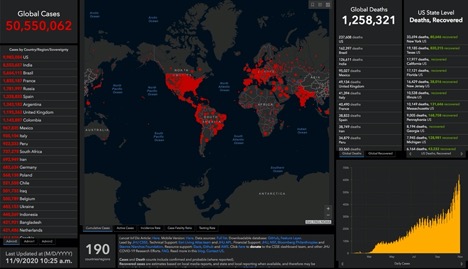 Global COVID-19 Nov 9th 2020
6) Good news of the day: Despite COVID-19 the Department of Medicine continues to grow. We are continuing to recruit talented physicians who will become the lifeblood of our many programs and are already instrumental in providing state of the art care at KHSC and PCH. Here are some images from 2 New Faculty Dinners held last Thursday and Friday pm, hosted by my wife, Dr Kathie Doliszny and I. We welcomed 9 new physicians and their families. The dinners were virtual and were co-hosted with Dr. Stephen Vanner, Director of Research, and Dr. Leslie Flynn and Dr. Chris Smith, Deputy Head, and Dr. Elaine Petrof. A good time was had virtually by all!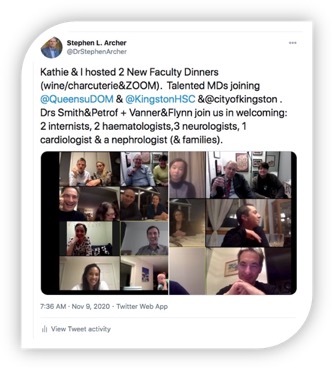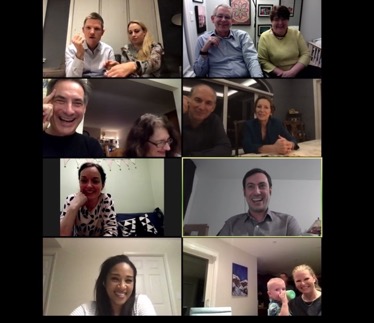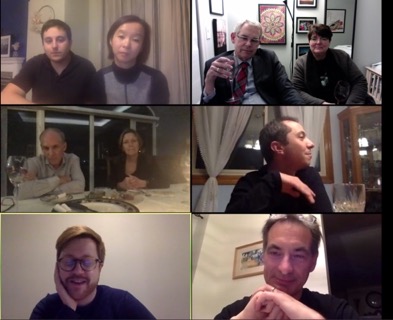 Stay well!!!