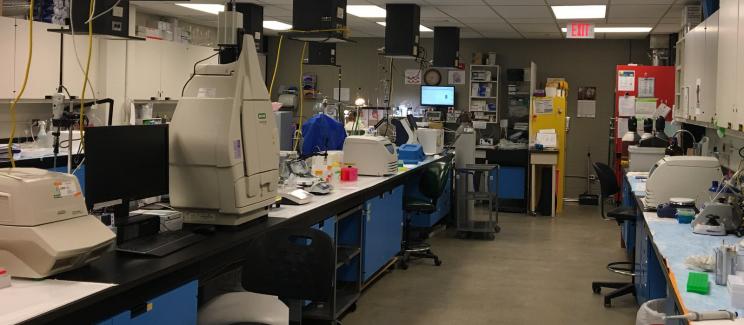 Trainees
 
Kimberly Dunham-Snary
Post-doctoral Fellow

kimberly.dunhamsnary@queensu.ca

Biosketch
Kim's research is focused on the molecular identification of the components of the mitochondrial electron transport chain that serve as the mitochondrial redox oxygen sensor in the pulmonary vasculature. Characterization of the mitochondrial oxygen sensor will be accomplished by investigating whether specific enzymatic subunits vary in identity or expression level in pulmonary arteries (which constrict in response to
hypoxia) compared to systemic arteries (which dilate in response to hypoxia).
Francois Potus
Post-doctoral Fellow

fp17@queensu.ca

CCV
François's research focuses on the implication of epigenetic in pulmonary arterial hypertension (PAH) development and progression. His work investigates the mutual and reciprocal relationship between DNA methylation and metabolic dysfunction observed in the disease. This study aims to bring out the "metabolo-epigenetic" origin of PAH and explore the translational application of this basic concept as a new therapeutic target.
François is also interested in the characterization and the investigation of the mechanisms underlying right ventricle failure observed in the PAH.
Lian Tian
Post-doctoral Fellow

lian.tian@queensu.ca

Biosketch
Lian is currently working on: 
1). Assessing the hemodynamics of the right ventricle in animal models of pulmonary hypertension via echocardiography
2). Investigating right ventricular ischemia-reperfusion syndrome and testing the beneficial effect of inhibiting mitochondrial fission on right ventricular hemodynamics 
ex vivo in animal models of pulmonary hypertension
3). Examining the mitochondrial dynamics and metabolism in fibroblasts from the
right ventricle and pulmonary artery and the associated fibrosis in animal models of pulmonary hypertension 
Danchen Wu
Post-doctoral Fellow

danchen.wu@queensu.ca

Biosketch
Danchen's research focuses on elucidating the role of mitochondria motility in pathogenesis of pulmonary arterial hypertension (PAH). This study will find out how mitochondria motility is changed in PAH and how it is interacting mitochondria fusion and fission.
Danchen is also interested in exploring the effects of potential Drp1 inhibitors on mitochondria fission, which may serve as therapeutics for PAH and cancers in future.
Ping Yu Xiong
Clinician Investigator Program Masters Student

p.xiong@queensu.ca

CCV
Ping is a third year internal medicine resident enrolled in the Clinician Investigator Program. He joined the lab in September 2016. His research focuses on creating animal models for the study the dysfunctional molecular pathways of the WHO Group 2 pulmonary hypertension also known as pulmonary hypertension due to left heart disease.
Ping is currently investigating the changes in expression level of mitochondria fission and fusion mediators in the supra-coronary aortic banding Group 2 pulmonary hypertension rat model. The goal is to discover novel therapeutic target to treat Group 2 pulmonary hypertension, which currently does not have an approved therapy.
Staff
 
Kuang-Hueih Chen
Research Associate

kuanghueih.chen@queensu.ca

Biosketch
Kuang-Hueih's research focuses on determining the role of Drp-1 binding partners MiD49 and MiD51 in the pathogenesis of proliferative diseases such as cancers and pulmonary arterial hypertension (PAH). This study will establish how the expression of Drp1 binding partners changes (and varies) in proliferative diseases and may also identify potential therapeutic targets for cancers and PAH.
Asish Das Gupta
Research Associate

asish.dasgupta@queensu.ca

Biosketch
Asish's research concentrates on elucidating the role of phosphorylation-induced degradation of Mitofusin 2 (Mfn2) in proliferative diseases such as cancers and pulmonary arterial hypertension (PAH). This study will explore the possibility of utilizing phosphorylation-resistant mutant isoform of Mfn2 by adenoviral mediated gene transfer as a novel therapy for cancers and PAH.
Ashley Martin
Research Assistant

a.martin@queensu.ca 
Ashley is responsible for assisting in Archer Lab research, including animal care, surgical procedures, Langendorff, data collection, tissue harvest/sample collection, and cell culture. Ashley also manages the mouse colony, maintains inventory of biohazard material and lab supplies, purchases lab supplies, and assists in managing lab finances, including procurement reconciliation.
Jeff Mewburn
Research Associate/Imaging Specialist

mewburnj@queensu.ca

Responsible for the operations of the imaging facilities and the laboratory's IT needs.

His expertise include:

Super Resolution Microscopy
Live-cell resonant scanning to study mitochondrial dynamics
Confocal microscopy
2-photon microscopy
Flow cytometry
Experiments involving TIRF, FRET, FRAP, photo activation, live cell imaging, three-dimensional reconstruction and analysis
Intravital work on a spinning disk confocal platform studying murine liver, lung, spleen, lymph node and tumor models
Intravital video microscopy, performing hemodynamic experiments in live tissues

Monica Neuber-Hess
Lab Manager and Research Associate

neuberm@queensu.ca

Monica's position is both administrative and research oriented.  The administrative duties include day-to-day operation of the lab, financials, purchasing, reconciliation of accounts, responsible for ethics, biohazard and health Canada permits, lab protocols, health and safety, biohazard safety and supervisory role, ensuring the compliance of animal protocols, health and safety and ethical guidelines.

As a member of the team, Monica supports the on-going research in the area mitochondrial biology (oxygen sensing, and fission and fusion) and cell biology.  She performs the following: Langendorff heart model, working heart model, perfused lung model and isolate vascular rings to study vascular physiology in isometric tissue bath model.  Also performs and teaches measurement of systematic and pulmonary hemodynamics, cardiac catheterization, and physiologic assessment of rodent functional capacity using treadmill testing.  Performs and teaches survival surgeries and creates rodent models of pulmonary hypertension, and right ventricular hypertrophy, including monocrotaline model, the chronic hypoxia +SU5416 model, pulmonary artery banding model and supracoronary banding model including proper documentation of experimental data and tissue harvesting for further investigation.