Residents gathering safely during the summer of 2020 for Journal Club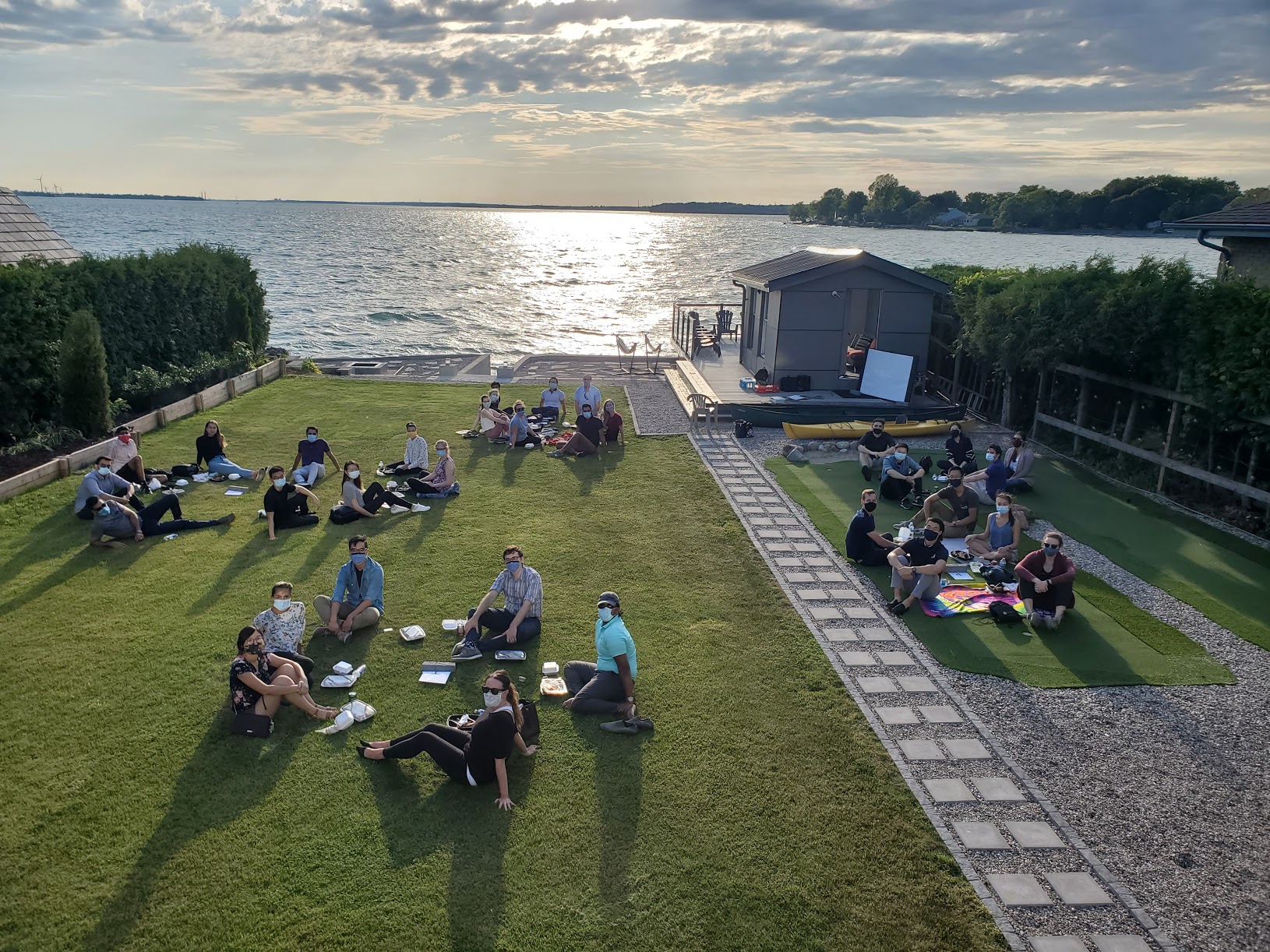 Residents enjoy the beauty of the region during their Fall Retreat hike at Rock Dunder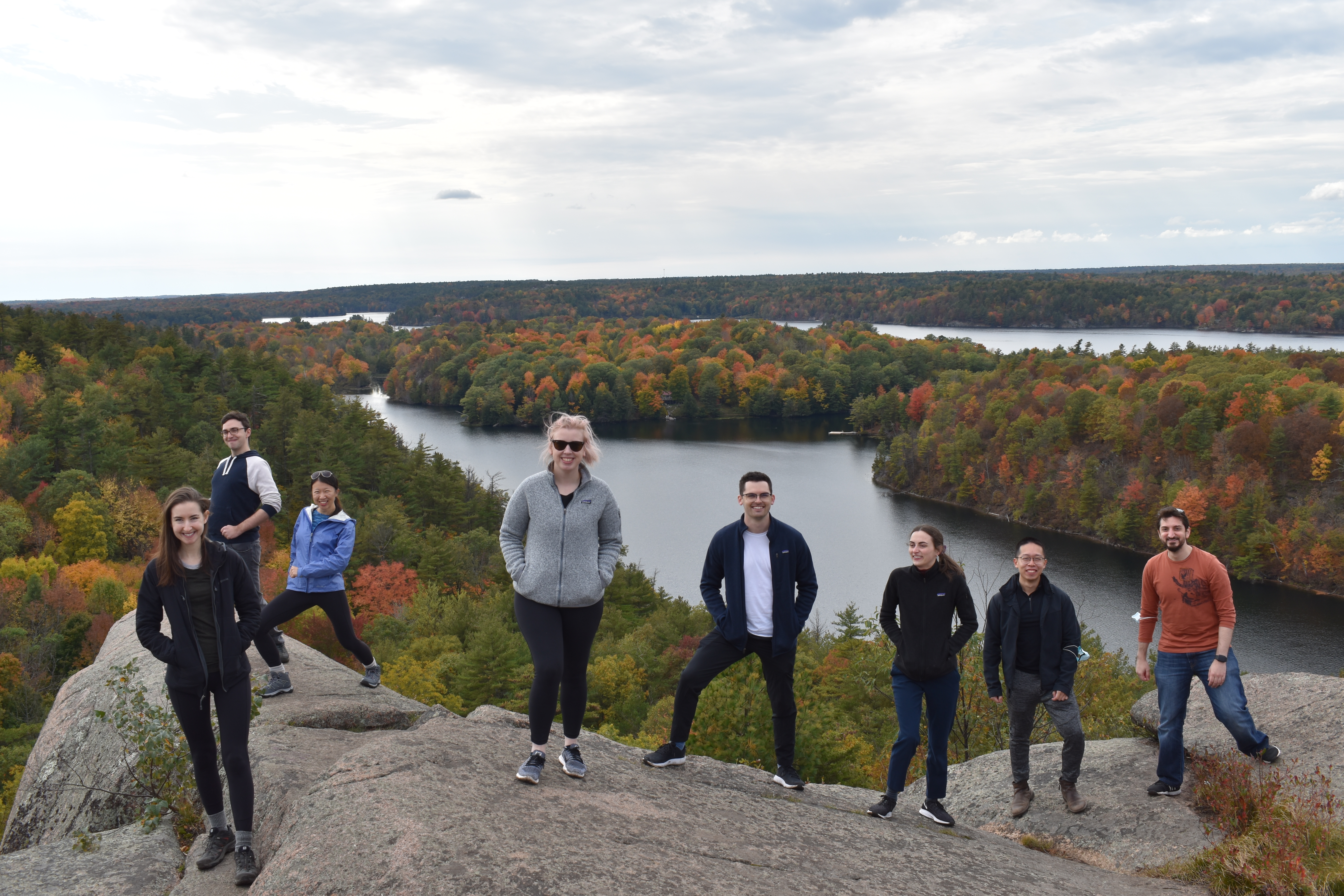 We are proud to showcase residents' work during our annual Research Day.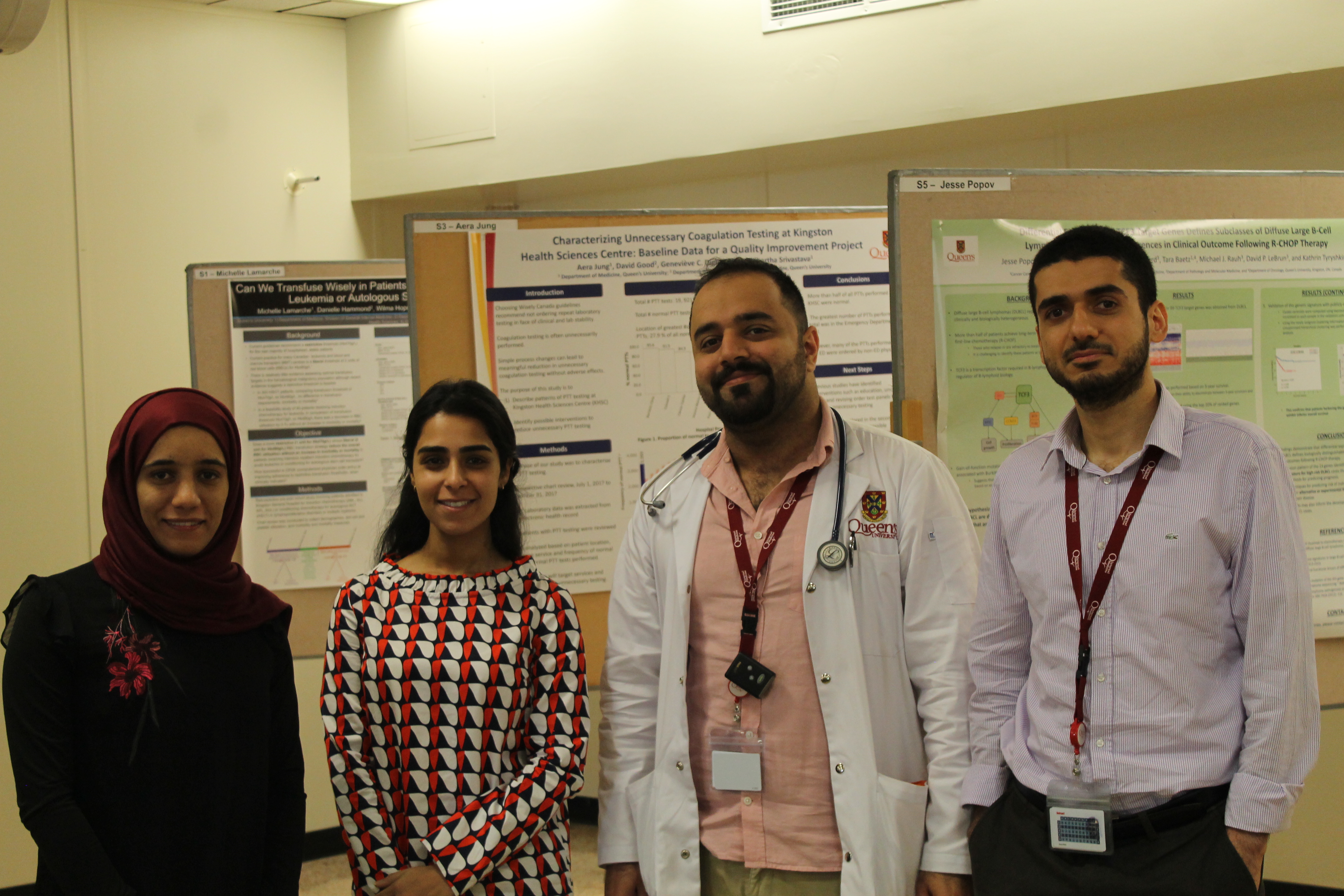 Education Experience
One of the major strengths of the program is the commitment to education. We have a faculty dedicated to teaching as well as clinical care and research. The program is structured so that a wide variety of teaching formats are available regularly.
Sign-In Rounds
Held 3-4 times a week, CTU teams present and discuss recent admissions. These conferences are moderated by members of the faculty with a special interest in teaching. 
Academic Half Days
Presented by faculty from a viariety of medicine specialties in both Problem Based Learning (PBL) small group sessions and lecture formats. To better fit the needs of our residents as they progress through the program, there is both a General AHD for PGY-1s and 2s, as well as a Royal College Exam Prep AHD specifically for PGY-3s. 
Research Day 
In May each year a whole day is set aside for Resident Research Day. The residents are given protected time to present their research projects (oral presentatinos and posters), to their colleagues and the Faculty in the Department of Medicine. An invited speaker helps anchor the day and a panel gives feedback to the participants. 
Department of Medicine Events
Departmental Grand Rounds and Morbidity and Mortality Rounds occur weekly and hosted by the Department of Medicine. The full calendar can be viewed here. In addition, each division holds weekly subspecialty conferences that residents are encouraged to attend. 
Journal Club
Organized 9 times a year by senior residents and attended by faculty. The journal club reviews EBM concepts for a variety of different study designs relevant to the practice of internal medicine. 
Simulation Lab
Queen's has a purpose built, state of the art simulation centre in the School fo Medicine building which is utilized for simulation teaching and procedural training (e.g. central lines, lumbar puncture, thoracentesis, paracentesis). We also have a Harvey cardiac simulator that is regularly used. There is also a smaller simulation centre in KHSC itself which is used for code blue training when residents are on ICU rotations and the PGY1 nightmare scenarios course. 
Other opportunities
Residents have may opportunties to develop their teaching skills. Senior residents teach in the clinical clerk lecture series. Others are encouraged to participate in the clinical skills undergraduate program here at Queen's. The Essentials of Teaching: Clinical course is offered through the PGME office for residents who are interested in enhancing their teaching skills. 
Assessment
Our program has been fully CBME since 2017 and have been proud to be leaders in the implementation of this new framework. We believe in a culture of feedback and reflection to best support resident learning and growth.
Acadmic Advisors that provide individualized coaching towards academic and career goals, paired with learning plans
Bi-annual meetings with Program Director or Associate Program Director
American College of Physicians (ACP) In-Training exam annually
Annual practice OSCEs in Royal College Format
A Competence Committee chaired by an Associate Program Director and comprised of selected faculty which values both assessments 

for

 learning and assessments 

of

 learning. A culture of feedback and reflection supports resident learning and growth. 
A formal Residency Program Committee (RPC) chaired by the Program Director and comprised of selected faculty members, the chief residents and elected resident representatives (PGY1, PGY2, PGY3) meets once a month to discuss issues related to the program. The committees' responsibilities include resident recruitment, evaluating the teaching curriculum in the program, reviewing teacher and rotation specific evaluations, planning the resident research day and the annual retreat and Last Call Ball. 
Social Events
Community and celebration of major milestones are important part of the residency experience. Our program hosts a variety of official events for our residents, associated faculty, and staff to provide time to connect in a more relaxed atmosphere.
Welcome BBQ
Every July we hold a welcome BBQ at the University Club for all the new PGY1s and their families. It is an opportunity for our new recruits to meet their fellow residents and faculty in a relaxed and social atmosphere at the begining of the year. 
Holiday Rounds
The last scheduled Grand Rounds prior to the December holidays is replaced by a resident run presentation, typically composed of a number of humorous skits and songs. 
Resident Retreat
In the fall, the Chief REsidents plan a one day weekend retreat for all residents. This one day retreat is planned locally and helps show off some of Kingston's attractions and an opportunity to catch some of those fall colours. 
In the winter, we take the residents on a weekend retreat for team-building exercises, social events and fun! The program arranges for Fellows to cover the medicine residents' call responsibilities, so all residents are able to participate. Faculty who have won teaching awards or who serve on the RPC are also invited. Recent venues have included Montebello, Mont Tremblant, Chateau Bromont, Blue Mountain. These have proved to be popular and rejuvinating for all involved. 
Last Call Ball
At the end of each academic year, we host a special dinner for all residents and associated faculty to celebrate the completion of the core internal medicine training of the PGY3's. There is a formal dinner and award ceremony for Faculty and REsident Awards, followed by a 'roast' by a faculty member of each of the graduating residents and a party.