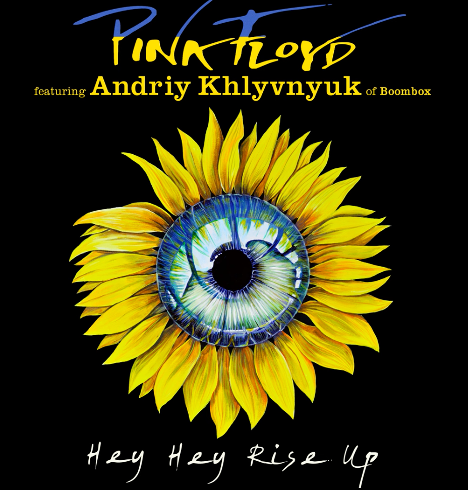 Hey Hey Rise Up : A local team provides medical supplies for Ukraine
The title of this blog is inspired by Pink Floyd's new recording, Hey Hey Rise Up, performed with the Ukrainian singer Andriy Khlyvnyuk from the Ukrainian band Boom Box in support of the people of Ukraine. This inspirational song was originally sung acappella by Andriy Khlyvnyuk in a square in Kiev. This modern anthem was based on a song from 1914 by Stepan Charnetskii written to commemorate the Sich Riflemen who fought in WWI. Pink Floyd's first song in 28 years is a call for each of us to rise up against Mr. Putin's barbaric war. Here is the story of a local team that rose up and did their small part in helping the people of Ukraine.
Ms. Kathy Henry (SCI Logistics), Mr. Scott Kelso (3SO), Dr. Stephen Archer and Dr. Kathie Doliszny-coordinating shipment of medical supplies to Ukraine from the hospitals of SE Ontario
Small acts of decency can be impactful. The ripples from the actions of individuals and small groups can merge into a tsunami that sweeps away great evils and removes leaders and empires that at first seem unassailable. However, to trigger a tsunami one must choose to be a ripple and stir the waters. One must overcome apathy, inertia and cynicism and have confidence that one's actions matter. When confronted with geopolitical events as large and sinister as Mr. Putin's war of choice on Ukraine, it is understandable that an individual can feel they are a helpless witness on the sidelines of history. In fact, we have a voice, a choice, and together we have power. We can choose to be on the right side of history and put our words and our resources to action! In this war the people of Ukraine are on the frontlines but others of us can lobby our governments and donate time, supplies and money. There is no reason to wallow in helplessness; we can each be active in this cause, even if our actions are modest in size. This choice for non-combatants to be active allies, to speak out, and to be active applies not only to ending the War in Ukraine but to other worthy domestic movements, such as #MeToo, Black Lives Matter, and the struggle to implement recommendations from Truth and Reconciliation Committee to rectify injustices against the Indigenous people in Canada.
My own interest in Ukraine began in 1979 when I met my future wife, Kathie Doliszny. Back then she was an MSc candidate in the Dept of Community Health and Epidemiology, and I was a Medical student at Queen's. In those days Ukraine was part of the Soviet Union (USSR) and the hopes for a "Free Ukraine" seemed dim. Fast forward to the unexpected collapse of the USSR in 1991 and the creation of a free and independent Ukraine. Miracles happen (and they can happen again!).
Passivity will not end this war. Mr. Putin is a classic bully, and he will only stop when pushed back into his corner through force. Consider his history to date. 1999 Mr. Putin came to power as the leader of Russia. This former KGB operative masterminded the massacre of at least 25,000 civilians in the Chechen capital, Grozny and reduced the city to rubble. Then in 2014 "Putin's proxies shot down Malaysia Airlines Flight 17 killing 298 innocent people aboard". In 2014 Putin invaded Donbas and Luhansk in Ukraine, resulting in the death of 14,000 people. In 2015, Putin entered the Syrian war and working from his playbook, savagely attacked civilians, and destroyed cities, creating untold casualties and a mass exodus of Syrians to countries around the world. It is clear that President Bashar al-Assad could not have inflicted the damage he achieved in Syria without Putin and Russia at his side. Now it is Ukraine that stands in the path of this dictator who uses modern weapons to wage a medieval war against women and children. Russia's targeted assault on civilians, the rape, torture and murder of Ukraine's people and their irrational attacks on nuclear power plants show the moral bankruptcy of Putin and the Russian regime. 
While individual Canadians have little power to stop Putin, our concerted actions can have more than symbolic importance. The worse thing at this juncture is to do nothing! Ukraine is not just "another war"; it is a test of our morality and courage. Our response to Putin will reveal our views on the answers to many questions: Does the rule of law apply? Does the conduct of war have rules? Are borders of sovereign nations sacrosanct? Do human rights merit protection? As Canadians we should choose to be on the right side of history and both our rhetoric, and our actions will be recorded as our answers to these questions. I don't want future generations asking me why I did nothing when our generation's Hitler ran roughshod over Ukraine. Instead, I wanted to participate in an initiative to counter the unfolding tragedy of Mr. Putin's illegal and barbaric war. My hope was that by initiating a small act of support for Ukraine I would feel less sadness and helplessness and perhaps inspire others to act too.
So what to do? The first step in counteracting Putin needed to be a clear statement of opposition. I brought motions to three important leadership groups in our academic health sciences center. The Medical Advisory Committee (MAC), which represents the medical staff of Kingston Health Sciences Center (KHSC), the Board of Governors of the Southeastern Ontario Medical Organization (SEAMO) and the leadership of the Dept of Medicine each passed similar resolutions stating," We express abhorrence for the illegal war in Ukraine being prosecuted by the government of Russia. We express our support for our colleagues in Universities and Hospitals in Ukraine who are being devastated by Mr. Putin's actions. We urge an end to this war."
Action must follow words. In this case, I approached Kingston Health Sciences Centre (KHSC) with a request for medical supplies and equipment. I received the greenlight from our CEO Dr. David Pichora to approach Shared Support Services Southeastern Ontario 3SO, a non-profit organization that provides supply chain support for the seven member hospitals in SE Ontario. 3SO oversees purchasing of most of our medical supplies and equipment. I worked with Ms. Ann Van Herpt, who was excited and a dedicated partner in this endeavour. She worked with her 3SO colleagues and engaged an additional key team member, SCI logistics. SCI logistics is the company that stores and delivers medical equipment and supplies to hospitals across SE Ontario. Now our team included all the hospitals in SE Ontario plus two corporations.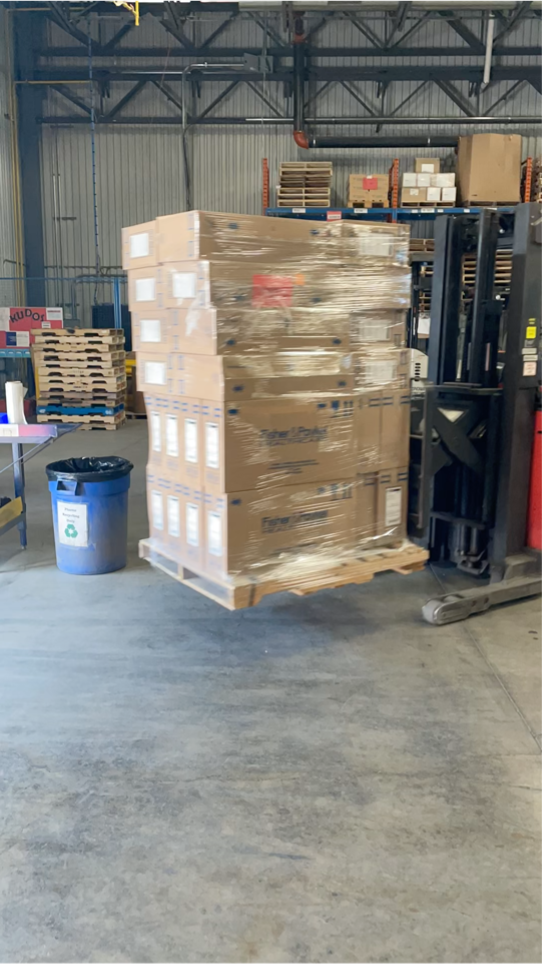 Forklift in the SCI logistics warehouse loading our truck with supplies bound for Ukraine
Meanwhile, two young doctors with Ukrainian roots and a history of training at Queen's University were pursuing a similar initiative in Ottawa and reached out to engage KHSC. I am very proud of our two former Queen's University trainees, Dr. Nicolas Berbenetz (Queen's Cardiology 2017-2020) and Dr. Tetyana Rogalska (Queen's Medicine 2012-2016) and their independent initiative to help Ukraine!
Dr. Tetyana Rogalska and Dr. Nicholas Berbenetz
As Ukrainian Canadians, they recognized that the war was becoming a crisis affecting millions of people. They chose to use their knowledge and resources to support our medical colleagues in Ukraine who continue to bravely defend life. They reached out to medical professionals in Ukraine and learned of their enormous challenges and urgent needs and started to connect with our Ottawa and Kingston hospitals to see how they could help together. They were extremely grateful for the resolute support we received and joined our efforts with the Canada Ukraine Foundation that could deliver this aid to Ukraine. They partnered with the Canada-Ukraine Foundation to establish a reliable network to ship the materials from Ottawa and Kingston in Ontario to Ukraine. Once we recognized our common goals we coordinated our efforts. Now we had allies (and our allies had trucks and a plane)! The next step was to collect medical supplies from across our region for central transport to Ottawa and a flight to Ukraine, to be coordinated by the Canada Ukraine Foundation. Our donation included a truck load of defibrillators, IV infusion pumps. ventilator supplies, laceration kits, sanitizing agents, thermal blanket materials and more! Most were supplies that though new and fully functional were past date and could not be used locally. This truckload of supplies represents an important contribution to the health of the people of Ukraine.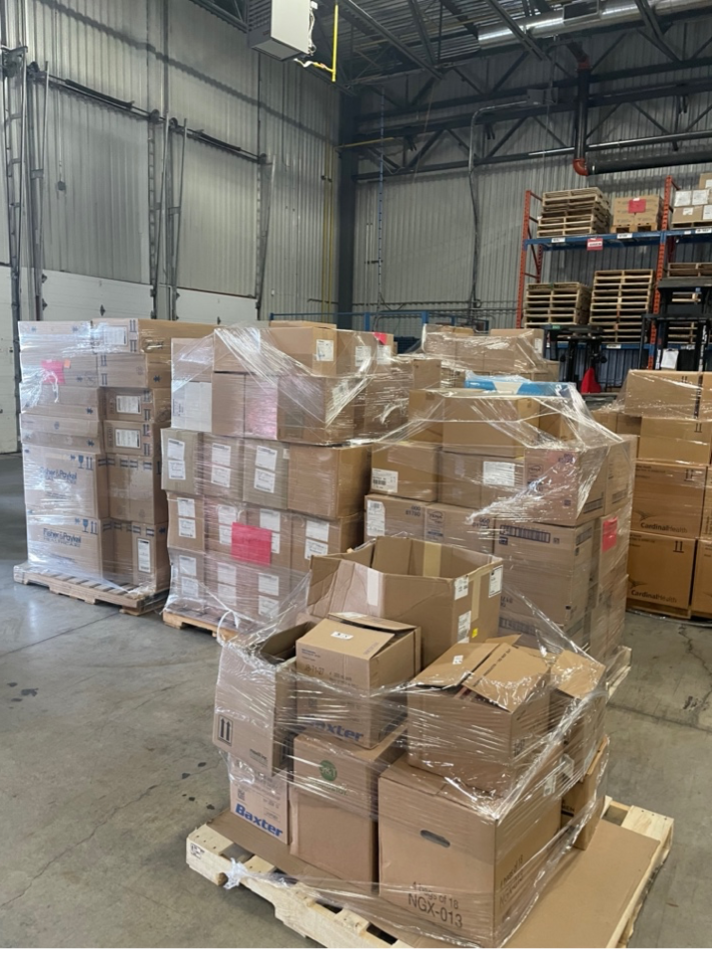 Our donation to Ukraine
Our donations were collected by a volunteer from Swift Delivery Systems, Mr. Bert Landy. On Saturday April 9th Team Ukraine met in the SCI logistic warehouse to watch Bert and Ms. Kathy Henry efficiently load a 20-foot truck with the help of a speedy red forklift.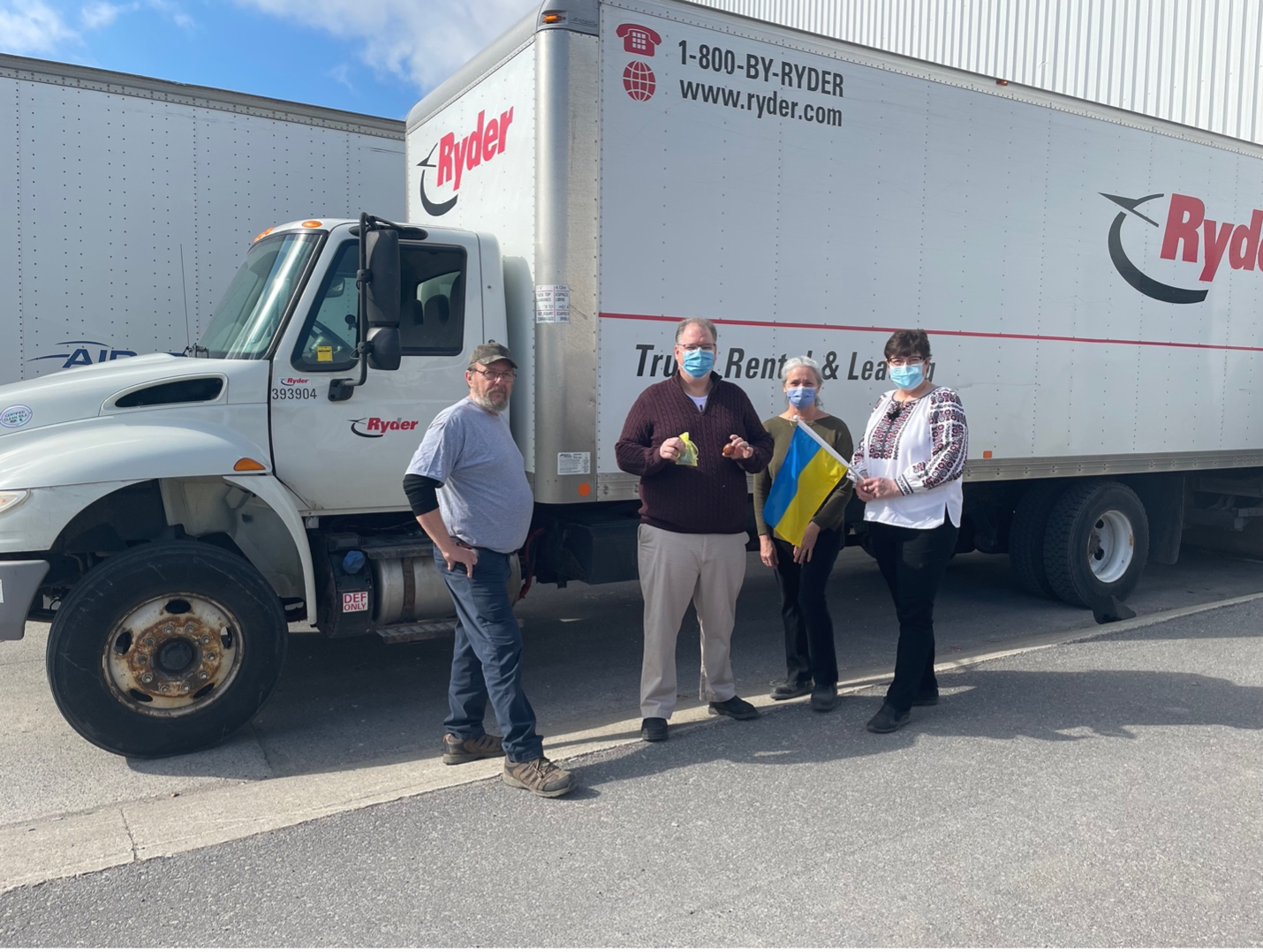 Mr. Bert Landry, Mr. Scott Kelso, Ms. Kathy Henry, and Dr. Kathie Doliszny
Dr. Kathie Doliszny, a first generation Ukrainian Canadian, came armed with Ukrainian easter eggs, pysanky, and Ukrainian flag pins for the volunteers. On behalf of Ukrainian-Canadians, she expressed her gratitude for the generous support of the hospitals of SE Ontario. Dr. Doliszny noted, "I've been so impressed with the creative ways in which people have answered the call for humanitarian aid and medical supplies."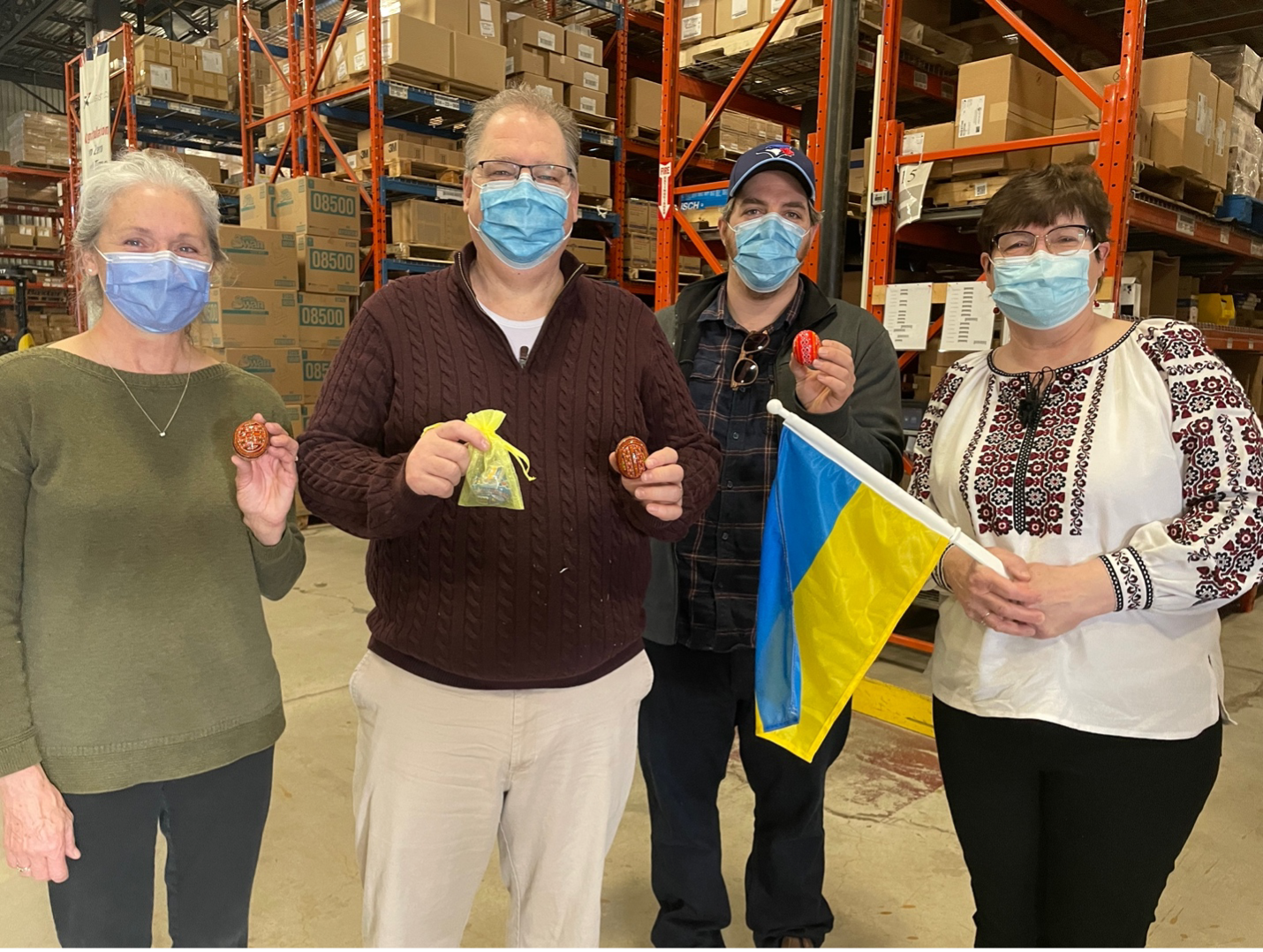 A show of support for Ukraine: Ms. Kathy Henry, Mr. Scott Kelso, Mr. John Pereira (KHSC communications), Dr. Kathie Doliszny
This was a true team effort. Kathie and I are part of a team which included Kingston Health Sciences Centre, and its CEO Dr. David Pichora, the leadership of Brockville General Hospital, Perth and Smith Falls Hospital, Providence Care Centre, and Quinte Healthcare. The team was coordinated by Ms. Ann Van Herpt and Mr. Scott Kelso from 3SO. The gift was assembled and packed by Ms. Kathy Henry from SCI Logistics and carefully shipped by Mr. Bert Landy from Swift Delivery Systems.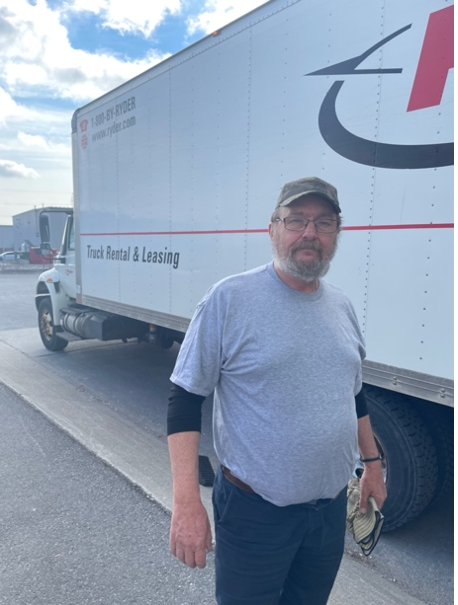 Mr. Bert Landry (L) Ms. Kathy Henry driving the forklift and working with Mr. Bert Landry from Swift to load his truck (R)                                      
In a heart-warming act of kindness, Ms. Shivali Shah, a Biomedical technologist from Brockville General Hospital, took the trouble to reset the clocks in these medical devices to the Ukrainian time zone so it would work for the recipients right out of the box!".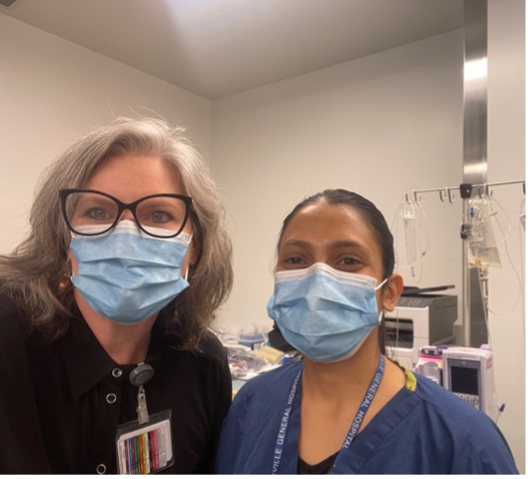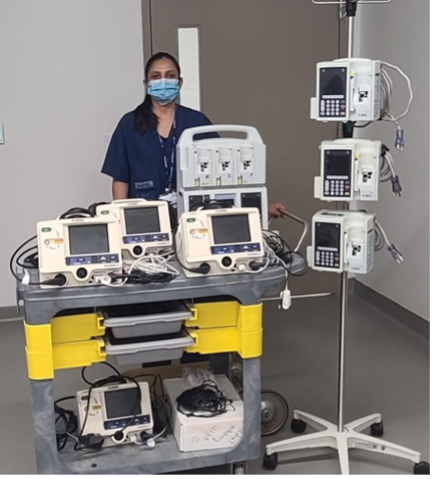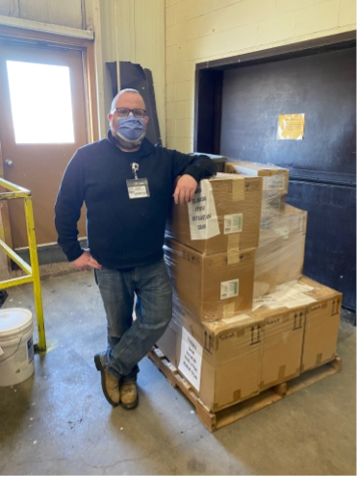 Ms. Ann Van Herpt, Ms. Shivali Shah and Mr. Jay Skinner (3SO)
Our gift will make a positive contribution to the people of Ukraine and remind them that we are with them in spirit.
The resolve of Ukrainians should not be surprising; just listen to their national anthem, sung by the Hoosli Male Chorus at a Winnipeg Jets game (click here). The lyrics (below) are the lyrics of a brave and free people!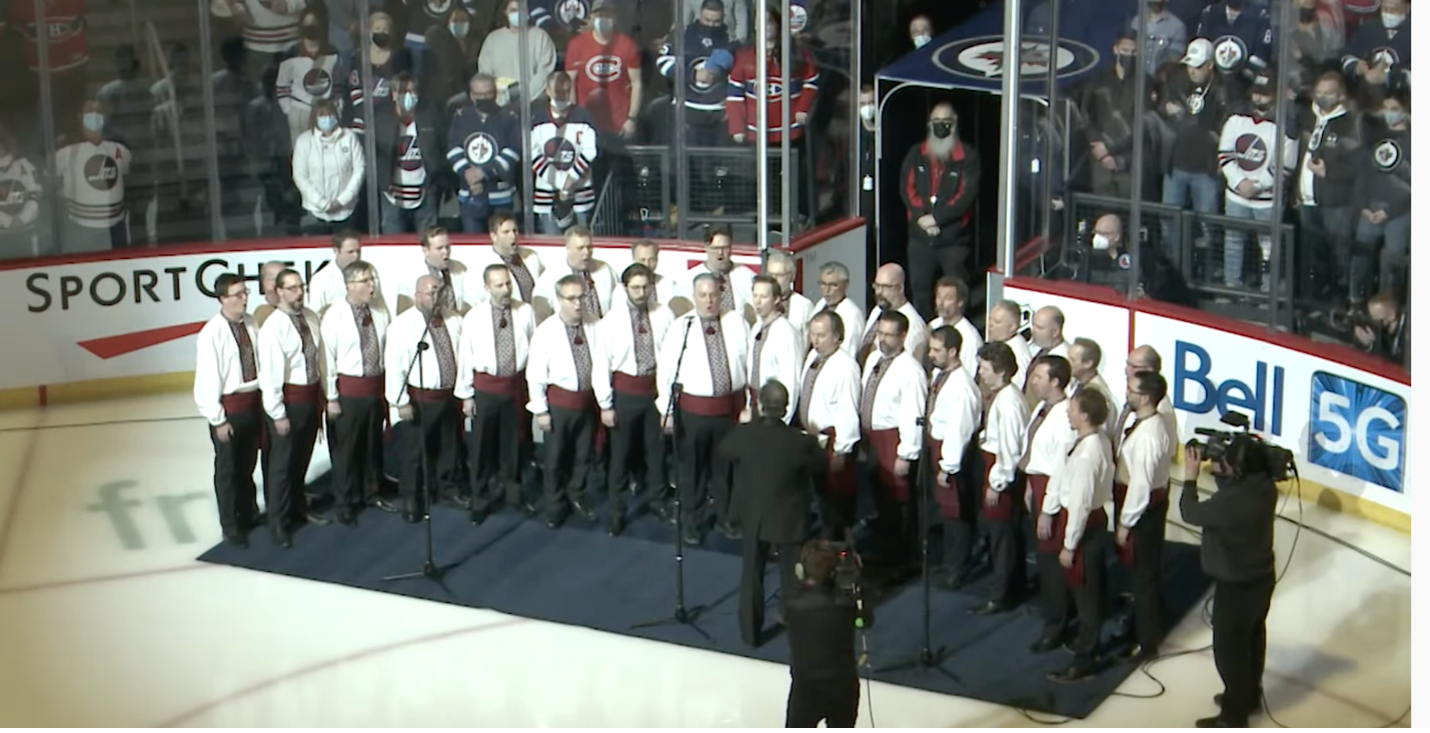 Hoosli Male Chorus at a Winnipeg Jets game sing Ukrainian national anthem
The glory and freedom of Ukraine has not yet perished
Luck will still smile on us brother-Ukrainians.
Our enemies will die, as the dew does in the sunshine,
and we, too, brothers, we'll live happily in our land.
We'll not spare either our souls or bodies to get freedom
and we'll prove that we brothers are of Kozak kin.
A quote, apparently misattributed to Edmund Burke resonates with me, "All that is necessary for evil to triumph is for good people to do nothing". We did something and I'm glad we did! It's hard not to help people who are fighting so ably and bravely to maintain their freedom against overwhelming odds. I am proud that KHSC and our partner hospitals in SE Ontario played a role. Through our actions we have aligned ourselves with the Ukrainian people and put ourselves on the right side of history. The actions of our team made me feel more empowered and optimistic. I hope this story will inspire donations by others in the KHSC and Queen's University communities. If you are personally inspired to contribute, consider making a donation to the Canada-Ukraine Foundation Humanitarian Appeal at https://www.cufoundation.ca/.