Being a graduate student in the COVID-19 pandemic: Lessons from our Translational Medicine (TMED) graduate students
A guest blog by TMED student Thalia Hua, MSc'21(Candidate) and President of the TMED Student Society and a short introduction by me.
The Department of Medicine is home to an amazing graduate program in translational medicine, called TMED (click here). The following guest blog offers a snap shot about how these talented scientists have dealt with the pandemic and adapted to its impact on their graduate education. First a brief introduction to TMED. Led by Graduate Program Directors, Dr. Paula James, and Dr. Mark Ormiston, TMED is part of our Translation Institute of Medicine (TIME), led by Dr. Stephen Vanner (click here). TMED aims to train the next generation of researchers to be effective bidirectional translators of fundamental biomedical science to improve human health. The graduates of the programs (both MSc and PhD) will be well positioned to operate at the intersection of clinical and related sciences and will have the expertise to generate and lead discovery through an integrated process, increasing the efficiency of translating science knowledge into health improvement. TMED is currently in its 3rd year with 23 students in the program which includes 5 PhD students, 1 MD/PhD student and 17 MSc students. I am proud to say that Ruaa Al-Qazazi who was my trainee and part of the first cohort of the program, was the first student to graduate with a Master of Science in the fall of 2020. To date, 3 students have successfully defended their MSc, and 3 have been promoted into the PhD program after successful Mini-MSc defences.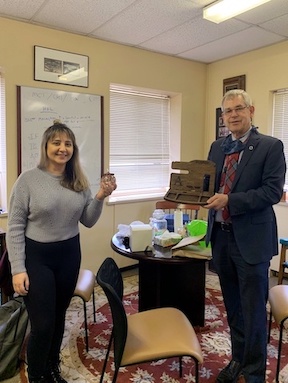 TMED student Ruaa Al-Qazazi and her supervisor Dr. Stephen Archer
Both TIME and TMED promote and the value added of engaging patients in research that pertains to human health. This engagement does not just include involving patients in the research as subjects, but also engages them as teachers, with our trainees learning from them in the classroom, as they tell their rich stories. Moreover, TMED brings non-MD graduate students into the patient care clinics where they experience the doctor patient relationship firsthand. This is a huge motivator and informs trainees and their mentors as to the true problems patients face. TMED students also attend Medical Grand Round, meet our visiting speakers and blog about the topics. Our TMED grad students are thus an intrinsic part of the Department of Medicine. That said, TMED is not just a DOM treasure. TMED mentors and supervisors in the TMED program come from many other Departments at Queen's, including DBMS and Surgery.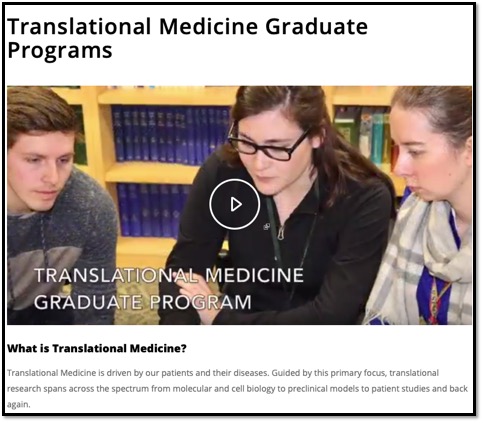 Here is a snapshot into the vibrant life of our TMED students (in their own words) after a year of COVID-19 pandemic, as written by Thalia Hua, MSc'21(Candidate) and President of the TMED Student Society -enjoy!
_____________________________________________________________________
It was a typical Friday afternoon in the lab – I had just finished consenting a patient into participating in my thesis project. As I was waiting for the data to upload into my computer, I decided to check my emails and saw one that particularly caught my attention: from the University Principle titled "Important Announcement on University's Response to COVID-19".
At that time, COVID-19 wasn't something unheard of, but cases were beginning to make appearances worldwide. Although a growing concern, amidst recruiting patients for my thesis, tutoring part time, and studying for the MCAT, the topic wasn't of my immediate consideration. Never would I have imagined that I would be writing something like this; 10-months later, during self-isolation in the year of 2021.
Like many other graduate students, I had finally established a comfortable routine to complete my thesis on a reasonable timeline. Within a week of opening that email, university classes were taught online, events were cancelled and what seemed to be like the entire world was headed into lockdown. No one knew exactly what was happening, where this was going, or how long it would last. I tried to make the best out of a bad situation and immersed myself into some side projects that I could work on from home, but ultimately needed to make a decision regarding the completion of my thesis under these new circumstances. Modifications to projects varied between the students of the Translational Medicine (TMED) Graduate Program, where wet lab research groups were creating part-time rotations for conducting experiments, and clinical based lab groups were making amendments to study protocols to minimize in-person contact. "COVID-19 has placed challenges on recruitment for us, since my project involves human subjects. However, it forced us to think creatively and gave us the opportunity to design a remote recruitment procedure that allows us to engage with patients while adhering to social distancing guidelines", says Madison MacKinnon, 2nd year MSc student working on validating a Work-related Asthma Screening Questionnaire. For some students, the restrictions interfered with more than just lab schedules or consent procedures. "The pandemic has hindered the ability for me to travel to Tanzania – to witness the fruition of my research and conduct field work is an opportunity that I have always been extremely excited for", says Melinda Chelva, 1st year MSc student evaluating the benefit of adding patient navigation to smartphone-based cervical cancer screening application. "Until it is safe to travel, this is temporarily on hold."
Within the program, everybody works in their own respective lab space and only during scheduled classes do we have a designated time and place to interact with one another. Back in first year, I always looked forward to our attending classes as they allowed me to hear about the different projects other students were working on and to form new friendships by bonding over a cup of coffee. We often asked questions and shared our experiences transitioning into the TMED program and this offered as a valuable resource and support group to comfortably immerse ourselves into the next chapter of our academic career as graduate students. By the nature of our program timeline, it becomes more difficult to stay connected with each other once classes come to an end and research responsibilities increase. Now add a pandemic to that equation, engagement becomes significantly more challenging, yet the value of connection becomes infinitely more important. With the announcement of remote instruction for the Fall semester, I knew something could be done to maintain the friendships I had made in my first-year classes, while creating a community that incoming students could utilize to facilitate the commencement of their studies despite the virtual training.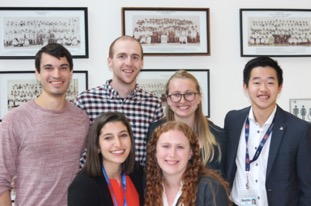 TMED students attending the TIME Symposium, November 2019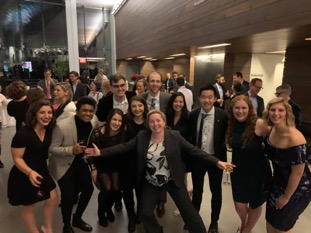 TMED students with Dr. Anne Ellis, Graduate Program Committee Member, Supervisor and Course Chair, at the DOM Holiday Party, December 2019.
Since the launch of the TMED Graduate Program in 2018, the program size is a highly appealing feature to many prospective students. "The smaller class sizes allow us to develop a strong connection with each other and provides us with a unique opportunity to have intimate discussions with a variety of faculty members, clinicians, and researchers – this allow us to learn about the many different fields and avenues for translational medicine", says Kassandra Coyle, 1st year MSc student. Furthermore, the size provides the program leadership with the capacity to actively promote and welcome ideas from students to further enrich the graduate school experience. Thus, the TMED Student Society and Council was established.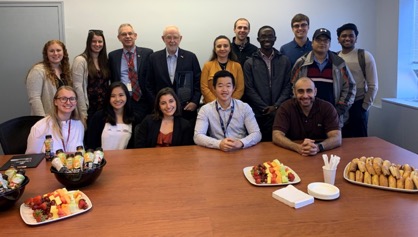 TMED students with Dr. Archer and Nobel Laureate Dr. Arthur McDonald after Medical Grand Rounds, October 2019
The first semester of the society's initiation was a busy one. With the collaborative effort of the council, faculty, and students, many creative suggestions were brought forward. We successfully implemented a number of new elements for the program including a TMED logo, student profiles, and a bi-weekly student newsletter. This year, we also incorporated a position to highlight and address topics of equity, diversity, and inclusivity (EDI) within the graduate program. "EDI topics can be sensitive to discuss yet very important to address comfortably, especially in the academic and clinical settings", says Charmi Shah, 1st year MSc student and EDI representative for the TMED Society. "The EDI representative aims to ensure any inequalities in the academic setting are brought to our attention to create an open dialogue and promote productive action to eliminate these issues." With guidance from the TMED Educational Lead, Wei Yan, the council delivered a student experience survey covering a broad range of topics including research workload and mental wellbeing in addition to those relating to EDI. Survey results will be used to facilitate conversations to improve and implement change to address the concerns brought forward by TMED students. We aim to release similar surveys in the coming months to routinely check-in with our students to encourage ongoing feedback to recognize EDI within the program.

The winner of the logo design as voted by our students and program leadership.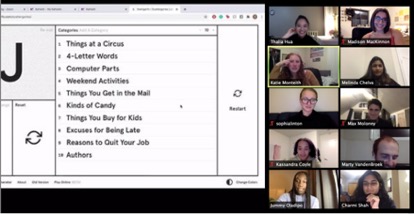 TMED students playing Scattergories at Game Night Social via Zoom, November 2020.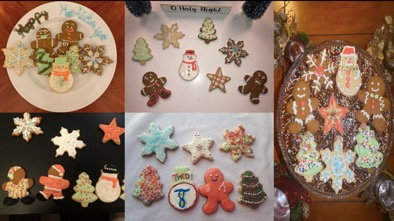 Christmas cooking decorating contest, December 2020.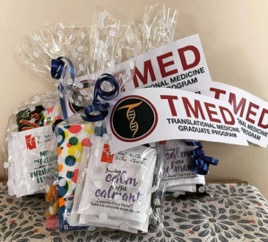 Care packages for our students – tea and hot chocolate, candies and chocolate bar, tissues and hand sanitizer.
In 2021, the TMED Student Society is excited to continue to present many new projects to keep both our students and faculty engaged. Some projects currently in discussion include potential mentorship programs, career panels, merchandise, yoga classes, and community outreach opportunities. It is crazy to think that one of the most defining characteristics of my graduate school experience will be a global pandemic, but I am also grateful to have been given the opportunity to work alongside such an enthusiastic and resilient group who have helped make the TMED Student Society and Council a reality. Thank you to the program leadership and students in the graduate program for your ongoing support. Click here to meet the members of the TMED Student Society and Council.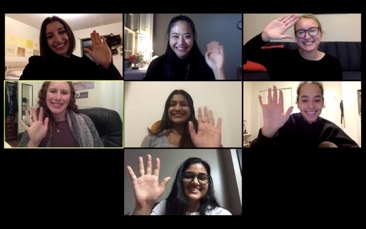 TMED Student Society (rows from left to right): Madison MacKinnon – Secretary, Thalia Hua – President, Sophia Linton – PhD Representative, Katie Monteith – VP of Financial Administration, Melinda Chelva – VP of Student Services, Kassandra Coyle – MSc Representative, Charmi Shah – SGPS/EDI Representative
The TMED students have learned a lot about themselves and the importance of research from the COVID-19 pandemic. As a follow up to this article, the TMED Student Society members were asked to share their thoughts on these experiences and what they have learned.
"I have learned that I am truly adaptable and am able to think critically in times of crisis. COVID has really pushed myself, and other researchers, out of our comfort zones, but it has reinstated the importance of research. The uniting of researchers across the globe to eradicate COVID-19 demonstrates how collaboration, adaptability and hard work among colleagues can lead to great advances in research, even in the face of adversity." Madison MacKinnon, MSc'21 (Candidate)
"Like many laboratories, ours has shifted its focus to COVID-19, testing hundreds of asymptomatic health professional students for the virus with an extensive follow-up period. The extensive PPE, intense study schedule, and continuously evolving IPAC guidelines are tiresome and difficult. COVID-19 has been all-consuming, but while I didn't expect my Ph.D. portfolio (where my project specializes in allergy) to include COVID-19 research, I am glad it has. You see, I am a student in the Translation Medicine Graduate Program performing translational research. Our patients and their disease drive my research. I have no doubt in my mind that when I graduate in 2023, I will be a strong translator of biological discovery." Sophia Linton, PhD'23 (Candidate).
"From the COVID-19 pandemic, I learned that my best strategy to stay productive was to maintain structure in my days, so I needed to adapt my routine to the continuously changing circumstances. I think the pandemic has showcased how essential research is and has created a model for the quick translation of research. In terms of my own research, the pandemic has challenged me to be more creative about how I execute my experiments and proven that we can continue with the collaborative nature of research in a safe way." Katie Monteith, MSc'21 (Candidate) 
"Through the COVID-19 pandemic, I have learned how resilient I am and my ability to remain positive even during times of uncertainty. I recognize and acknowledge that research will always be extremely valuable in the realm of healthcare and has the ability to be the solution to many unanswered questions." Melinda Chelva, MSc'22 (Candidate)
"I have learned how to be resilient and flexible while dealing with the constant changes that are associated with the pandemic and that despite the major impact that COVID-19 has had on our society, it is important to try and maintain as close to a normal lifestyle as possible. Being able to begin a research-based master's program in the middle of a pandemic has allowed me to appreciate the value of research." Kassandra Coyle, MSc'22 (Candidate)
"The COVID-19 pandemic created an unmatched shift in our lifestyles, and it has reminded me to be flexible, adapt rapidly, and most importantly, be resilient in working through tough situations. These demanding times in healthcare demonstrate the necessity for research discovery because its transition from the bench to bedside is crucial to providing the best care for patients." Charmi Shah, MSc'22 (Candidate)

To find out more about the TMED Graduate program please contact Julie Heagle. As a DOM faculty member if you are interested in becoming a supervisor, guest lecturer or becoming involved with the program please contact Dr. Paula James or Dr. Mark Ormiston.