January 14, 2021 - Dr. Archer's Update on COVID-19 response from the DOM and Medicine Program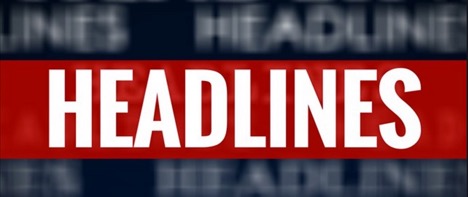 All patients admitted to KHSC will undergo Covid-19 testing
1) Provincial lockdown orders (click here): What are the new intensified rules and is the Dec 26thlockdown starting to work?
2)Vaccines being put in arms at KHSC and update on rollout across Canada (click here): 
3) Ontario's epidemic is not under control with a rate of test positivity of 5.1%, 1657 hospitalized patients (1/4 in ICU) and 3,326 new cases/day (click here).
4) COVID-19 rates remain stable in KFL&A (see update from KFL& A Public Health)
5) Mask and eye protection update
6) Canada's COVID-19 epidemic: 686,786 total cases to date, 77,095 active cases and 17,508 deaths (a cumulative national case mortality rate of ~2%). To date 431,939 people have been at least partially vaccinated (click here)
7) The COVID-19 global pandemic: A total of 1,984,459 million deaths and 92,596,375 million cases since the pandemic began, a rise of over 1.5 million cases since Monday (click here):
Regular reminders and updates:
KHSC bed capacity (not updated at time of note) 
Use the Mobile Screening Tool to expedite clinic visits 
KHSC visitor policy
COVID-19 testing at Beechgrove Community Assessment Center: (click here): 
Increased outbreaks and deaths in Long Term Care facilities (LTC)
COVID-19 in toddlers and young children: (click here). No new data since Dec 21st
1) Provincial lockdown order (click here)
The new lockdown rules, intensifying a lockdown which began Dec 26th, may have be late (click here); however, they will feel plenty rigorous to Ontarians. Lockdowns work to reduce COVID spread; however, they bring social isolation, can impair health care access for non-COVID-19 diseases, can exacerbate mental health challenges and will create adverse economic consequences. As a piece of early evidence the pain is yielding some gain: the graph below shows a downward trend in new cases in Ontario coincident with the post-Christmas lockdown.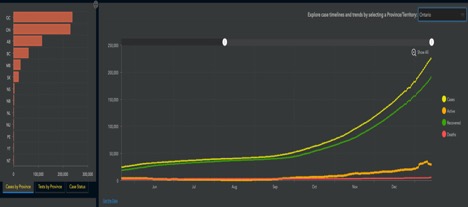 Active cases of COVID-19 in Ontario are perhaps in mild, early, decline with implementation of lockdown-stay tuned!
Lockdowns are proven to work to slow vital spread. Indeed one of the reasons we have seen almost no influenza this fall-winter is that people are not socializing broadly and are more attentive to public health measures (and are perhaps more likely to have received the flu vaccine). That said, lockdown is now more extreme. The recent intensification of the lockdown (which is temporary) was necessary because new cases were increasing rapidly (to triple the daily rates we saw in the summer) and hospital in hot spots were/are almost saturated. This hospital congestion interferes with the care for all people-from delivery of babies and cancer surgery to managing trauma, heart attacks and strokes. So, if in annoyance you ask, Why Another Lockdown?! The answer is: the number of COVID-19 cases was/is threatening to swamp the health care system which would/is interfering with access to care for all people needing any form of healthcare. Lockdown is the only major curve flatener we have until vaccines are widely deployed.
Here are some of the highlights of lockdowns (prepare for a sense of déjà vu for Spring 2020):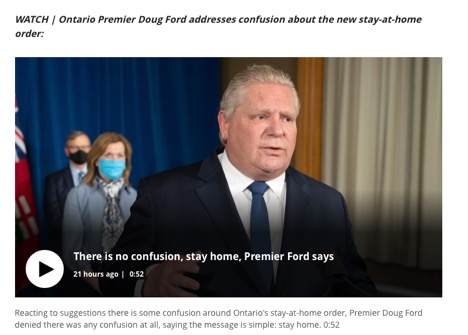 Stay-at-home 
Remain at home at all times aside from outings for essential purposes (e.g. groceries, health care services, exercise or for essential work). 
Businesses must ensure that any employee who can work from home, does work from home.
Exception: Clinicians, medical trainees, researchers in approved programs and many clinically relevant administrative staff are deemed essential and will continue to attend work in person with appropriate PPE, handwashing and physical distancing. Even this group they will be required to stay home if sick or if exposed to a patient with COVID-19 (in which case public health guidelines dictate the role of testing and resumption of work) If you are uncertain whether your work is deemed "essential" please talk to your manager or our DOM team.
Outdoor gatherings limited
The size of outdoor social gatherings reduced to five people, with limited exceptions.
Mask use
Please wear a face covering or mask when outdoors if you cannot physically distance from others.
You must wear a mask or face covering in the indoor areas of businesses or organizations.
Retail hours slashed
Non-essential stores must open no earlier than 7 a.m. and close no later than 8 pm. This includes hardware stores, LCBO and stores offering curb-side service.
Those restrictions do not apply to stores that primarily sell food, pharmacies, gas stations, convenience stores and restaurants for takeout and delivery.
Non-essential construction limited
Non-essential construction is to be limited.
School closures extended in COVID-19 hot spots
In-person learning will not return until Feb. 11 for Toronto, York Region, Hamilton, Windsor-Essex and Peel Region. Stay tuned for reopening dates in Kingston (they are determined by the Public Health officer).
Elementary and Secondary schools south of Sudbury were slated to remain closed until Jan. 25.
In-person learning resumed in northern Ontario for elementary students on Jan. 11.
Backing up the lockdown is enhanced enforcement with increased ticketing and fines.
2)Vaccine rollout in Canada (click here): In Canada provinces have primacy in matters of health care (although the Feds are important co-funders and set standards for some aspects of care). Not surprisingly, vaccine procurement and distribution are handled at both levels of government.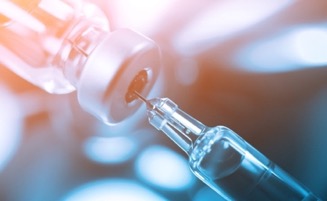 The Feds obtained vaccines and distributed both the Pfizer-BioNTech and Moderna vaccines to distribution sites across the country, each province/territory regulates its own vaccine rollout plan. Most provinces are prioritizing front-line health-care workers and residents in long-term care for the first round of vaccines. In Ontario the top priority are workers in and residents of LTC facilities. You can see the distribution of vaccines to date across the country. At KHSC our amazing team of vaccinators have administered 600 of 1950 doses available this week with several hundred people a day being vaccinated. THANK YOU!!!
Important factors that guide the vaccine team are that:
Prioritization of populations for vaccination are dictated by the province
The clinic is running 7 days/week. 
No doses will be wasted. Any reserve vaccine capacity will be used to vaccinate heath care workers on an on call basis.
KHSC is a regional centre for vaccine distribution so equitable access will be ensured for LTC workers and health care workers at other hospitals and clinics.
Here is Canada's report card on vaccine distribution: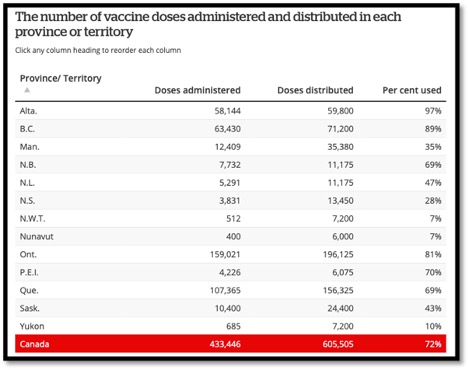 3) Ontario's epidemic is not under control with a rate of test positivity of 5.1%, 1657 hospitalized patients (1/4 in ICU) and 3,326 new cases/day (click here).Ontario has had 228,310 COVID-19 cases, 3,326 new cases since yesterday. There has been a further reduction in our positive COVID-19 test rate from 9.7% last Monday to 5.1% today. Ontario's provincial rate is 1535.9/100,000 population, 5-times higher than in KFL&A (287.2 cases/100,000 population).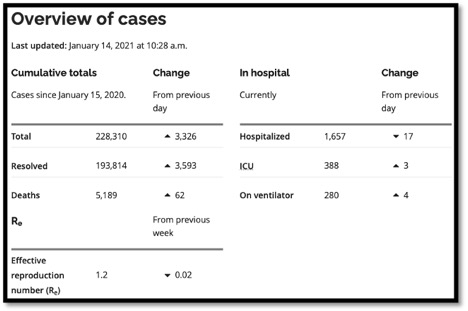 Ontario's pandemic at a glance Jan 14th 2021 (click here)
COVID-19's large second wave in Ontario is resulting in rising rates of hospitalizations (1657 in hospital today with 388 in ICU beds). Most patients with COVID-19 are cared for on Medicine wards (gold below) and the balance are in ICU (black line in graph below) (click here). This ~4/1 ratio of ward to ICU admissions has been fairly constant throughout the pandemic. The government need to be mindful of this fact as they distribute resources to support pandemic care. Their rhetoric often to focus on supports for Emergency Departments and Critical Care Units (which are important) and too often fails to mention Medicine Units, such as Connell 3 at KGH, which 75% of COVID-19 care is provided.
The map of COVID-19 case rates in Ontario shows that most of the province has turned red (meaning a region has >500 cases/100,000 population).
Peel (on Toronto's western border) remains the hot spot in Ontario with 2938.6 cases/100,000 population (click here) (see map above). Toronto's prevalence remains high at (2279.27 cases/100,000 population, ~3X the rate 1 month ago (711 cases/100,000) and ~9 times higher than Kingston, 292.4 cases/100,000). Windsor (2453.2 cases/100,000 population) and Ottawa (1122.29 cases/100,000 population) remain hotspots. Eastern Ontario, around Cornwall, continues to rise rapidly (956.8 cases/100,000). These hotspots, which include much of Ontario's population, have rates 4-10 times higher than KFL&S, which is why elective travel to Kingston from these areas should be avoided.
Neighborhood variation in COVID-19 in Toronto (click here).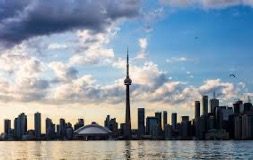 Toronto remains a collection of neighbourhoods with vastly different COVID-19 realities due to differences in social/economic, racial and health circumstances. Although COVID-19 is increasing in the city as a whole, case load is widely variable amongst Toronto neighbourhoods. Since the pandemic began the Thistletown-Beaumond neighbourhood has had 6651 cases/100,000 residents, ~ 10X the burden of COVID-19 in the Beaches neighbourhood (626 cases of COVID-19/100,000 residents). When one examines recent cases (i.e. those diagnosed since December 23rd), case prevalence is still concerning-ranging from 102 cases/100,000 residents in Forest Hill South to 1329 cases/100,000 residents, in Humber Summit (click here).
We should avoid elective travel to and from these hot spots from lower prevalence areas, like Kingston.
4) COVID-19 rates remain stable in KFL&A (see update from KFL& A Public Health)
The total number of cases in KFL&A since the pandemic began is now 637, not counting the prison outbreak and there has only been one death of a KFL&A resident since the pandemic began. There have been 11 new cases since my Monday note. On a positive note there are fewer active cases in the community (43) down from 52 on Monday. There is 1 COVID-19 patient hospitalized at KGH. There are 3 people hospitalized in Hastings-Prince Edward County. There are 86 active cases in SE Ontario, which is also good news. This is the first time we have been below 100 active cases since Dec 31st 2020.
Testing: In the last 3 days we have done 2604 tests for SARS-CoV-2 and 22 were positive (which is <1%). KUDOS to our amazing lab team which is one of the very best in Canada and has both high accuracy and rapid turnaround of test results. There was only 1 positive test from KFL&A which is very good news. There is an increasing need for genomic surveillance to detect viral mutations. The mutations to date all appear to be susceptible to vaccine protection. However the N501.V2 mutation (initially found in the UK) seems to be more infectious, especially amongst young children (stay tuned) but is highly likely to be vaccine sensitive (click here). The E484K variant found in South Africa, Brazil and Japan is still being studied to ensure that it does not have immune evasion capacity (click here).
Table showing the status of COVID-19 in in KFL&A (which is stable)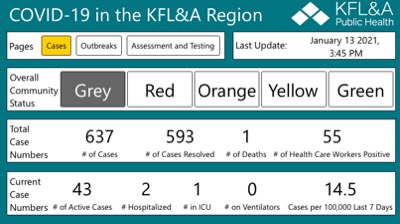 Bottom line: The vaccine will ultimately protect us; however, it will take months to get a critical mass of Canadians vaccinated. Meanwhile we have to rely on good public health practices (as outlined by provincial lockdown). This is the final leg of a marathon and the next 3-4 months will challenge us all to remain patient and follow policies that we acknowledge have harsh financial and social consequences. However, there is light at the end of the tunnel in the form of the vaccines.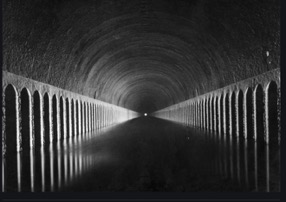 5) Mask and eye protection update: Because of local epidemiology and a provincial rise in rates of infection we have intensified mask and eye protection recommendations to keep staff, healthcare workers and patients in LHSC safe. We are using N95 masks for health care providers who are in close contact with a COVID-19 positive patient. Risk assessment for the use of the N95s is done case by case for direct caregivers for COVID-19 patients. This likely is most relevant in areas like Connell 3, ICU Emergency room. We of course continue to use N95 masks for certain aerosol generating procedures.
In all patient care areas (including clinics) we now require an eye shield or goggles and the use of level 2-3 masks (unlike the level 1 masks handed out upon entry to the hospital). The Level 2-3 masks and eye shields/goggles are available on the patient care units and in clinics. The type of mask is noted on the box it is stored in (important to note since there may also be some boxes with level 1 masks on wards)-so check the box you are taking your mask from!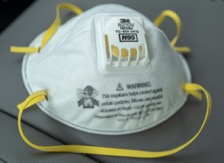 5) Canada's COVID-19 epidemic: 686,786 total cases to date, 77,095 active cases and 17,508 deaths (a cumulative national case mortality rate of ~2%). To date 431,939 people have been at least partially vaccinated (click here) We have had 686,786 cases of COVID-19 in Canada since the pandemic began. Our second wave of active cases (orange line) has yet to reach a clear plateau (and may be beginning to decline-too early to be sure). 85.5% of all cases have already recovered. There has been a ~2% national mortality rate amongst people diagnosed with COVID-19. Most cases of COVID-19 in Canada have been (in descending order), in Quebec, Ontario, Alberta and BC (top left below). Canada has done 20 million COVID tests with a cumulative positive test rate of 3.4%. Ontario is nearing the same case number as Quebec. remains the province with the most testing (~8.6 million tests) and has a 2.6% cumulative positive rate).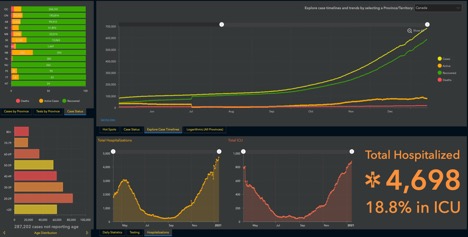 COVID-19 in Canada: Jan 14th, 2021 
Rates of infection are high in all Western provinces (BC to Manitoba) but with introduction of more aggressive public health measures rates in these provinces have plateaued (which is the intended outcome of the Dec 26th Ontario lockdown). Saskatchewan may be seeing another rise in rates. Thus far, rates in Ontario and Quebec (home to almost 63% of all Canadians) have not hit a clear plateau but the rate of new cases is no longer rising. Rates of new infection remain low in all Maritime provinces. The outbreaks in the North have been controlled with few new cases in the NWT, Yukon, and Nunavut.
7) The COVID-19 global pandemic: A total of 1,984,459 million deaths and 92,,596,375 million cases since the pandemic began, a rise of over 1.5 million cases since Monday (click here): The number of cases has increased over 5-fold since the beginning of August, 2020, when there were 16,296,790 cases globally. The pandemic hot spots are in the USA, India, Brazil, and Russia, with the UK, France and Turkey in hot pursuit! (click here).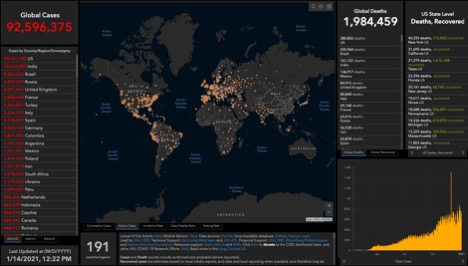 Rising global COVID-19 burden and death rate: Jan 11th 2021
The USA with 23,121,192 cases and 385,855 deaths tops the COVID-19 list and accounts for ~24.9% of the global pandemic (up from 21% pre-Christmas). The USA only accounts for ~4% of the world's population (see below). There are as many case in America as in India, Brazil and Russia combined! The COVID-19 active case map (above) shows the high incidence of infection in the US and South America, as well as in Europe (the bigger the salmon-colored dot the higher the active cases/100,000 population). Note the graph at bottom right (white) shows rising deaths/day. The ONLY solutions to this are adherence to public health measures and rapid, mass vaccination.
USA positive test rates and extension of border closure (click here): Thirty two (32) US states have positive test rates >10%! The USA, which has an average positive test rate of 12.3% (click here); however both countries are doing much worse than prior to Christmas. Ontario's rate is now down to 5.1%). California has a positive test rate of 13.0% whilst South Dakota remains at a staggering 30.4% rate of test positivity today. For snowbirds-rates in Florida remain high (12.5% today)-see below. 
The US-Canadian border closure has been extended until at least Jan 21st, 2021 (click here). That said, Canadians can still fly to America (although certain rules apply) and as discussed in my note in early December, Canadian citizens can return to Canada from America, with a number of requirements, including quarantine) (click here).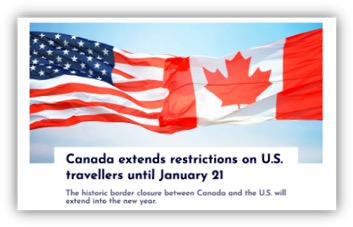 Regular reminders
KHSC bed capacity: Bed capacity has reduced since last Monday when it was 110. There are now only 74 beds available (see graphic below). Our ventilator supply remains good; however, critical care beds are in short supply.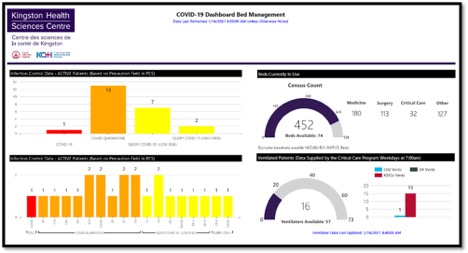 We are only reducing elective care to the smallest extent required, ensuring we provide care to the 99% of patients who do not have COVID-19. We recognize that the term "elective care" is really a misnomer-many of these "elective" patients have cancer and other serious disease which will not tolerate delay in care. We are not reducing cardiac work, as just one example, as much of this work is urgent and delay would be life threatening. We are encouraging physicians to optimize the use of e-health visits. We are also reminding patients who are coming to clinics in person that unless it is essential (and approved) they need to come alone, to minimize crowding in our clinic waiting areas. That said, it remains VERY safe to attend appointments at our clinics or to come to hospital for needed care!
We will however soon be taking patients transferred from Toronto to our center to assist as their COVID-19 admissions surge (stay tuned).
Use the Mobile Screening Tool to expedite clinic visits: Complete the COVID-19 pre-screening tool here and you will be able to "skip the line": One way to safely expedite entry of patients into our facilities is to have all patients complete our pre-screening questionnaire before their clinic visit. This will screen out people who are sick and expedite entry to the facility for everyone. Reducing lines waiting to enter the clinics will be particularly important as colder weather arrives. The mobile screening tool only takes a few minutes to complete and you will receive an email with confirmation to bring with you, along with your appointment slip, in printed form or on your mobile device. To complete the mobile-screening in English, click here and in French, click here.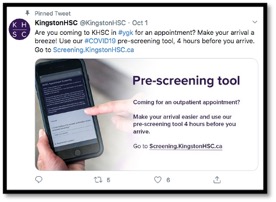 KHSC visitor policy: If a family member is coming in from a high prevalence area they cannot enter KHSC (i.e. they will fail the screening question). There are exceptions made for exceptional circumstances and this family presence policy will be updated by the end of the week (to make it clear who grants final decisions on exceptions that allow access). One of the hardest aspects of COVID-19 care in the hospital is the need to restrict visitors to ensure we don't import COVID-19 into the hospital. A very few cases of COVID-19 can paralyze the hospital, particularly if they are brought in by visitors and then spread undetected. All details on the policy can be found using this link (click here). 
COVID-19 testing at Beechgrove Community Assessment Center: (click here): All COVID-19 test must be scheduled appointments (versus walk in). Appointments can be scheduled using our on line scheduling system. Before booking a test, individuals should complete the online tool to determine whether they qualify for testing (click here). The Beechgrove Complex is south of the King St. West/Portsmouth Avenue intersection. Signage will direct people through the Complex to the Recreation Centre building at 51 Heakes Lane for walk-in testing. Operating hours: Testing hours will return to 9 a.m. to 4 p.m. daily. To be tested you will require: A valid Ontario health card or a piece of photo identification. You must also wear a mask and maintain physical distancing at all times while in the walk-in line (click here).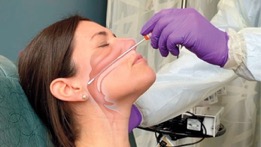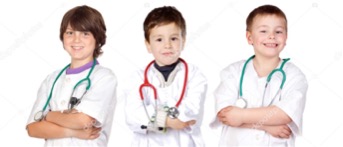 Because health care workers (doctors and staff) are increasingly having to miss work because their children have been sent home from school or daycare with symptoms of a upper respiratory tract infection, we have arranged that their children can access expedited testing at Beechgrove . The goal of this service is simply to allow the healthcare worker to return to work as quickly as possible for the public good. The children of staff will be tested between 1230 -1300 by appointment, 7 days/week. The new program for families applies to children up to age 18, an includes children of staff and physicians who provide clinical care and service. Staff and physicians themselves should contact occupational health to book their testing appointment. To book an appointment for a child, KHSC staff should call 613-548-2376. Testing of clinical staff and faculty and their children is processed at the KHSC lab with an average turnaround time of less than 24 hours.
Increased outbreaks and deaths in Long Term Care facilities (LTC): We have 4060 LTC beds in KFL&A. As discussed in many prior notes, most COVID-19 deaths occur in people who are not only old but who are also frail and live in nursing homes and long term care facilities (LTC). As of today, the 3063 deaths in nursing homes (up 83 deaths since Monday) account for ~60% of all deaths in Ontario, click here. There are also ~ 1603 active cases in LTC residents and 1297 of active cases in LTC staff! In the last month the rate of death amongst LTC residents continues to increase daily and is now >100/week! Outbreaks in nursing homes usually start with a person in the community (health worker or family) acquiring the infection and importing it into the facility. Thus, protecting LTCs is best done with a combination of reducing community spread of COVID-19 and ensuring single occupancy rooms in LTCs (as well as appropriate pay for PWS workers, provision of PPE and rapid testing capacity). It is because of these grim statistics (see below) that the province has prioritized vaccination of health care workers and residents of Ontario's LTCs.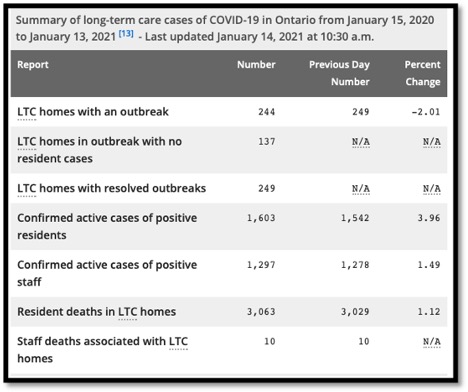 COVID-19 in toddlers and young children: (click here). No updates since Dec 21st since on-site schooling does not resume until later in January.
Stay well!